Second day of Taipei 2023 – 39th Asian International Stamp Exhibition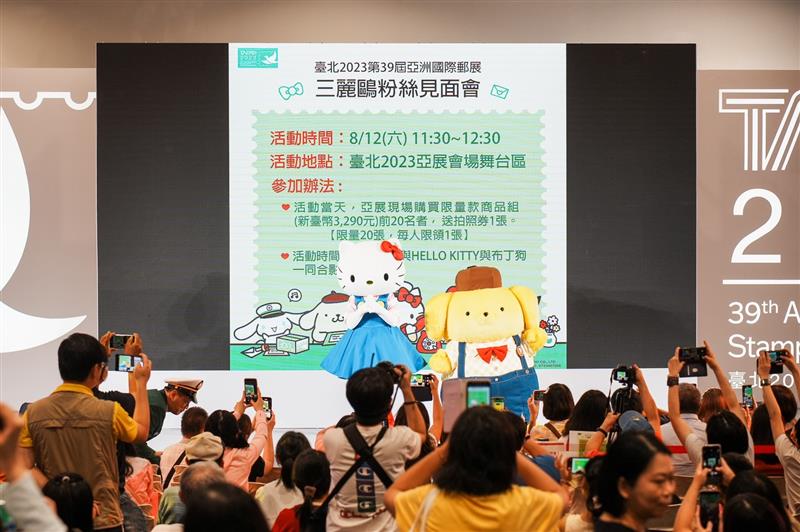 Huge crowds of visitors were seen visiting the exhibition site of the 39th Asian International Stamp Exhibition on its second day of commencement during the weekend, while stamp enthusiasts also joined the rush to purchase stamp collections at the on-site booths. In conjunction with the daily theme "Treasure Day," Chunghwa Post released a set of two stamps on a souvenir sheet featuring the images of "Coupled Vase with Flower-and-Bird Panels in Fencai Rose Enamels" and "Revolving Vase with Swimming Fish in Cobalt Blue Glaze," both of which are treasures from the collection of the National Palace Museum and produced during the Qianlong reign in the Qing Dynasty, with the aim of sharing a glimpse of Chinese culture. The exhibition is not only set up based on different themes, but it also offers an exciting line-up of performances at the main stage area, immersing visitors in a visual feast.
The line-up of performances includes a stage performance by Unique Puppet Theater, introducing a variety of religious activities that are usually held during the Taiwanese temple fair; a live calligraphy performance by Liau Huo-huang and Yang Ching-chiang, the Chairman and Vice-chairman of the Taiwan Calligraphy Association; a live performance by TianYue Chinese Orchestra, a group that is dedicated to the promotion of music and culture; an expert sharing session featuring Tsai Ching-liang, an expert on jade and bronze objects, who will share his knowledge about antiquities and the history of ancient cultures; and a sharing session on Taiwanese tea culture by Cha Ding Tea. In addition, a "Meet and Greet" session was specially organized for visitors to meet Sanrio characters such as Hello Kitty and Pompompurin, and at the same time, visitors can participate in the quiz contest to win prizes.
Chunghwa Post said that different charity organizations and foundations are invited to visit the exhibition every day so as to execute its social welfare planning.
Today, the Taiwan Public Welfare League, the Autism Cultural and Creative Office, Jing Chuan Child Safety Foundation and others are invited to tour and participate in hands-on classes to experience the fun of making a stamp frame, finger-painting postcards, as well as attend a stamp collecting workshop.