Taiwan archers win compound women's team bronze at Asia Cup in Singapore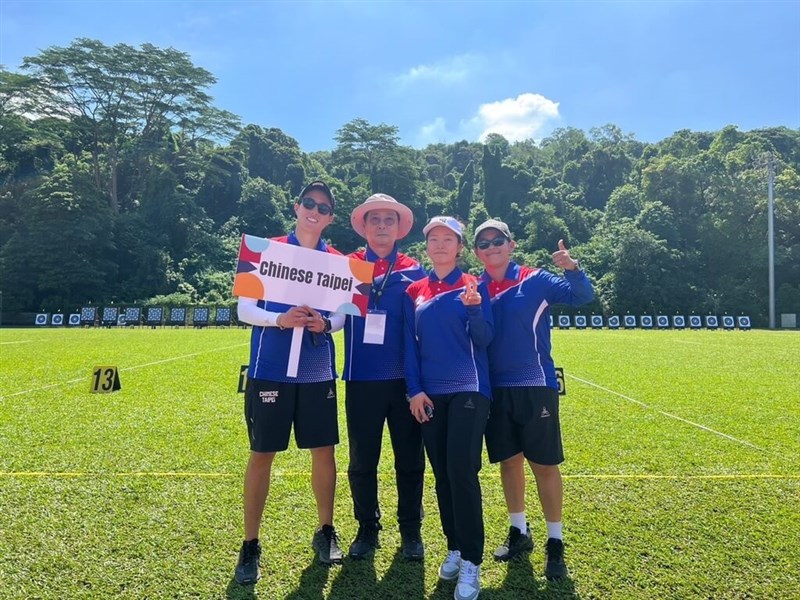 Taipei, June 10 (CNA) Taiwanese archers won a bronze medal after beating a team from Singapore 227-226 in the compound women's team event in Stage 3 of the 2023 Asia Cup World Ranking Tournament held in Singapore on Saturday.
Seeded third in the tournament, the team which comprised Lin Ming-ching (林明靜), Hsu Yen-hua (許嬿樺) and Lo Yi-hsuan (羅苡瑄) won the bronze medal playoff at Bukit Gombak Stadium.
The compound competition at the Asia Cup adopts a total points system. Archers in each set shoot a total of six arrows (two for each competitor). After four sets, the team with the highest total score wins.
Meanwhile, in the recurve women's team event, Taiwanese archers Sui Yun-ching (隋昀瑾), Su Hsin-yu (蘇芯羽) and Li Tsai-chi (李彩綺) finished fourth after losing 0-6 to a team from China in the bronze medal playoff.
Stage 3 of the Asia Cup World Ranking Tournament, which began on Monday in Singapore, ended Saturday afternoon.