Taiwanese tycoon gains full ownership of Brooklyn Nets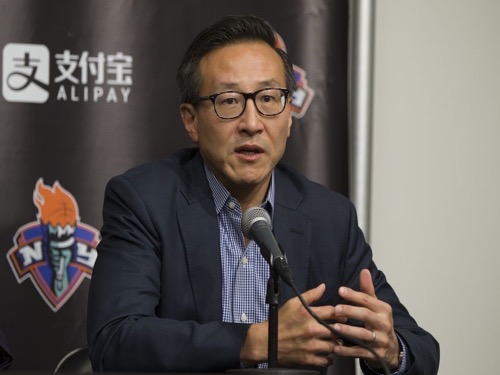 Taipei, Sept. 19 (CNA) Taiwanese billionaire Joe Tsai (蔡崇信) has fully acquired the basketball team the Brooklyn Nets in a US$3.5 billion deal that was closed on Wednesday, the NBA board of governors said.
Tsai, co-founder and vice chairman of e-commerce giant Alibaba Group, already owned a 49 percent stake in the team and has now purchased the other 51 percent from Russian billionaire Mikhail Prokhorov, according to international media reports.
In the US$3.5 billion deal that was completed Wednesday, Tsai not only gained full ownership of the Brooklyn Nets, but also bought the Barclays Center, which is the team's home stadium.
"We are thrilled that Joe Tsai is becoming the principal owner and governor of the Brooklyn Nets," NBA Commissioner Adam Silver said in a statement Wednesday.
"In addition to being a passionate basketball fan, Joe is one of China's preeminent internet, media and e-commerce pioneers and his expertise will be invaluable in the league's efforts to grow the game," Silver said.
In a statement issued by the Brooklyn Nets also on Wednesday, Tsai said the latest development represented a commitment to the Brooklyn community.
"With full ownership of the Nets and Barclays Center, we will continue to bring our exciting brand of basketball to our fans," Tsai said. "We've made a strong commitment to Brooklyn and it will be a privilege to present the best of Barclays Center with its great entertainment to our community."
Tsai had purchased a 49 percent stake in the team from Prokhorov in 2018, with the option to become the full owner by 2021, but he pushed up that time line.
In the first round of the 2019 NBA Eastern Conference, the Nets made it to playoffs but lost to the Philadelphia 76ers 1-4 games.