Environmental groups urge government to get a move on carbon fee rate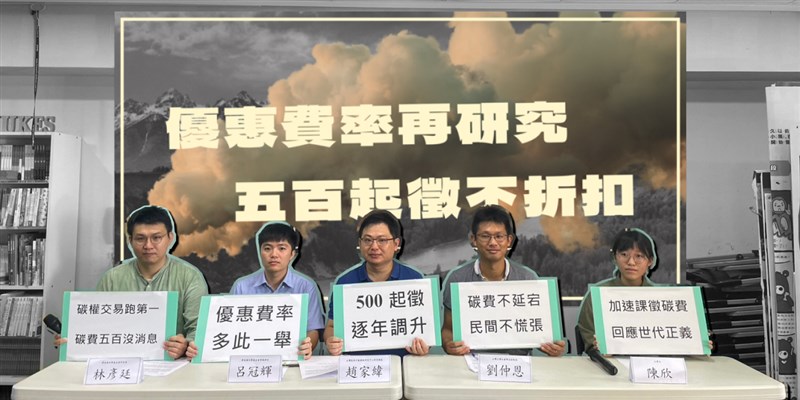 Taipei, Sept. 22 (CNA) Environmental advocacy groups called on the government Thursday to quickly finalize how much it will charge companies for carbon emissions and set a rate of at least NT$500 per metric ton.
The Green Citizens' Action Alliance said it issued the appeal on Taiwan's National Disaster Prevention Day to highlight the extreme weather, including droughts, heat waves and flooding, that has plagued Taiwan and the globe in recent years and the need to take action on climate change.
Together with the Environmental Rights Foundation and the Taiwan Climate Action Network, the alliance accused the government of procrastinating in setting a carbon fee, which it said called into question the government's resolve to reduce carbon emissions.
Environmental Rights Foundation researcher Lin Yen-ting (林彥廷) accused the Ministry of Environment of currently prioritizing the building of a carbon credit exchange system, which he said "has no real substantive effect on reducing carbon emissions."
The exchange is based on the premise that big emitters are required to fulfill their obligation to reduce carbon emissions, and they only have to purchase credits if they fall short of their commitments, according to Lin.
In other words, the exchange system is a nonstarter for carbon emissions reduction in the absence of a carbon fee, said Environmental Rights Foundation lawyer Lu Kuan-hui (呂冠輝).
"We have only three months left until we get to 2024," which is supposed to be the baseline year of carbon emissions quantification for fee collection to happen in 2025, "but the rate has still not been decided," Lu said.
According to the Environment Ministry, carbon fees are scheduled to be collected starting in 2025 from businesses that emit more than 25,000 metric tons of carbon dioxide a year based on the amount of carbon emissions in 2024 that they report to the government.
Because emissions have to be quantified in 2024 for the collection of carbon fees in 2025, the carbon fee rate should be finalized by the end of 2023 to avoid "ambushing those subject to the rule."
As for the actual carbon fee rate, the government has hinted it could be NT$300 per metric ton of carbon emissions, which Taiwan Climate Action Network Chairman Chao Chia-wei (趙家緯) said was too low.
The United States Environmental Protection Agency has estimated that the cost of carbon emissions on society not reflected in market prices, known as the "externality" of carbon emissions, is about US$190, or NT$6,100, a metric ton, Chao said.
"That would mean only 5 percent of the externality is reflected at the NT$300 rate," he said, noting that Singapore is raising its carbon tax to NT$570 per metric ton in 2024 and South Korea set its carbon price at about NT$540 in 2022.
Chao said that based on his group's calculations, a rate of NT$500 per metric ton would be the minimum necessary for Taiwan's cement, steel and petrochemical industries, which account for a quarter of Taiwan's carbon emissions, to take the initiative to cut emissions.
It would also have to be raised annually to NT$3,000 per metric ton by 2030, he said.
The government has also proposed the idea of a "preferential rate" that would offer a discount on carbon fees for companies in target industries that take initiatives to reduce emissions, an idea that the environmental groups did not support.
John Chung-en Liu (劉仲恩), an associate professor of sociology at National Taiwan University, said the preferential rate would defeat the purpose of charging carbon fees, which is that "polluters pay," and would be more cumbersome to implement.
"The advantage of a carbon fee is precisely its simplicity, especially when compared to the cap and trade system that relies on a floating carbon price, because it offers a clear price signal for companies to react to and reduce emissions accordingly."
In response to the criticisms, the Environment Ministry's Climate Change Administration said in a statement that carbon fees would be charged if the companies that applied for the preferential rate failed to reach their proposed emission reduction goals.
The administration also called the accusation that it was prioritizing a carbon credit exchange "a misunderstanding," saying the carbon fee collection system was designed to be complemented by other measures aimed at pressuring companies to cut emissions.
It said the exchange has always been seen as "the last resort," but it did not explain why it has been dragging its feet on setting a carbon fee rate.