Taiwan holds disaster response and rescue drill in Hsinchu County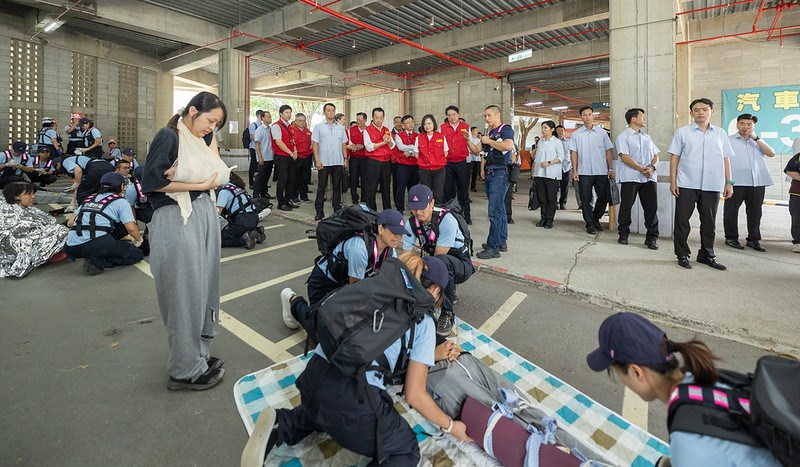 Taipei, Sept. 21 (CNA) A drill organized by the National Fire Agency (NFA) to test Taiwan's disaster response and rescue capabilities concluded Thursday at Hsinchu County Stadium on National Disaster Prevention Day.
It was also the first time the annual drill was held under the Global Cooperation and Training Framework (GCTF) initiative, with observers and participants from 19 countries attending this year's event, President Tsai Ing-wen (蔡英文) said in her speech.
The GCTF is a platform established in 2015 by Taiwan and the United States that aims to bring together experts from around the world to facilitate knowledge exchange.
Tsai said the exercises were conducted in an unscripted manner this year to strengthen Taiwan's responsiveness and resilience in emergency situations.
More new technologies were also utiized, with emergency responders deploying drones to transmit real-time images to aid with the disaster response, she added.
The three-day event held Sept. 19-21 saw the participation of about 1,300 people involving members of Taiwan's military, civic groups, firefighters and police, according to a NFA release.
During the event at the Hsinchu stadium, the Ministry of Digital Affairs (MODA) also hosted an exhibition stand to demonstrate a feature that enables cellphone users to stay connected via cross-network roaming when base stations are destroyed in the event of a natural disaster.
The project is a collaboration between MODA and three of Taiwan's major telecommunications operators.
Earlier in the day, Tsai visited National Hsinchu Special School in the county's Zhubei City to observe students and teachers simulating an earthquake drill on National Disaster Prevention Day, held annually to commemorate the 1999 earthquake in central Taiwan that killed more than 2,400 people and injured more than 11,000.
It was the second-deadliest earthquake in Taiwan's history, after a April 1935 earthquake north of Taichung, which caused more than 3,200 fatalities.
While there, Tsai expressed hope that the annual disaster mitigation campaign will help raise awareness and better prepare the public for emergencies.
Students should be reminded that earthquakes and other natural disasters can happen anywhere and at any time, Tsai said, citing for example the deadly earthquakes that occurred in Turkey and Morocco this year.
On Thursday morning, two text messages were sent to mobile phone users warning of an earthquake at 9:21 a.m. and a tsunami at 10 a.m.
The Central Weather Administration urged members of the public not to panic as the messages were sent to simulate warnings about an earthquake and tsunami as part of drills to observe the 24th anniversary of the deadly 921 Earthquake on National Disaster Prevention Day.