Government urged to prevent, guard against illegal remittances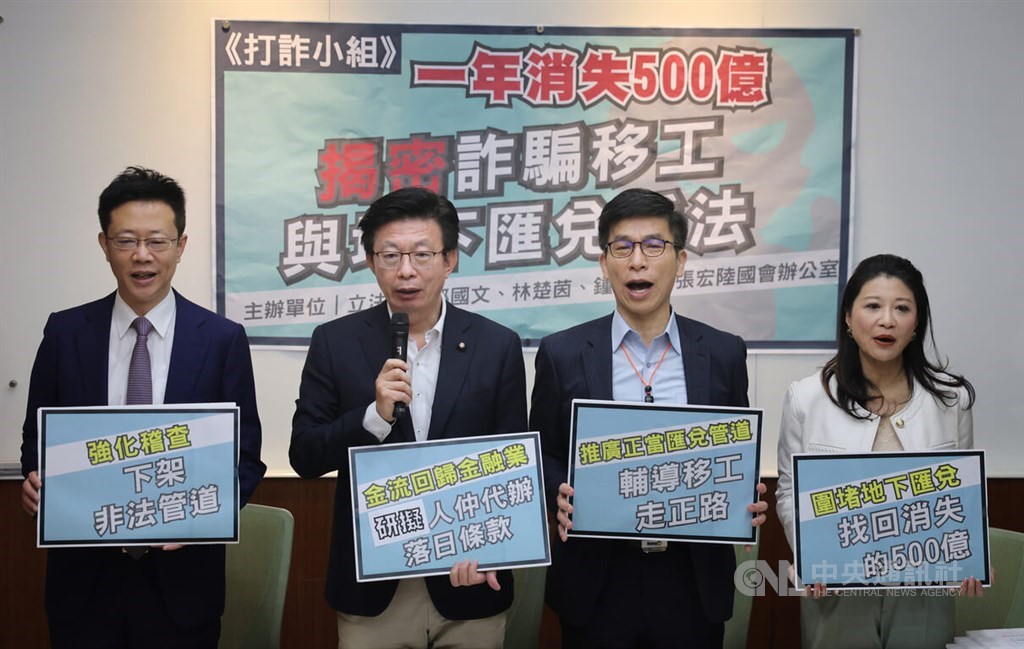 Taipei, March 24 (CNA) Several ruling Democratic Progressive Party (DPP) lawmakers called on the government Friday to strengthen measures to prevent and guard against illegal remittances, which are believed to be rampant among migrant workers in Taiwan and to have resulted in several falling victim to fraud rings.
Four DPP lawmakers, Kuo Kuo-wen (郭國文), Chung Chia-pin (鍾佳濱), Lin Chu-yin (林楚茵) and Chang Hung-lu (張宏陸), all members of a legislative group that combats fraud, made the call during a press event at the Legislature, where they discussed several cases of fraudulent illegal remittances where hard-working migrant workers were swindled.
Illegal remittances do not just jeopardize the rights and interest of migrant workers in Taiwan but also the country's financial stability because unsupervised capital can become a loophole in the monetary system, the lawmakers said at the press event.
According to Kuo, migrant workers use underground banks to remit money home for two main reasons, including language problems that make it harder for them to access information about legal ways to remit their earnings home.
The lower exchange rates and service fees charged by underground remittance service providers compared to licensed banks also encourage migrant workers to use underground banks, the lawmaker said.
According to Ministry of Labor (MOL) data, there were about 256,100 Vietnamese and 250,100 Indonesian migrant workers in Taiwan as the end of 2022.
Although their numbers are about the same, Kuo cited bank records as indicating that last year, Vietnamese migrant workers in Taiwan remitted just US$117 million to Vietnam, as opposed to the US$1.74 billion in remittances to Indonesia by Indonesian workers.
It is likely the roughly US$1.6 billion difference was sent through underground banks, he claimed.
Kuo said the official bank exchange rate for the New Taiwan dollar to the Vietnamese dong in mid-March was 1:765, while underground banks offered a rate of 1:780.
He further said that unregulated bank operators often approach their clients on payday, and meet up with them at their place of work or dormitory to offer them remittance services.
On collection, the money is sent locally to the client's family in their home country instead of from Taiwan, thereby evading financial supervision and bank charges, he added.
Currently, the Ministry of Labor does little more than caution migrant workers about the risk of using underground banking services, which is simply not enough, Chung Chia-pin said.
Meanwhile, Lin Chu-yin said the two companies offering small scale remittance services overseas approved by the Financial Supervisory Commission (FSC) currently only have about 380,000 registered clients, which is about half the total number of migrant workers in Taiwan.
Lin said this suggests that many foreign workers prefer to use underground banks to remit their money home because they are more convenient, charge lower fees and provide prompt remittance services.
At the event, officials from the MOL's Workforce Development Agency and the FSC responded that their agencies will work together to raise awareness among migrant workers in Taiwan of the risks involved using underground money remittances, without providing further details.