COST OF LIVING
/
Online registration for NT$6,000 cash handouts to start March 22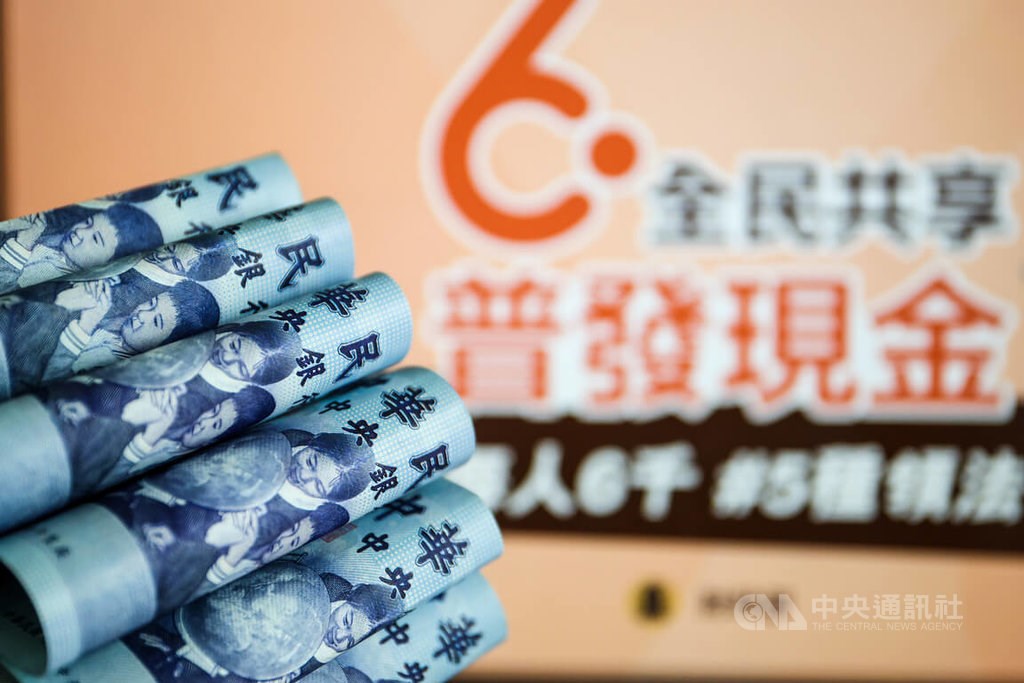 Taipei, March 16 (CNA) Taiwanese citizens and eligible foreign nationals will be able to register on a dedicated website for a one-off cash payment of NT$6,000 (US$195) to be directly remitted into their bank account from the government's 2022 tax surplus starting March 22.
Based on a Ministry of Finance (MOF) report presented at a Cabinet meeting on Thursday, registration for the cash handout via https://6000.gov.tw will be open to the public from 8 a.m. that day.
Four groups are eligible for the NT$6,000 cash handouts: Taiwan nationals, foreign nationals with permanent residency, resident spouses of Taiwanese nationals, as well as personnel stationed overseas by Taiwan government agencies and their dependents with Taiwanese citizenship.
Eligible people will also be able to collect the handouts via a range of other methods, including from ATMs, or claim the money in person at post office counters by providing their national identification card and National Health Insurance card.
In the report, the MOF added that people living in remote townships, including Sisigu in Pingtung County, Wanrung in Hualien County and Jinfong in Taitung County, can register for the money March 20-25 at their nearest local police station.
In a release Thursday, the Ministry of Digital Affairs (MODA), which established the website, said the cash handouts will be deposited directly into the recipient's designated back account after online registration, based on bank account details provided.
No card reader or any other type of cards will be required in order to register online, MODA said.
Feb. 21: Special bill for post-pandemic economic recovery clears legislative floor
In the first five days from March 22, the digital ministry said the online system will accept registration from people based on the last digit of their national identification card or residency card number (zero to nine), with two different numbers used each day, to prevent heavy registration traffic.
The sequence in which the numbers are used is expected to be determined by random draw on March 20, MODA said.
Registration will be open to everyone regardless of their identification number after March 27, while those registered can also make revisions to their personal information beginning the following day.
In order to allow more people to enjoy the fruits of Taiwan's economic achievements, families expecting children from October to December this year will also be eligible to claim the cash handouts on behalf of their newborns.
Deputy Finance Minister Juan Ching-hua (阮清華) told reporters after the Cabinet meeting that parents can claim the NT$6,000 in person at a local post office provided they present the child's birth certificate before the end of January 2024.
The plan by the MOF detailing ways to claim the handouts was approved by the Cabinet on Thursday, but the timeline for distributing the cash to the public has yet to be decided, pending legislative approval of the tax surplus disbursement proposal.
Update
March 18: Authorities block phishing page for NT$6,000 tax rebate
March 17: 1988 hotline to answer queries about NT6,000 cash handout
March 17: Cash incentive plan for foreign visitors to begin April 15
Related News
March 16: Taiwan set to raise electricity rate by 11% on average: Official
March 8: More Taiwanese newborns eligible for NT$6,000 cash handouts
March 7: Cabinet planning to allocate NT$100 billion to labor insurance fund
Feb. 23: Cabinet approves proposed spending for post-COVID economic recovery
View All