CORONAVIRUS
/
Updated Moderna vaccine sole option for third booster shot: CECC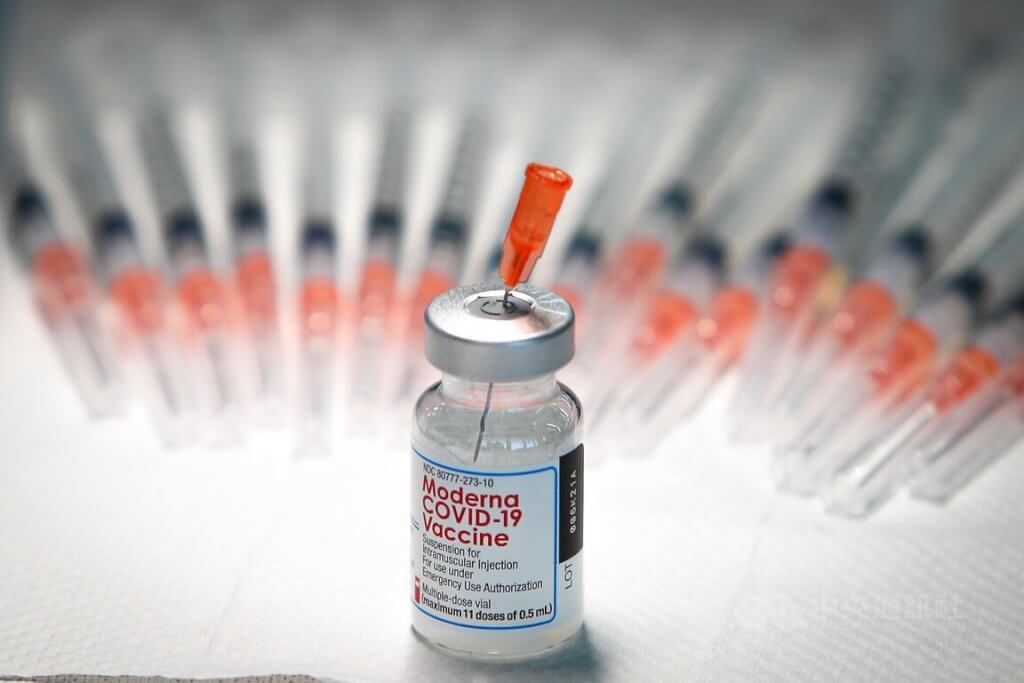 Taipei, Sept. 6 (CNA) Those planning to get a third COVID-19 booster shot will have Moderna's second-generation vaccine as their only option, the Central Epidemic Command Center (CECC) said Tuesday.
Eligible recipients must take the shot a minimum of three months after their second COVID-19 booster, CECC spokesperson Chuang Jen-hsiang (莊人祥) said at a daily press briefing.
The updated Moderna doses Taiwan expects to take delivery of by the end of the month will also be available as a first or second booster shot with other mRNA or protein subunit vaccines, the CECC said Monday.
Initially, as with the other booster vaccines, Moderna's second-generation vaccine will be reserved for vulnerable groups, including seniors aged 65 and above, and immunocompromised adults aged 18 and above.
The second stage will cover individuals aged 50-64, those aged 18 and above who need to travel overseas, as well as individuals whose work places them at a higher risk of COVID-19 infection, such as front-line medical workers, airport and port employees, the CECC said.
About 6.79 million individuals will be eligible for the updated Moderna shots, including 2.83 million in the first stage and 3.96 million in the second stage, it added.
However, it remains unclear how many doses of the vaccine, which targets both the original virus from 2020 and the Omicron subvariant BA.1, will be delivered, Chuang said.
The CECC is still waiting to confirm the number with the American vaccine manufacturer due to the Labor Day holiday weekend in the United States, he explained.
The CECC previously said it expected a shipment of 2 million second-generation doses.
As of Sept. 5, 93 percent of the eligible population in Taiwan had received a first shot of a COVID-19 vaccine, while 86.9 percent had received a second shot, CECC statistics showed.
In addition, 72.4 percent and 9.7 percent had gotten a first and a second booster shot, respectively.
Update
Sept. 8: Taiwan's ACIP head thinks it's time to end quarantine for arriving travelers
Sept. 7: Taiwan eyeing late September for rollout of updated COVID vaccines
Related News
Sept. 5: Taiwan to resume visa-free entry for multiple countries from Sept. 12
Sept. 2: Taiwan grants EUA for 2nd-generation Moderna COVID-19 vaccine
Aug. 28: Taiwan begins rollout of Pfizer-BNT vaccines for young children
Aug. 24: Omicron subvariant-induced outbreak forecast to peak earlier: CECC
Aug. 21: Taiwan rolls out Moderna second shots for young children
Latest COVID-19 rules
Sept. 29: Taiwan's new COVID-19 protocols for arriving passengers
Sept. 8: Taiwan to ease COVID-19 in-person class suspension rules
Sept. 5: Taiwan to resume visa-free entry for multiple countries from Sept. 12
Sept. 1: Taiwan's new COVID-19 policies taking effect Sept. 1
Sept. 1: Taiwan's new COVID-19 screening rules for hospital admission
View All