CORONAVIRUS
/
Taiwan reports 22,044 new COVID-19 cases, 42 deaths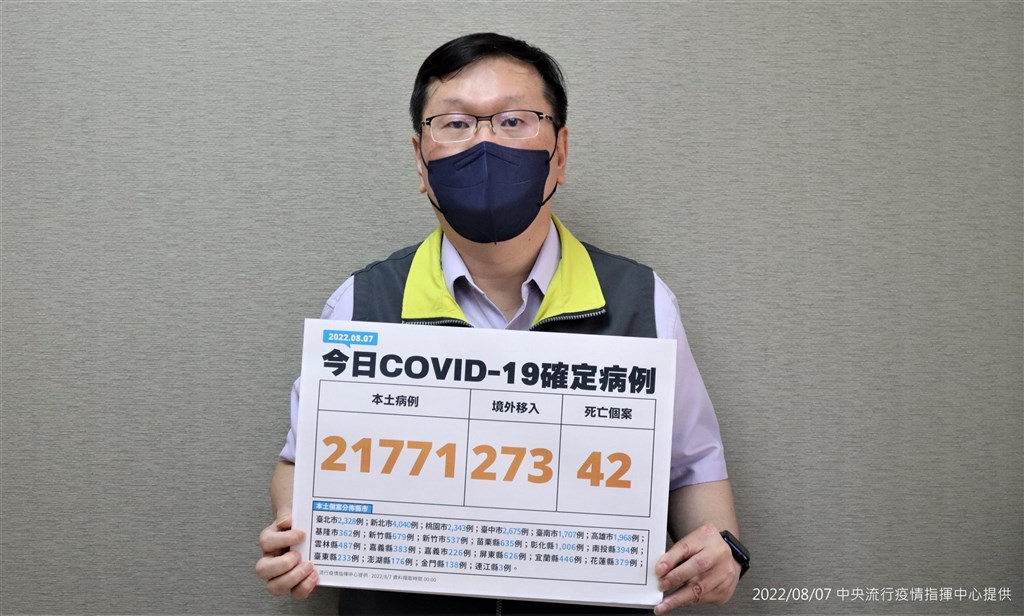 Taipei, Aug. 7 (CNA) Taiwan on Sunday reported 22,044 new cases of COVID-19, all but 273 of which were domestic infections, and 42 deaths from the disease, according to the Central Epidemic Command Center (CECC).
The deceased ranged in age from their 40s to their 90s. All suffered from chronic illnesses or other severe diseases, and 19 were unvaccinated against COVID-19, the CECC said.
Four of the newly reported deaths were people in their forties, of whom two had diabetes, one suffered from mental illness, and one had a chronic kidney condition, the CECC said.
Severe, moderate cases
Also on Sunday, the CECC reported 34 new severe COVID-19 cases and 53 new moderate infections.
Among the severe cases was a two-year-old girl who was diagnosed with multisystem inflammatory syndrome in children (MIS-C) more than six weeks after contracting COVID-19 and is currently being treated in hospital.
To date, 155 children aged 12 and under have developed severe illnesses from COVID-19, and 25 of them have died, according to the CECC.
Of the 4,680,681 domestic cases reported in Taiwan this year, 9,718 have been classified as severe infections and 12,037 as moderate, accounting for 0.21 percent and 0.26 percent of the total, respectively, according to CECC data as of Aug. 5.
In all other cases, the infected persons were either asymptomatic or had mild symptoms, the CECC said.
Rregoional breakdown
Regionally, New Taipei recorded the highest number of new domestic cases on Sunday, with 4,040, followed by Taichung with 2,675 and Taoyuan with 2,343.
Taipei reported 2,328 cases, Kaohsiung 1,968, Tainan 1,707, Changhua County 1,006, Hsinchu County 679, Miaoli 635, Pingtung 626, Hsinchu City 537, Yunlin 487, Yilan 446, and County 394.
Chiayi County recorded 383 new cases, Hualien 379, Keelung 362, Taitung 233, Chiayi City 226, Penghu 176, Kinmen 138, and the Matsu Islands three, the CECC said.
To date, Taiwan has recorded 4,738,861 COVID-19 cases since the pandemic began in early 2020, including 4,717,051 domestic infections.
With the 42 deaths reported Sunday, the number of confirmed COVID-19 fatalities in the country rose to 9,229.
Related News
Aug. 4: CECC to ease two policies before lifting quarantine for arrivals
Aug. 1: Japan tour operators visit Taiwan for the first time in 2 years
Aug. 1: Taiwan grants EUA to Pfizer-BNT COVID-19 vaccine for children under 5
July 26: Revision of border rules depends on vaccination rate among kids: CECC
Recent cases
Aug. 6: Taiwan reports 19,965 new COVID-19 cases, 51 deaths
Aug. 5: Taiwan reports 21,869 new COVID-19 cases, 54 deaths
Aug. 4: Taiwan reports 22,959 new COVID-19 cases, 56 deaths
Aug. 3: Taiwan reports 23,919 new COVID-19 cases, 32 deaths
View All