Cyber attacks reported in stores, gov't facilities during Pelosi visit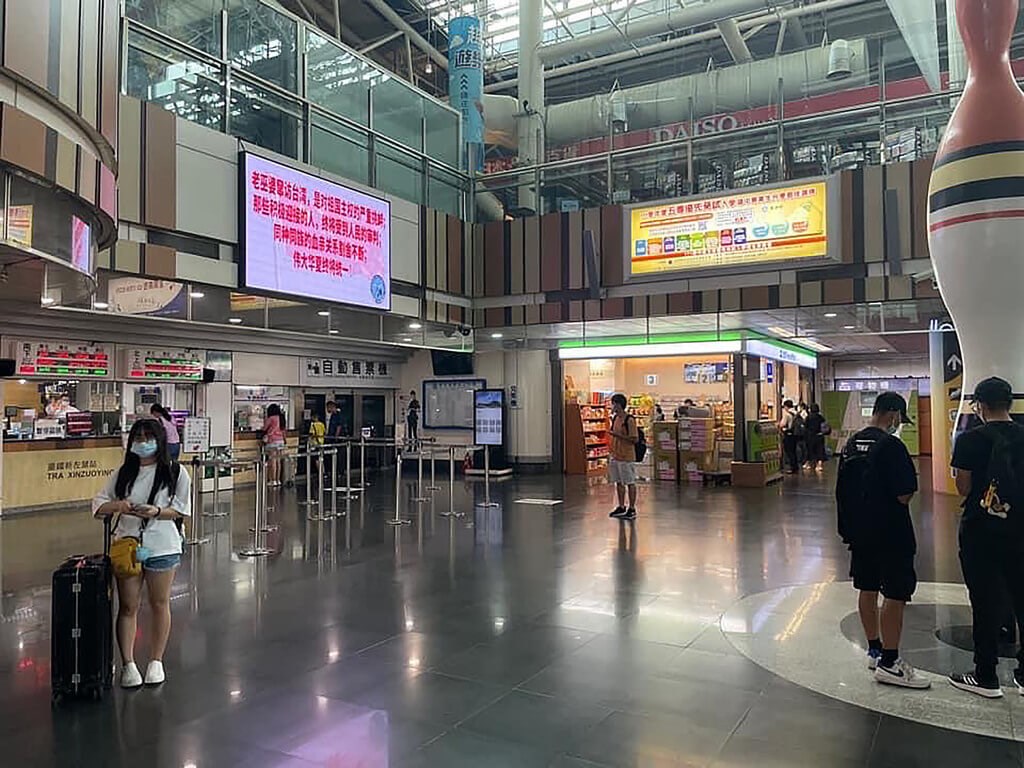 Taipei, Aug. 3 (CNA) Several convenience store branches and government facilities across Taiwan on Wednesday saw their digital signage hacked with messages slandering visiting U.S. House of Representatives Speaker Nancy Pelosi, according to the Criminal Investigation Bureau (CIB).
Initial investigations suggest the incidents were cyber attacks from unknown Internet Protocol (IP) addresses, the CIB said, adding that it is collecting more evidence to identify the origins of the attacks.
Earlier in the day, digital bulletin messages reading "War monger Pelosi, get out of Taiwan" were seen in some branches of the 7-Eleven convenience store chain, which the operator said came from outside its system.
Meanwhile, at Taiwan Railways Administration's (TRA's) Xinzuoying Station in Kaohsiung, there was a bulletin message calling Pelosi "an old witch."
The TRA said the digital signage, which is operated by another company for advertising purposes, was connected to a private Internet system, indicating that could be the loophole used by hackers.
The administration has temporarily shut down the signage and said it is closely monitoring its ticketing system and train schedule display to avoid further attacks.
The same message as the one in Xinzuoying Station appeared on the electronic signage of Jhushan Township Office in Nantou County, central Taiwan, which is also operated by a third-party company.
According to Chen Yaw-shyang (陳耀祥), chairman of the National Communications Commission, an initial investigation found that the affected companies used Chinese software in their digital signage systems.
This software could contain backdoors or Trojan horse malware, which makes them vulnerable to hacker attacks, Chen said.
On Tuesday, the website of Taiwan's Presidential Office was hit by an overseas cyber attack, which prevented the site from functioning normally.
However, the website was brought back online within 20 minutes after the problem occurred.
Pelosi arrived in Taiwan late Tuesday amid heightened tensions across the Taiwan Strait.
During her 19-hour stay in Taipei, Pelosi met with President Tsai Ing-wen (蔡英文), visited the legislature, met with Taiwan lawmakers and attended a government luncheon.
She also visited the National Human Rights Museum in the White Terror Memorial Park, where political prisoners were held during the decades of martial law under the former Kuomintang (KMT) regime, and met with human rights and pro-democracy activists.
The trip makes the 82-year-old California Democrat the highest-level U.S. official to visit Taiwan in 25 years and the first sitting U.S. House speaker since 1997, when her predecessor, Republican Newt Gingrich, traveled to Taipei and met with then-President Lee Teng-hui (李登輝).
Her visit has drawn the ire of China, which considers Taiwan part of its territory and opposes any official interactions that imply otherwise.
Update
Aug. 6: 20 Chinese warplanes, 14 warships deployed around Taiwan: MND
Aug. 6: U.S., Japan, Australia urge China to stop military drills
Aug. 6: Taiwan companies told to abide by China's labeling rule: MOEA
Aug. 5: 68 Chinese warplane, 13 warship sorties recorded around Taiwan: MND
Aug. 5: MOFA reports continued cyberattacks seeking to crash its website