CORONAVIRUS
/
Taiwan reports 36,015 new COVID-19 cases, 103 deaths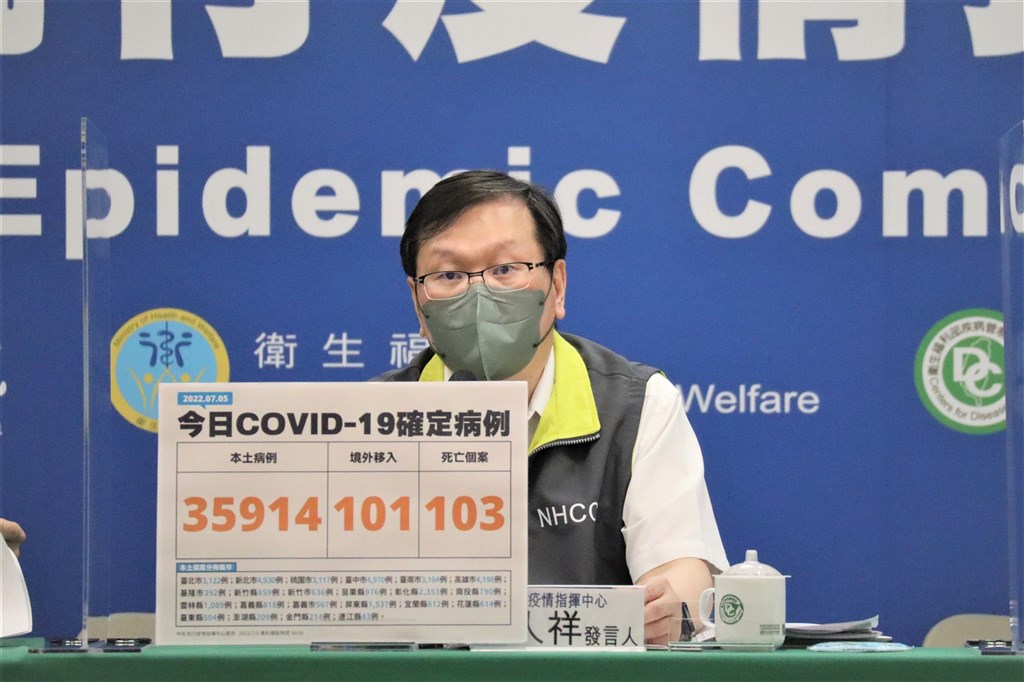 Taipei, July 5 (CNA) Taiwan reported 36,015 new COVID-19 cases on Tuesday, all but 101 of which were domestic infections, and 103 deaths from the disease, according to the Central Epidemic Command Center (CECC).
The individuals whose deaths were reported Tuesday ranged in age from their 30s to 90s.
Forty of those who died were unvaccinated, while 94 had chronic illnesses or other severe diseases.
Of the nine deaths without chronic illnesses or other severe diseases, four were unvaccinated, one had gotten two doses of a COVID-19 vaccine, and four had gotten three doses, the CECC said.
Severe, moderate infections
The CECC also said that 94 previously reported COVID-19 cases had become severe, while 31 other individuals had developed moderate symptoms.
Among the severe cases is a 10-year-old boy who has been diagnosed with multisystem inflammatory syndrome in children (MIS-C).
The boy, who has no chronic illnesses and is unvaccinated, tested positive for COVID-19 on May 28. Over a month later on July 1, he developed a fever of 40 degrees Celsius, and a stomach ache, cough, and runny nose, the CECC said.
The boy began showing symptoms of MIS-C including vomiting, low appetite, and lethargy on July 2, and was taken to the hospital on July 3 after he developed a rash and bloodshot eyes.
He was found to have low blood pressure and diagnosed with MIS-C, and is now receiving treatment in an intensive care unit (ICU), the CECC said.
To date, 84 children aged 13 years old and younger have developed serious illnesses from COVID-19, of whom 21 have passed away.
Of the 3,863,991 domestic cases reported in Taiwan this year, 7,305 have been classified as severe infections and 9,522 as moderate, accounting for 0.19 percent and 0.25 percent of the total, respectively, according to CECC data as of July 4.
In all other cases, the infected individuals were either asymptomatic or had mild symptoms, the CECC said.
Regional breakdown
Of the domestic cases Tuesday, Taichung recorded the highest number, with 4,970, followed by New Taipei with 4,930, and Kaohsiung with 4,198.
Tainan reported 3,164 cases, Taipei 3,122, Taoyuan 3,117, Changhua County 2,353, Pingtung County 1,537, and Yunlin County 1,089.
Miaoli County recorded 976 cases, Hsinchu County 859, Chiayi County 818, Yilan County 812, Nantou County 790, Hsinchu City 636, Hualien County 614, Chiayi City 567, Taitung County 504, Keelung 392, Kinmen County 214, Penghu County 209, and the Matsu Islands 43.
To date, Taiwan has recorded 3,929,627 COVID-19 cases since the pandemic began in early 2020, including 3,914,475 domestic infections.
With the 103 deaths reported Tuesday, the number of confirmed COVID-19 fatalities in the country rose to 7,128.
Also on Tuesday
July 5: Moderna vaccine for under-6s to arrive Wednesday morning
July 5: Taiwan mulls canceling PCR requirement for low-risk countries
Related News
July 4: Taiwan to maintain current border rules in light of new subvariants
Recent cases
July 4: Taiwan reports 23,118 new COVID-19 cases, 69 deaths
July 3: Taiwan reports 32,681 new COVID-19 cases, 88 deaths
July 2: Taiwan reports 34,827 new COVID-19 cases, 96 deaths
July 1: Taiwan reports 35,800 new COVID-19 cases, 121 deaths
June 30: Taiwan reports 38,942 new COVID-19 cases, 118 deaths
View All