LGBTQ RIGHTS
/
Same-sex cross-national couples continue fight for marriage equality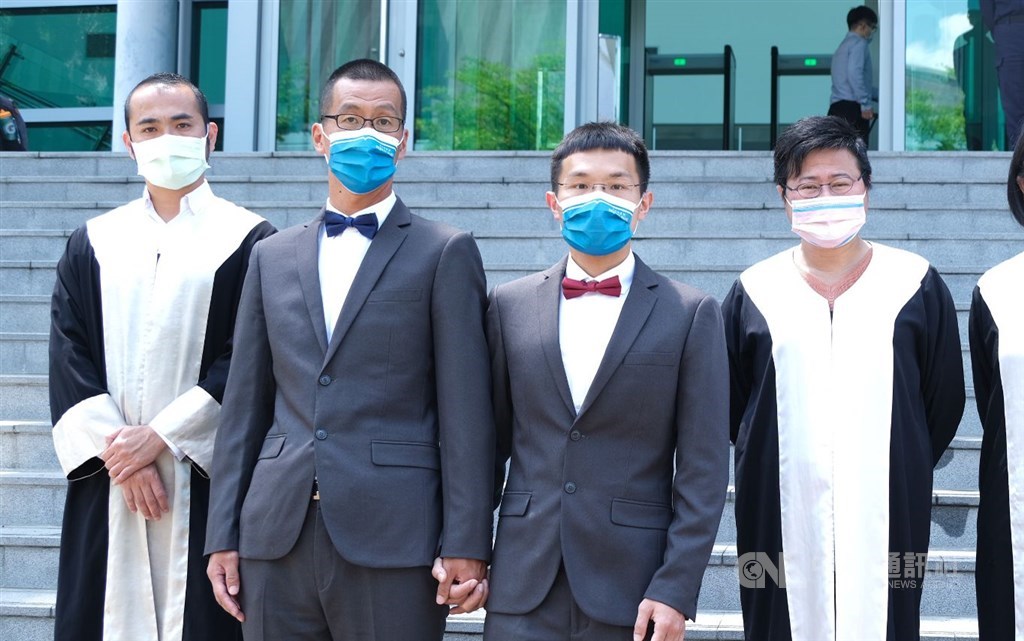 [Editor's Note: This is Part 1 of a three-part series that takes an in-depth look at the challenges still facing same-sex couples and LGBTQ individuals in Taiwan, three years after the country became the first in Asia to legalize same-sex marriage. Since 2019, more than 7,900 same-sex couples have registered their marriages in Taiwan, but many cross-national couples are still unable to do so. All same-sex couples are also barred in Taiwan from adopting children together. This series, which will be released over the next two weeks, examines those issues. Read Part 2 and Part 3.]
By Teng Pei-ju, CNA staff reporter
Hands held tight and dressed in matching gray business suits, Lu Yin-jen and his Japanese husband Eizaburo Ariyoshi walk out of the Taiwan High Administrative Court having just left the first hearing in a two-year legal battle to have their marriage registered with the Ministry of the Interior (MOI).
Under the MOI's current rules, same-sex unions where one partner is from a country or region where gay marriage is illegal cannot be registered in Taiwan.
These rules have come into sharper focus after the beginning of the COVID-19 pandemic, as many have faced difficulties staying in Taiwan amid a ban on nonresidents entering the country.
Backed by pro bono support from the Taiwan Alliance to Promote Civil Partnership Rights (TAPCPR), the couple's case is part of a wider bid to have MOI's directive overturned, which would pave the way for Lu and Ariyoshi and others like them to tie the knot in Taiwan.
A legal hurdle for some cross-national same-sex couples
"I feel sad that we cannot get married now just because I am Japanese," Ariyoshi, a 42-year-old language teacher, said.
On the first weekend after the marriage equality bill -- Act for Implementation of J.Y. Interpretation No. 748 -- cleared the Legislature in May 2019, Lu and Ariyoshi held their wedding in southern Taiwan's Pingtung.
It was a day that Ariyoshi said had seemed impossible growing up in conservative Japan, a country where same-sex couples cannot marry.
However, when Ariyoshi and Lu attempted to have their marriage legally recognized by their local household registration office around a month later, the application was rejected.
The MOI cited Article 46 of the Act Governing the Choice of Law in Civil Matters Involving Foreign Elements, which stipulates that the formation of a marriage is governed by the national law of each party's home country, as its legal basis for refusing to register the couple's marriage.
Following a second failed attempt at registering in May 2021, Lu and Ariyoshi decided to bring their case to court, commencing a legal battle that their lawyer Victoria Hsu (許秀雯) estimated would take approximately two years.
"Fighting a court battle is certainly tiresome, but I think it is necessary. Our dream is what matters the most," Ariyoshi said. "If legal proceedings are what it takes to have our dream come true, we will go through the process."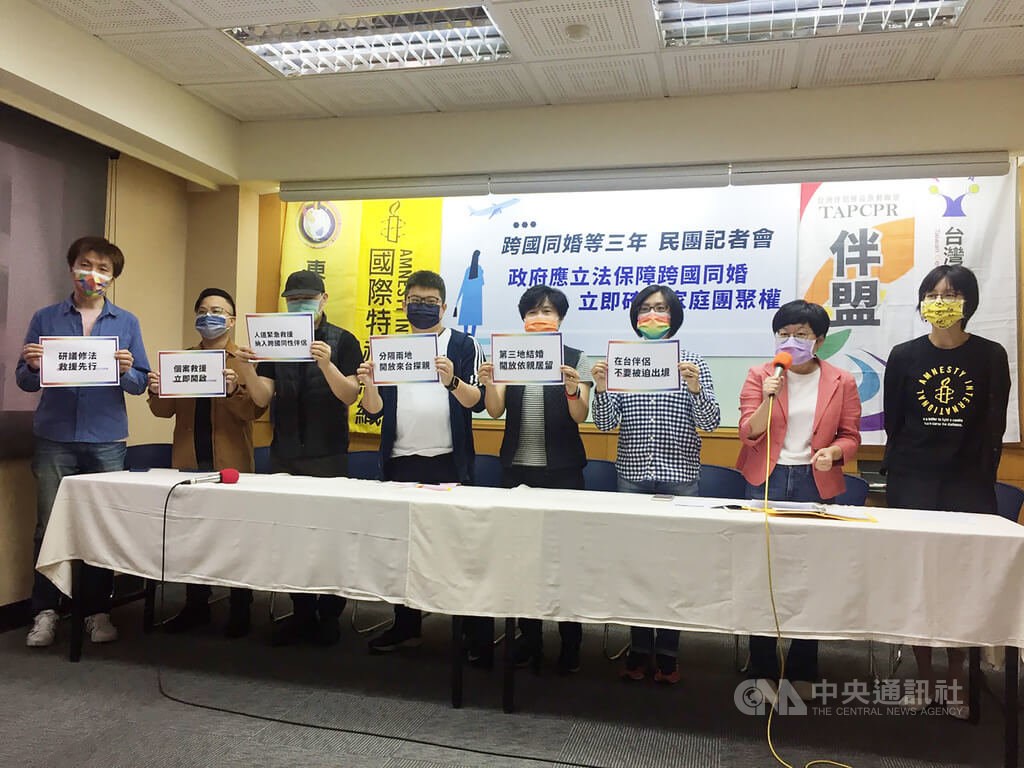 Struggle for marriage equality continues
Since Taiwan became the first country in Asia to legalize same-sex marriage in 2019, more than 7,900 same-sex couples have registered their marriages here, according to government figures valid as of April 30 this year.
However, according to a TAPCPR survey, at least 467 cross-national same-sex couples -- including those who have already had their marriage registered in a third country -- have been prevented from getting married in Taiwan due to the MOI's directive.
Despite the Taipei High Administrative Court ruling in favor of three couples involving partners from Malaysia, Macao, and Singapore, the MOI, which governs matrimonial affairs, insists it is legally bound to continue rejecting the registration of such marriages under Article 46.
Rights groups such as TAPCPR have deemed the MOI's stance unconstitutional, citing a constitutional court ruling in 2017 that determined same-sex couples should be afforded the same marriage rights as heterosexual couples.
They have also taken issue with a Judicial Yuan draft amendment sent to the Cabinet in January 2021 for approval, arguing that it still fails to cover the rights of all same-sex unions in Taiwan by leaving out couples who both are foreign nationals but have permanent residency in Taiwan.
While competing proposals from lawmakers in the Legislative Yuan have drawn warmer support, committee conveners are thought to have agreed to delay discussions on these until the Judicial Yuan's draft amendment reaches the Legislature.
With that proposal still awaiting the green light from the Cabinet after 16 months, progress on resolving the legal conflicts surrounding cross-national same-sex marriages remains in limbo.
Cabinet spokesperson Lo Ping-cheng (羅秉成) told CNA that the discussions had been held several times over the past year but that more assessment and communication were needed before the draft amendment could be sent to the Legislature.
TAPCPR Secretary-General Chien Chih-chieh (簡至潔) said that the COVID-19 pandemic and national referendums last year had diverted the government's attention and stalled efforts to push through the amendment.
Chien noted that with the government's focus now on November's local elections, such legislative stagnation was likely to continue for the foreseeable future.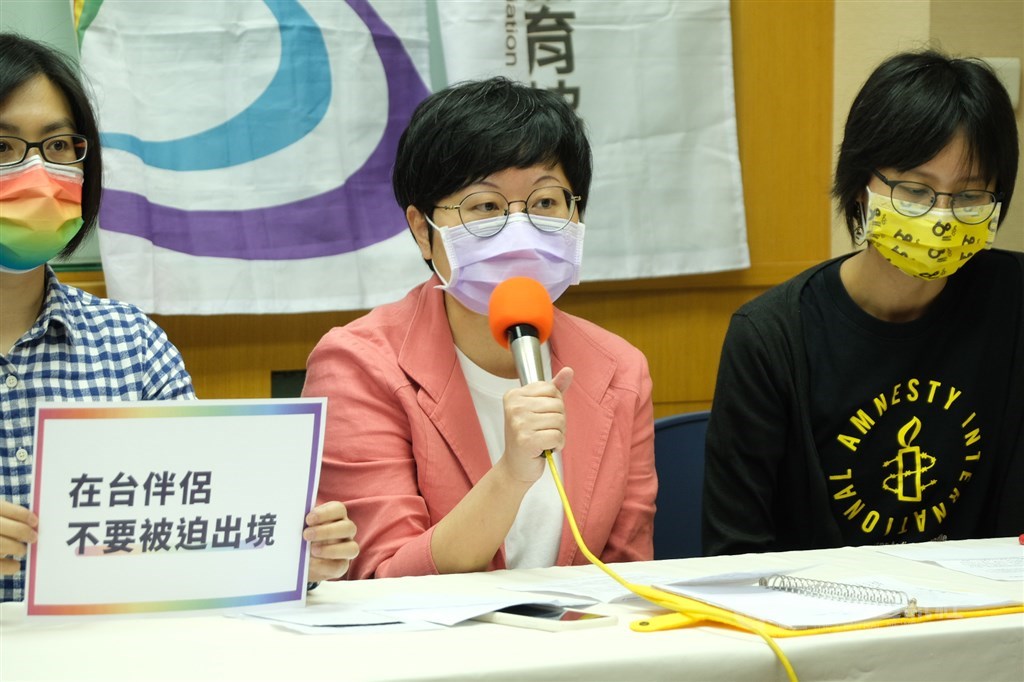 Rescue missions
Following the imposition of strict border controls in early 2020 due to the COVID-19 pandemic, TAPCPR subsequently launched a number of what it called "rescue" missions to help foreign partners unable to marry obtain visa extensions.
One of the couples that received TAPCPR's support is Chan Chia-jung, and her Filipina girlfriend of eight years Quennie Oyong, who had been enrolled in a Mandarin course in Taiwan since 2018.
The couple had tried and failed three times to have their marriage recognized in Taiwan in order to secure Oyong residency as a foreign spouse.
As Oyong's two-year student visa neared expiration in early 2020, and with the border largely closed to inbound travelers, the couple reached out to TAPCPR and New Power Party legislator Wang Wan-yu (王婉諭) for assistance.
Wang was able to reach an agreement with the National Immigration Agency (NIA) to grant Oyong month-by-month visa extensions on the grounds that COVID-19-related travel restrictions had left foreign nationals stranded in Taiwan.
Despite her gratitude for the opportunity to stay in Taiwan, the 40-year-old Oyong finds the current arrangement suffocating. "It feels like I cannot breathe...thinking about that next month I still have to go to the immigration agency to get my visa extended."
Oyong added that she was never given any assurance of another extension, a precarious situation that had disrupted her and Chan's plans to settle down following several years in a long-distance relationship.
According to TAPCPR, while it has helped seven foreigners like Oyong extend their residency in Taiwan since the pandemic began, dozens of others eventually left the country after failing to get a visa extension.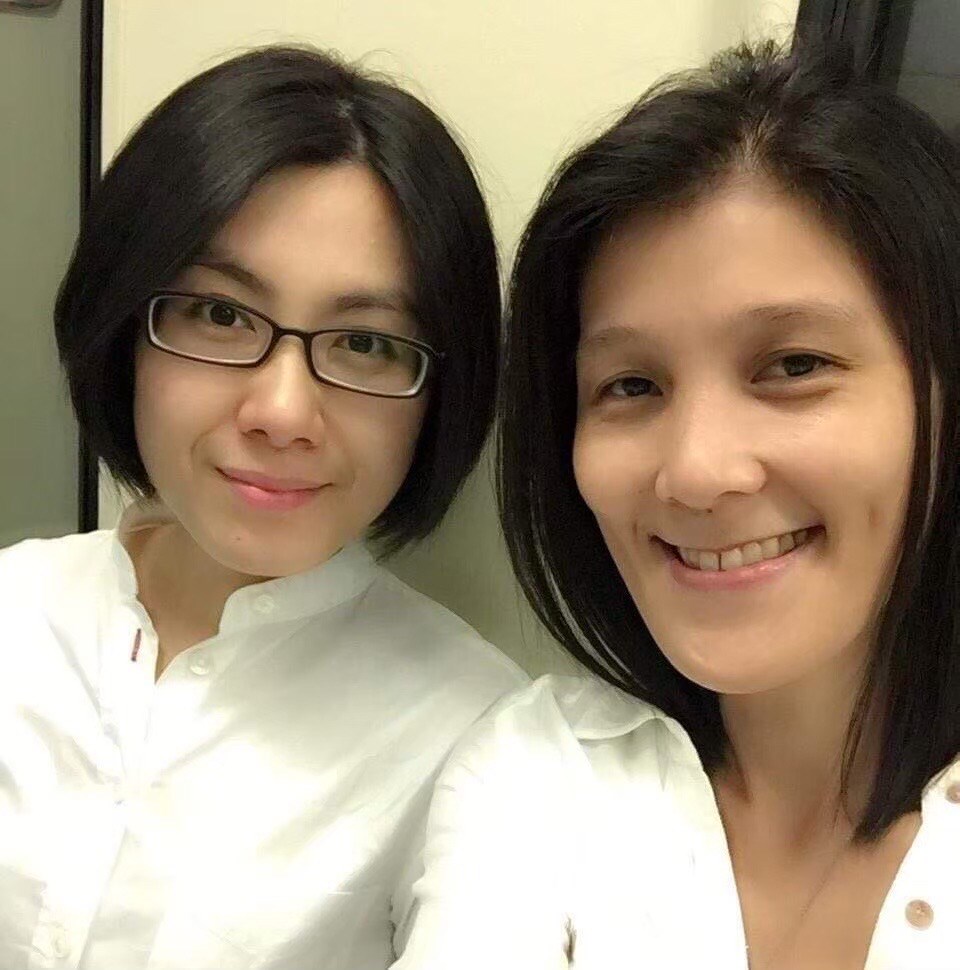 Peng Chih-liu (彭治鏐), deputy secretary-general of the Taiwan Tongzhi (LGBTQ+) Hotline Association, commented that the visa issue had greatly affected these cross-national same-sex couples, not just emotionally but also economically.
Their relationship suffers and their careers face serious disruption because of the uncertainty about residency, Peng added.
Oyong and Chan have taken part in several rallies organized by TAPCPR to call for the law amendment. At one event in February, Chan even knelt on the ground in front of a government building while delivering her pleas.
It was an act of "desperation," the 38-year-old social worker said. "We had argued with reason. We had protested in the street. I didn't know what else to do, so I begged."
Enditem/ASG
Part 2: Despite same-sex marriage law, parental rights still lacking
Part 3: Transgender people hope for change in ID regulations after landmark court rulings
View All