CORONAVIRUS
/
Taiwan's COVID wave to peak at 40-100K cases per day: health minister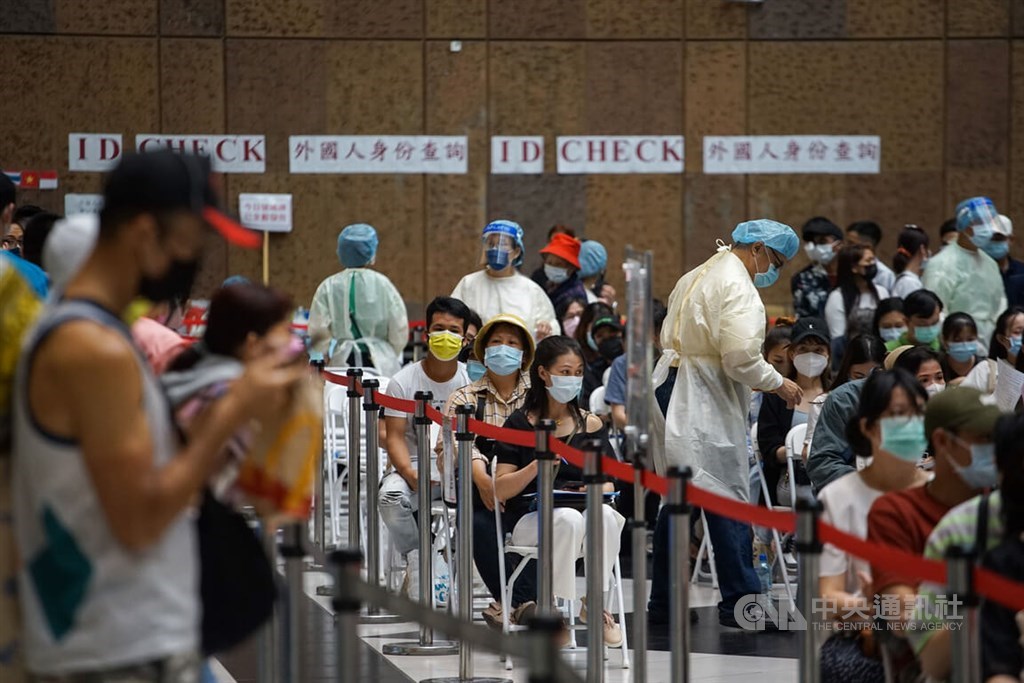 Taipei, April 27 (CNA) Taiwan is likely to record over 10,000 new COVID-19 cases on Thursday and is on track to hit a peak of between 40,000 and 100,000 new cases per day, according to Health Minister Chen Shih-chung (陳時中).
Chen made the estimate at the Central Epidemic Command Center's (CECC) press briefing Wednesday after announcing 8,923 new confirmed cases, a 40-percent jump from the 6,339 cases reported a day earlier.
According to the government's model, "this wave of Omicron cases will peak somewhere between a low of 40,000 and a high of 100,000 cases per day," Chen said, adding that the government is preparing medical supplies based on the higher estimate.
Chen's projection represents a significant increase from earlier this week, when he cited a National Health Research Institutes (NHRI) estimate that the wave would peak at 45,000 cases per day.
Update
May 7: Quarantine cut to 7 days for mild, asymptomatic COVID-19 cases: CECC
May 7: Taiwan rolls back quarantine rules for contacts of COVID-19 patients
May 5: Rapid test positives to be counted as confirmed COVID cases from May 12
May 3: Taiwan to shorten quarantine for arriving travelers from 10 to 7 days
May 2: Symptomless people to face restrictions in getting PCR test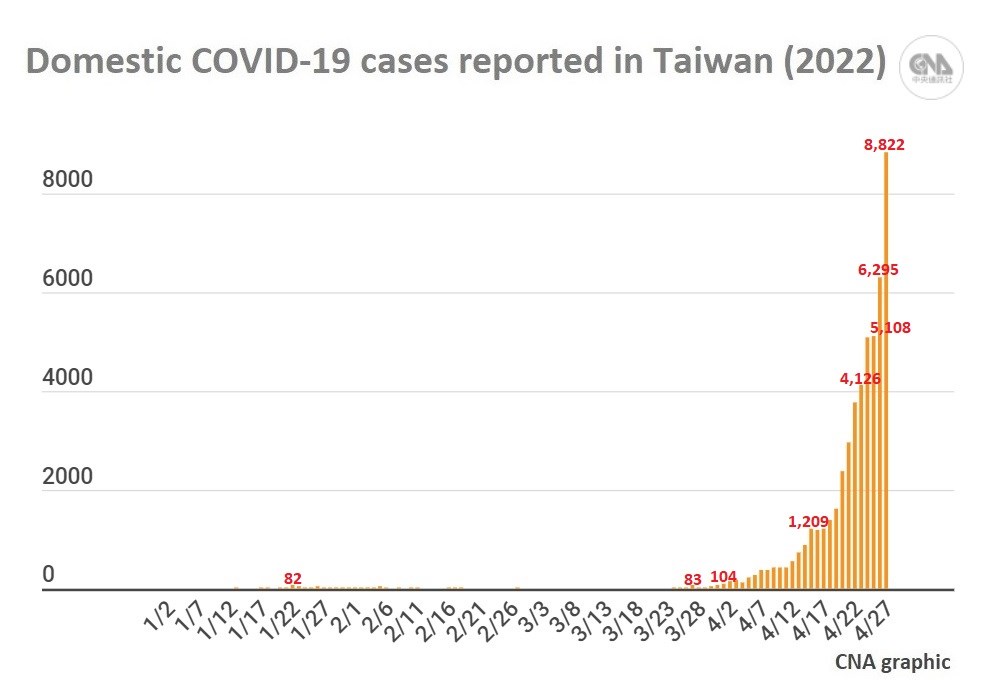 However, he also rejected worst-case scenarios for the outbreak, such as Taipei Mayor Ko Wen-je's (柯文哲) suggestion that daily cases could reach 500,000 by mid-May, saying Taiwan is not going to "break any world records."
"In Korea, which has a population 2.5 times larger than Taiwan's, daily cases peaked at around 680,000," Chen said.
Taiwan is unlikely to see anything that severe, even in proportion to its population, he argued, due to the widespread use of face masks and the high vaccination rate.
Moreover, once case numbers do rise to a certain level, the virus will "run into a wall" of natural immunity and slowly begin to decline, he said.
New Taipei mayor's '0+7' proposal?
Chen was also asked about the "0+7" proposal by New Taipei Mayor Hou Yu-ih (侯友宜), in which the contacts of COVID-19 cases would be exempt from quarantine, but would have to take rapid tests daily for seven days.
At present, he replied, the timing is not right for such a proposal, as it would cause infection numbers to rise too quickly.
"We need to maintain basic prevention measures to keep the case numbers at a certain level and get through this pandemic safely," he said.
Disease prevention family care leave for parents
Meanwhile, at a Legislative hearing Wednesday, Education Minister Pan Wen-chung (潘文忠) said parents can take "disease prevention family care leave" for up to seven days if they have a child under the age of 12 who has to isolate at home.
While the government recently implemented a "3+4" quarantine plan for the contacts of COVID-19 cases, the policy specifies that students, teachers, and school staff can only return to campus eight days after their exposure to the virus.
Update
May 4: Taiwan adjusts hospital policy for COVID-19 patients 
Related News
April 27: Taiwan to maintain current mask mandate through May
April 27: Taiwan reports 8,923 COVID-19 cases, two deaths
April 26: New '3+4' quarantine rule for contacts of COVID cases
April 21: Rapid testing to replace preventive quarantine: health minister
April 7: Taiwan suspends some COVID contact tracing, adopts new control model
View All