CORONAVIRUS
/
CECC details COVID-19 warning signs in children, adjusts hospital policy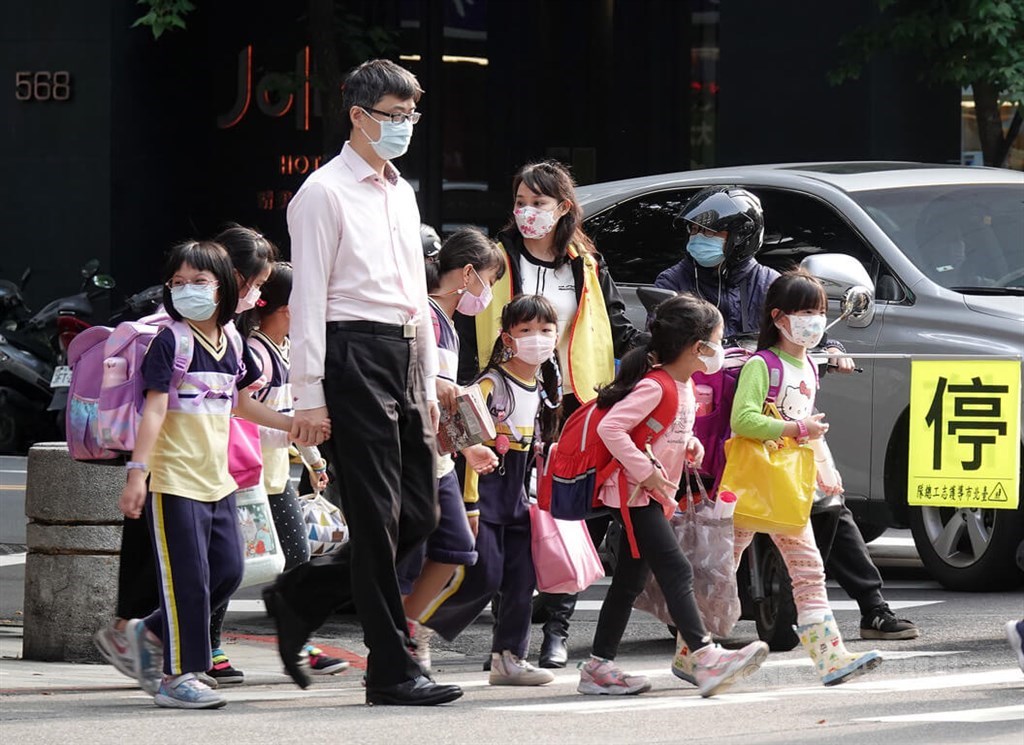 Taipei, April 21 (CNA) Taiwan's Central Epidemic Command Center (CECC) on Thursday released a list of symptoms that could signal a child has developed a severe case of COVID-19, as well as adjusted its triaging criteria for COVID-19 patients in the country.
Parents should contact the health authorities if a child or adolescent displays any of the following symptoms when in quarantine: a fever that lasts over 48 hours; a fever of over 39 degrees Celsius combined with a cold sweat; lethargy, shortness of breath, chest tightness, or chest pain after a fever subsides; persistent vomiting, headache, or stomach ache; and a period of 12 hours or longer without eating or urinating.
In these situations, the health authorities will arrange for the child or adolescent to see a doctor either virtually or in person, said Lo Yi-chun (羅一鈞), deputy head of the CECC's medical response division.
If a child or adolescent has seizures, falls unconscious, has difficulty breathing, a sunken chest, white or purple lips, an oxygen level below 94 percent, or cold extremities combined with mottled skin and cold sweats, parents should call 119 and wait for an ambulance or take the child directly to a hospital.
Update: COVID-19 treatment channels for children to be set up: CECC (May 13)
In principle, people should contact the local health authorities before going to a hospital because individuals in quarantine are monitored by the "digital fence system," which uses cell phone signals to determine whether they have left their quarantine location, Lo said.
In emergency situations, however, people can inform local health authorities after they reach the hospital, Lo said.
The new guidelines come after the death of a 2-year-old boy from COVID-19 on Tuesday, the youngest patient to die from the disease so far in Taiwan.
The boy's parents have been highly critical of the health authority's initial response and the bureaucratic run-around they said they faced when their son's condition deteriorated and they were trying to get him to a hospital.
Revised triaging criteria
Update: CECC further tightens COVID-19 hospital admissions policy (May 17)
Also on Thursday, the CECC adjusted its criteria for which COVID-19 patients will be admitted to hospitals, quarantine centers or designated hotels, or can quarantine at home while they recover.
Under the new guidelines, patients in the following groups will be admitted to hospital: individuals classified as having moderate or severe cases of COVID-19, aged 75 years old or above, undergoing dialysis, those 36 weeks pregnant or over, infants under 3 months old who have a fever, and infants 3-12 months old with a fever of over 39 degrees Celsius.
Meanwhile, government-run quarantine centers and designated hotels will house patients who have mild symptoms or are asymptomatic, and who also fall into one of four categories, Lo said.
The categories are: individuals aged 70-74 who are self-sufficient or accompanied by a caregiver, aged 65-69 and living alone, under 36 weeks pregnant, or whose residence does not meet the conditions for home quarantine, Lo said.
All other patients who have mild or no symptoms will quarantine at home, Lo said.
He added that patients whose residences meet home quarantine requirements but who would normally be admitted to government quarantine centers or hotels can also quarantine at home, provided they are approved to do so by medical personnel.
Update
May 7: Quarantine cut to 7 days for mild, asymptomatic COVID-19 cases: CECC
May 7: Taiwan rolls back quarantine rules for contacts of COVID-19 patients
May 5: Rapid test positives to be counted as confirmed COVID cases from May 12
May 3: Taiwan to shorten quarantine for arriving travelers from 10 to 7 days
April 27: Taiwan to start rationing sale of COVID-19 rapid test kits 
April 26: COVID vaccine rollout for 6-11-year-olds to start May 2: MOE
View All