Tsai ranked as world's 9th most powerful woman by Forbes magazine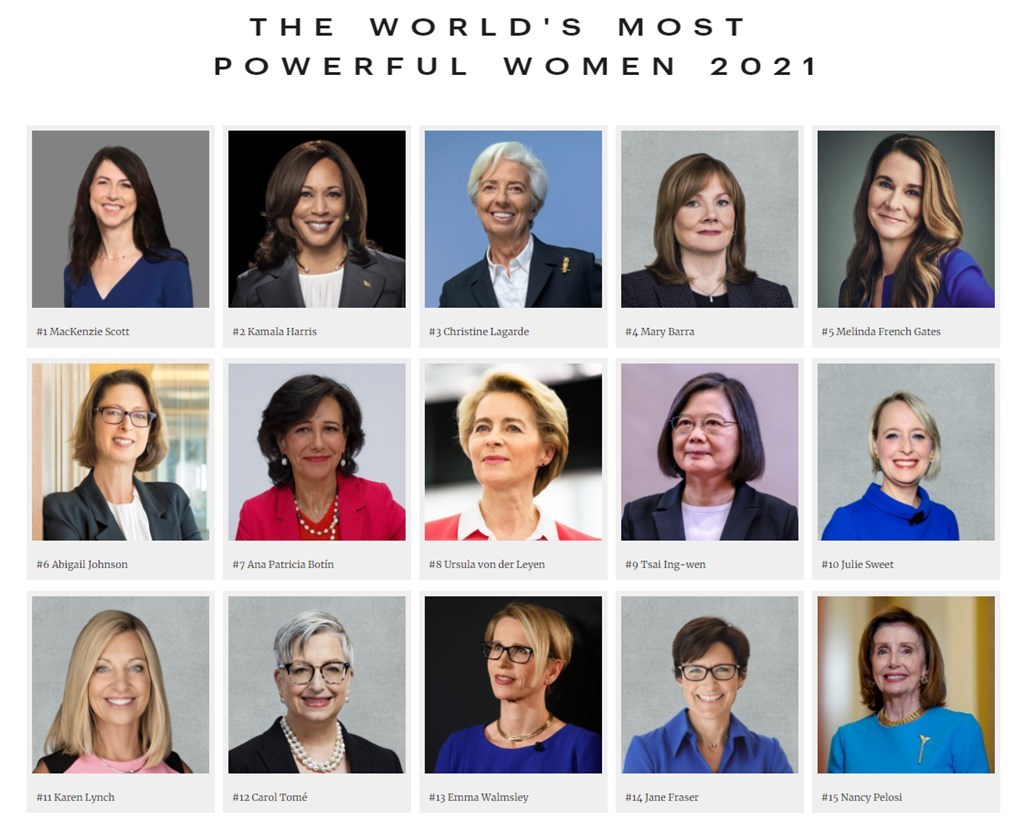 Taipei, Dec. 8 (CNA) Taiwan President Tsai Ing-wen (蔡英文) has been ranked among the 10 most powerful women in the world by Forbes magazine, rising to No. 9 this year from 37th in 2020.
In Forbes' rankings of "The World's Most Powerful Women 2021," the prestigious American magazine noted that Tsai became Taiwan's first female and unmarried leader in 2016, and four years later she was reelected with more than 57 percent of the popular vote, in what was seen as a "rebuke to Beijing's efforts to control the island."
The magazine also said Tsai has made protocol-breaking overtures to the U.S., which has created tensions with China.
Tsai was commended for her leadership throughout the COVID-19 pandemic and her efforts in stimulating Taiwan's economy with initiatives in biotech, defense and green energy to make Taiwan "an indispensable member of the world."
This is the sixth year that Tsai has made the Forbes list of the "The World's Most Powerful Women" since her her first listing at No. 17 in 2016. Last year, she was was ranked 37th.
Meanwhile, another Taiwanese, businesswoman Lisa Su (蘇姿丰), who immigrated to the United States as a child, was also on latest the Forbes list, ranked at No. 49.
Su, an electrical engineer by profession, currently serves as president and CEO of American semiconductor conglomerate Advanced Micro Devices (AMD), which has seen its stock rise more than 25 fold under her leadership, Forbes said.
According to the magazine, that was one of greatest turnarounds in the technology sector in recent times.
At the top of the Forbes list of "The World's Most Powerful Women 2021," was American novelist and philanthropist Mackenzie Scott, who signed a "Giving Pledge" in 2019, promising to give away at least half of her wealth over the course of her lifetime.
Scott, the ex-wife of Amazon's billionaire founder Jeff Bezos, has already donated about US$8 billion in gifts to more than 500 nonprofit organizations, with US$2.74 billion handed out to 286 groups in June this year, according to the magazine.
At No. 2 on the list was U.S. Vice President Kamala Harris, who became the first American woman of Black and South Asian decent to assume the second highest office in the country.
Harris was also the first Indian-American woman to be elected to the U.S. Senate in 2016 and the first woman of African-American decent to serve as California's attorney general in 2010, the magazine said.