CORONAVIRUS
/
Taiwan reports 12 new COVID-19 cases, zero deaths for 4th straight day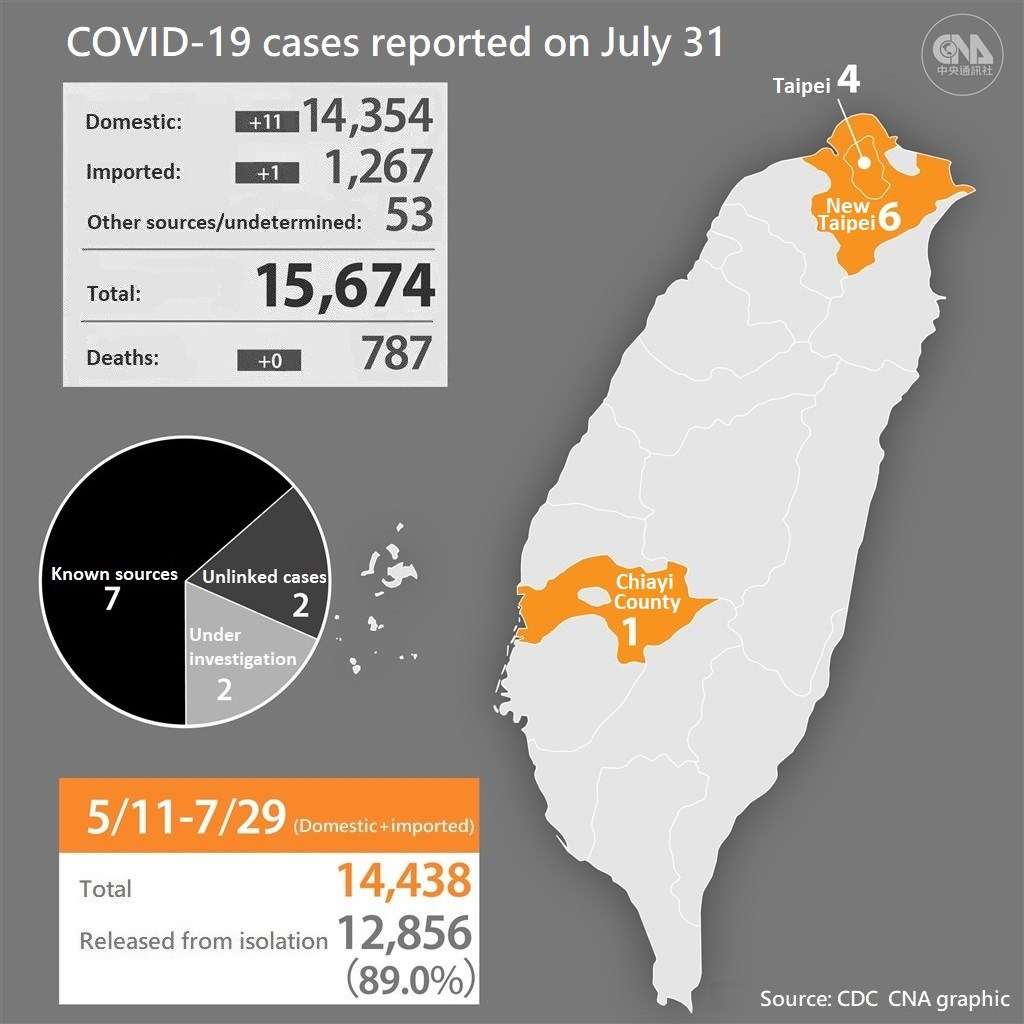 Taipei, July 31 (CNA) Taiwan on Saturday reported 12 new cases of COVID-19 -- 11 transmitted domestically and one contracted overseas -- and zero deaths from the disease for the fourth consecutive day, according to the Central Epidemic Command Center (CECC).
Of the domestic cases, six were reported in New Taipei, four in Taipei, and one in Chiayi County.
Two of the 11 domestic cases have an unknown source, and two are still being investigated, Chen said.
"It's a good sign," he said, referring to the fact that the number of new cases with unknown sources of infection has remained under 10 for about two weeks.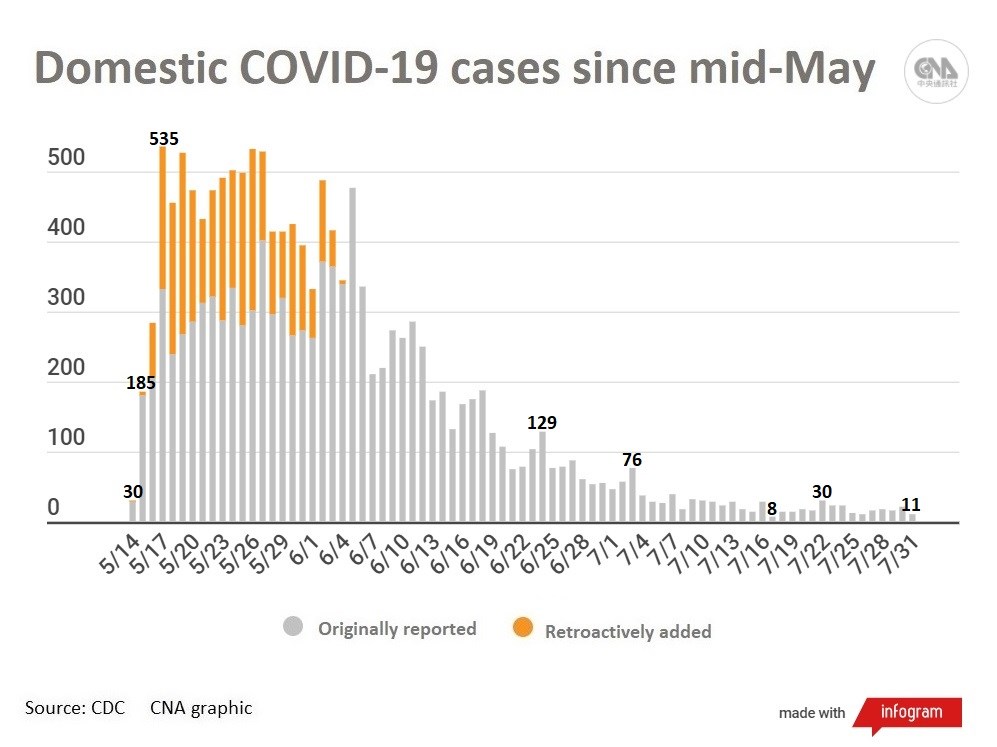 The new cases bring the total in the country to 15,674, of which 14,190 are domestic infections reported since May 15, when Taiwan first recorded more than 100 COVID-19 cases in a single day.
Meanwhile, with no new COVID-19 deaths reported in Taiwan for the fourth consecutive day, the total number in the country remained at 787, all but 12 of which were recorded since May 15, CECC data showed.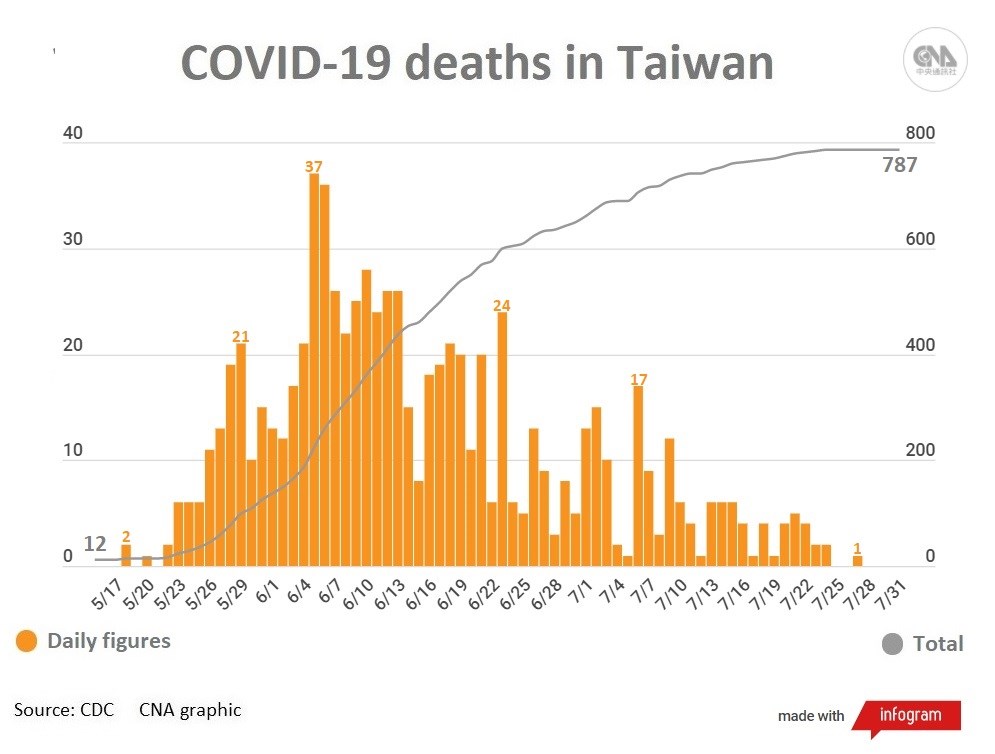 Chen also said that a COVID-19 cluster of 11 cases, reported Friday and linked to a factory in Chiayi County, is currently under control, as none of the new cases confirmed Saturday are connected to that group, Chen said.
The Chiayi County government has also set up several COVID-19 rapid test stations in the county for people who may be worried to get tested, Chen said.
The one new imported COVID-19 case on Saturday, meanwhile, involved a Thai man in his 50s, who works on a fishing boat that docked in Taiwan on July 25, the CECC said.
Five days later, the man came down with a fever, and he was confirmed Saturday to have contracted the disease, according to the CECC.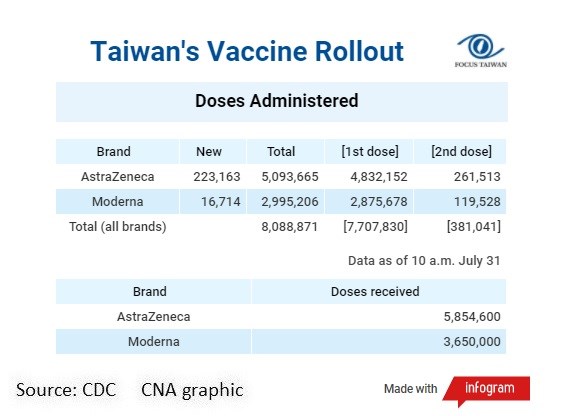 Recent cases
July 30: Taiwan reports 25 new COVID-19 cases, including a factory cluster in Chiayi
July 29: Taiwan reports 18 new COVID-19 cases, zero deaths for 2nd straight day
July 28: Taiwan adds 18 new domestic COVID-19 cases; no deaths reported
July 27: Taiwan records 17 new COVID-19 cases, receives new AZ vaccine delivery 
July 26: Taiwan reports zero COVID-19 deaths for 2nd consecutive day
View All