CORONAVIRUS
/
Taiwan reports 18 new COVID-19 cases, zero deaths for 2nd straight day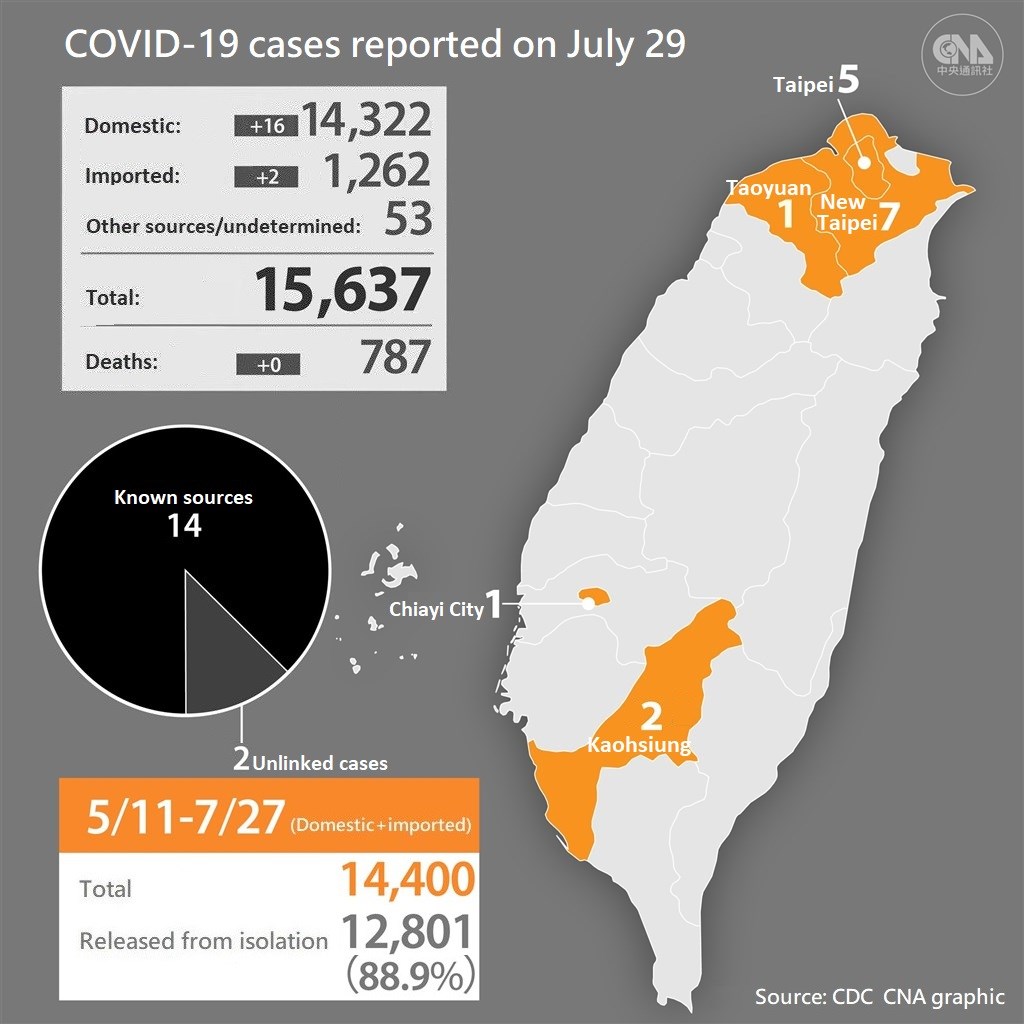 Taipei, July 29 (CNA) Taiwan on Thursday reported 18 new COVID-19 cases -- 16 transmitted domestically and two contracted overseas -- and zero deaths from the disease for the second consecutive day, according to the Central Epidemic Command Center (CECC).
Of the domestic cases, seven were reported in New Taipei, five in Taipei, two in Kaohsiung and one each in Taoyuan and Chiayi, Minister of Health and Welfare Chen Shih-chung (陳時中) said at the CECC press briefing.
Fourteen of the cases were people who tested positive during quarantine, after being listed as a contact of a COVID-19 case, Chen said, while the source of infection in the other two cases is still under investigation.
The number of new cases recently has hovered around 20 and is expected to continue to fall, unless a new cluster occurs, Chen said.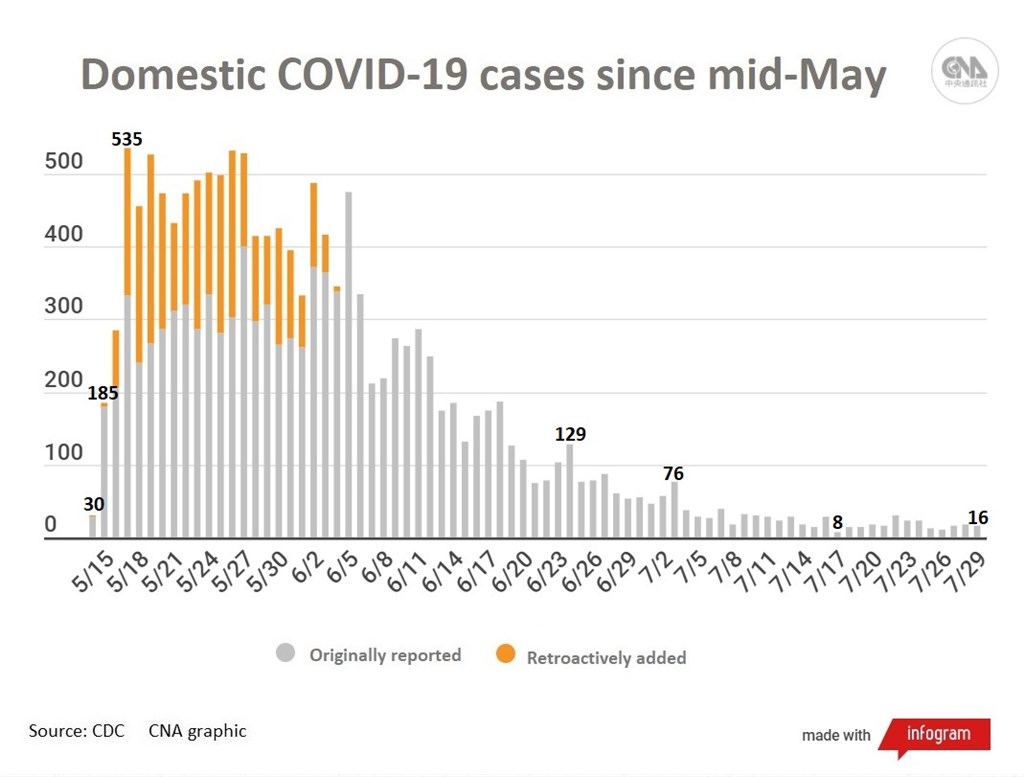 The new imported cases, meanwhile, involved two Taiwanese nationals who recently returned to Taiwan from the United States and Cambodia, according to the CECC.
To date, Taiwan has confirmed a total of 15,637 COVID-19 cases, of which 14,158 are domestically transmitted infections reported since May 15, when the country first recorded more than 100 cases in a single day since the beginning of the pandemic.
With no deaths reported these two days, the number of confirmed COVID-19 deaths in the country remains at 787, with all but 12 recorded since May 15, CECC data showed.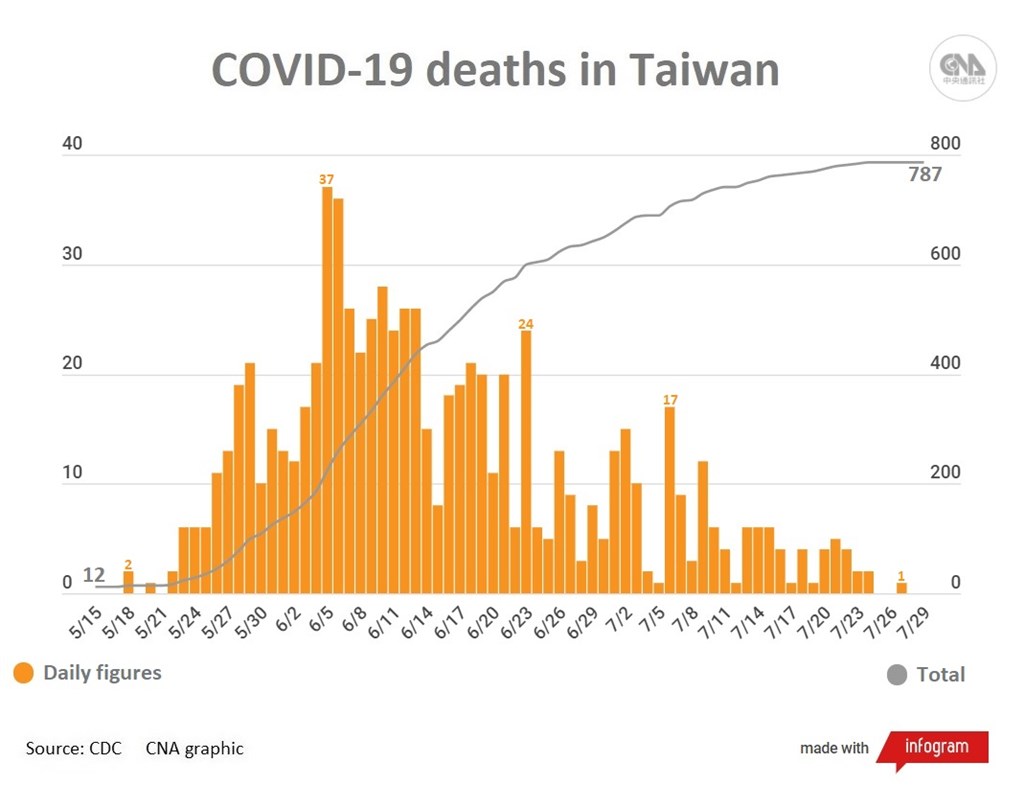 Around 7.27 million people in Taiwan have received their first COVID-19 vaccine shot, which translates to nearly 31 percent of the population, while 315,601 people, or 1.3 percent, have received the two doses needed to be fully vaccinated, according to the CECC.
Speaking at the press briefing on Thursday, CECC spokesperson Chuang Jen-hsiang (莊人祥) said that as of July 21, the CECC had received 13 reports of people who were diagnosed with thrombosis in combination with thrombocytopenia (TTS) after getting an AstraZeneca vaccine shot.
TTS, a rare disorder of blood clots combined with low platelet levels, was reported in patients aged 22-80, between four and 27 days after they got an AstraZeneca jab, Chuang said.
This is equivalent to a reported rate of 4.2 cases per million doses administered in Taiwan, Chuang said, adding that the disorder was more commonly reported among younger patients.
In Europe, the rate of TTS is 10-20 cases per million doses administered, he said.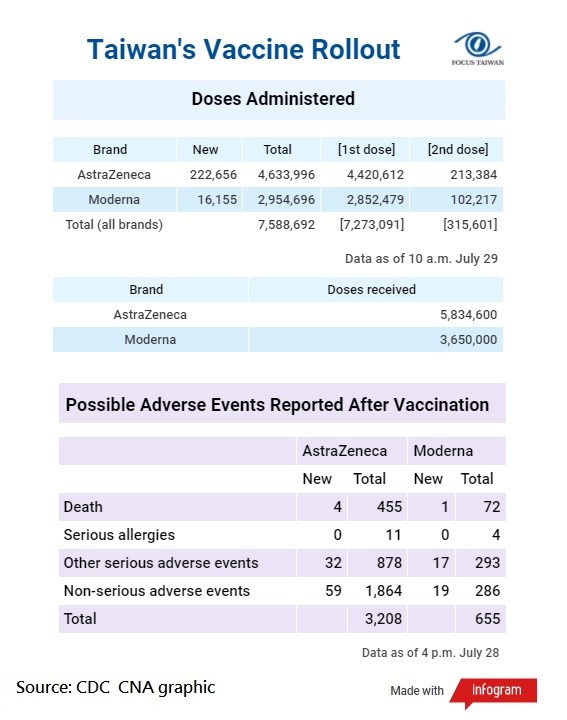 The CECC advises people who experience the following symptoms within 4-28 days after getting an AstraZeneca shot to see a doctor immediately: persistent headaches, blurred vision, persistent abdominal pain, swelling or pain in one's legs, severe chest pain or difficulty breathing.
A World Health Organization report released earlier this month said there is a "plausible causal link" between TTS and the AstraZeneca vaccine, but scientists are still unsure of the mechanisms involved.
Recent cases
July 28: Taiwan adds 18 new domestic COVID-19 cases; no deaths reported
July 27: Taiwan records 17 new COVID-19 cases, receives new AZ vaccine delivery 
July 26: Taiwan reports zero COVID-19 deaths for 2nd consecutive day
July 25: Caution urged as Taiwan adds dozen local COVID-19 cases, zero deaths
July 24: Taiwan reports 25 new COVID-19 cases, most infection sources known
View All