More earthquakes to hit Taiwan's Hualien County in coming week: CWB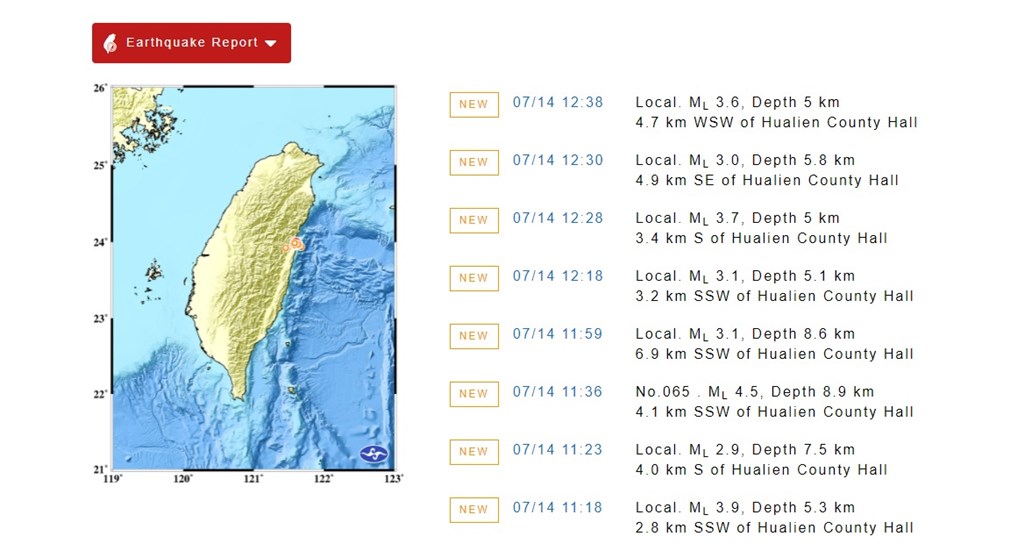 Taipei, July 14 (CNA) A total of 30 earthquakes jolted Hualien County in eastern Taiwan Wednesday morning, the Central Weather Bureau (CWB) said, warning it was possible for the county to experience more temblors in the coming week.
According to the CWB, a total of 30 earthquakes largely hit Jian township of Hualien and the coastal area near the township between 6:52 a.m. and 11:59 a.m. on Wednesday, with the quakes ranging in magnitude from 2.9 to 5.2.
The CWB said these temblors were the aftershocks of the doublet earthquake that shook the area on July 7-8.
The quakes on Wednesday caused some damage to an old residential property in Hualien City, near Jian township, which saw cement peeling off its wall and steel plate falling from the building.
However, no injuries or casualty were immediately reported, according to the Hualien County Fire Bureau.
All except one of the 30 quakes were shallow, at a depth of 5-11.8 kilometers, and nine of them registered a magnitude of more than 4.0.
Chen Kuo-chang (陳國昌), director of the CWB's Seismological Center, said it was not unusual for these quakes to take place in the county, a subduction zone comprising of the Eurasian plate and the Philippine Sea plate, and the quakes amounted to a quick way to release energy.
Chen, however, said it was not common to see such a large group of quakes hitting one location and its nearby area in such a short period of time.
He added that despite the release of energy reducing the risk of major aftershocks Wednesday morning, it remains likely for Hualien to experience more aftershocks in the coming week, with the strength of the quakes possibly reaching a magnitude of 5 or higher.
The first quake among the 30 occurred at 6:52 a.m., and it registered the highest magnitude of 5.2 among the quakes. It was centered 5.1 km southwest of Hualien County Hall, at a depth of 5.9 km, the Seismological Center said.
The intensity, which gauges its actual effect, was highest in Hualien City and Yanliao township, where it measured 5- on Taiwan's 7-tier intensity scale, while an intensity of 4 was recorded in Tongmen, Shuilian, Jiqi and Xibao townships and an intensity of 3 was registered in Xiulin, Xilin, Taroko and Guangfu townships, the CWB said.
Elsewhere, Yilan County in the northeast and Nantou County and Taichung City in central Taiwan, also felt an intensity of 3 from the quake, according to the CWB.
So far this year, Taiwan has reported 22 earthquakes with a magnitude of more than 5 and 80 percent of them rocked Hualien, Chen said.