CORONAVIRUS
/
Record 184,000 COVID vaccine shots administered in a day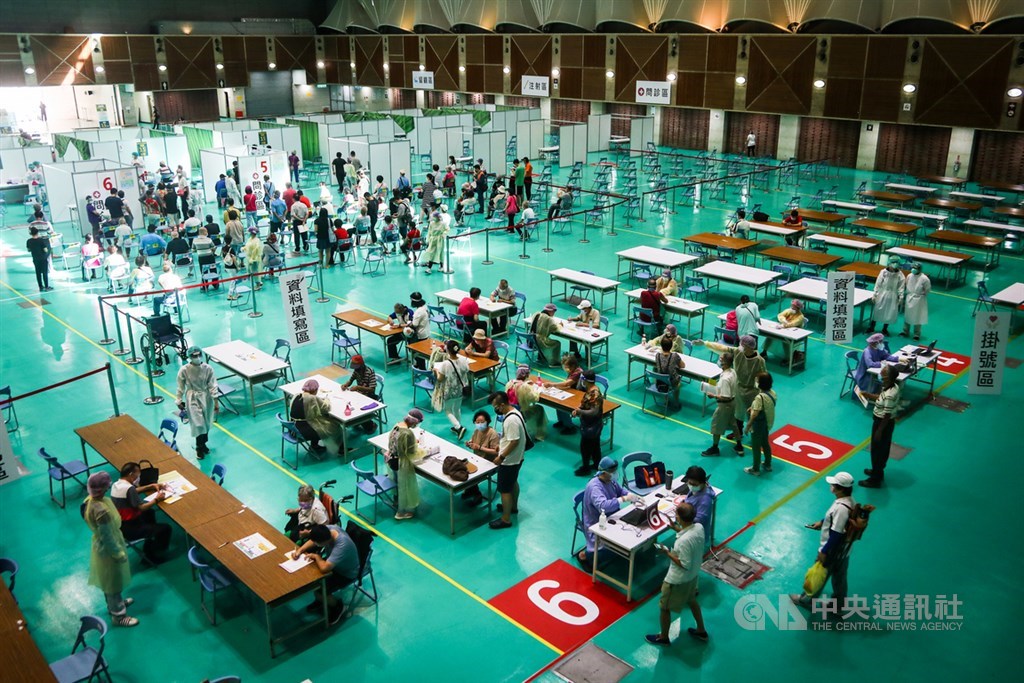 Taipei, July 3 (CNA) Over 184,000 people received a COVID-19 vaccine shot on Friday, the highest number in a single day since Taiwan rolled out its vaccination program in March, according to the Central Epidemic Command Center (CECC).
Friday's figure of 184,393 was a huge leap from the number reported the previous day -- 41,759 -- after Taiwan began distributing and administering the 2.5 million doses of Moderna vaccine donated by the United States when the rollout expanded to people aged 65 and above on July 1.
Among the people who received a shot on Friday, 167,650 were given the Moderna vaccine, CECC data released on Saturday showed.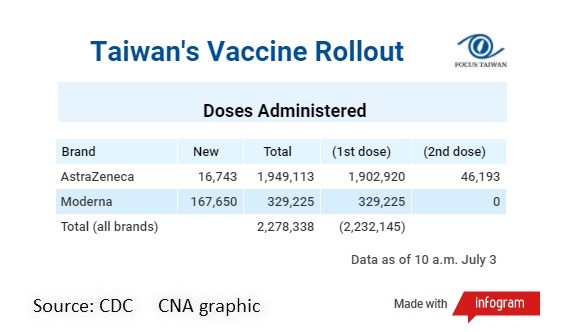 CECC spokesman Chuang Jen-hsiang (莊人祥) said during a press conference that the previous high of around 183,000 shots given in one day was recorded on June 15, when seniors aged 75 and above became eligible for vaccination.
According to Chuang, the final number on Friday could be even higher, as some local authorities may not have sent in the full figures before the CECC compiled the day's data on Saturday morning.
Since Taiwan's vaccine rollout began on March 22, 2,232,145 people, or nearly 9.5 percent of the country's 23.5 million population, have received a first dose of the COVID-19 vaccines developed by either AstraZeneca or Moderna, according to the CECC.
Among them, 46,193 have been given the second dose of the AstraZeneca vaccine, CECC data showed.
The rollout of the Moderna vaccine in Taiwan only began on June 9, and the second dose is administered 28 days after the first shot.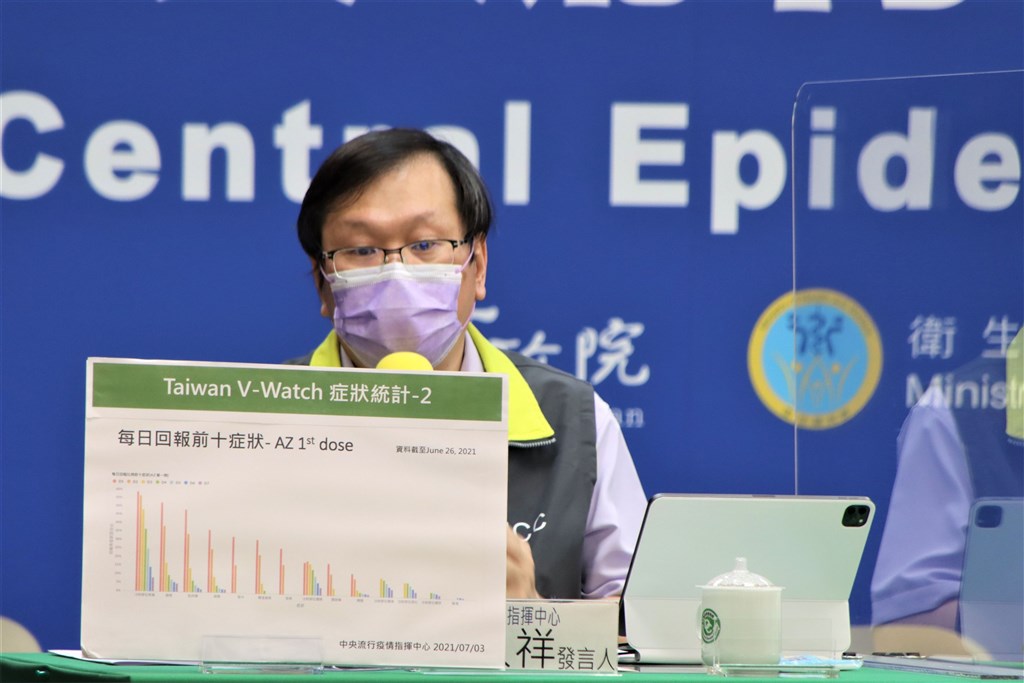 Meanwhile, Chuang, who is also a deputy director-general of the Centers for Disease Control, shared the top three side effects reported voluntarily by over 55,000 vaccine recipients -- pain at the spot of the injection, tiredness, and muscle ache.
The side effects were mostly gone in seven days, he said, noting that fewer people reported experiencing discomfort or having a fever after receiving the second dose of the AstraZeneca vaccine.
People aged between 18 and 49 are the main participants in the CECC's V-Watch side effect reporting platform, accounting for 76.67 percent of the people who signed up, according to Chuang.
Also during the press conference, Chuang reminded recipients of the Moderna vaccine that they should immediately see a doctor if they experience chest pain, shortness of breath, or heart palpitations -- that is a fast-beating or pounding heart.
This warning was issued because of a report about rare cases of inflammation of the heart, especially among adolescents and young adults, a few days after they received an mRNA COVID-19 vaccine, such as the Moderna vaccine, he said.
View All