CORONAVIRUS
/
Taiwan reports 50 new COVID-19 cases, link in Delta cases confirmed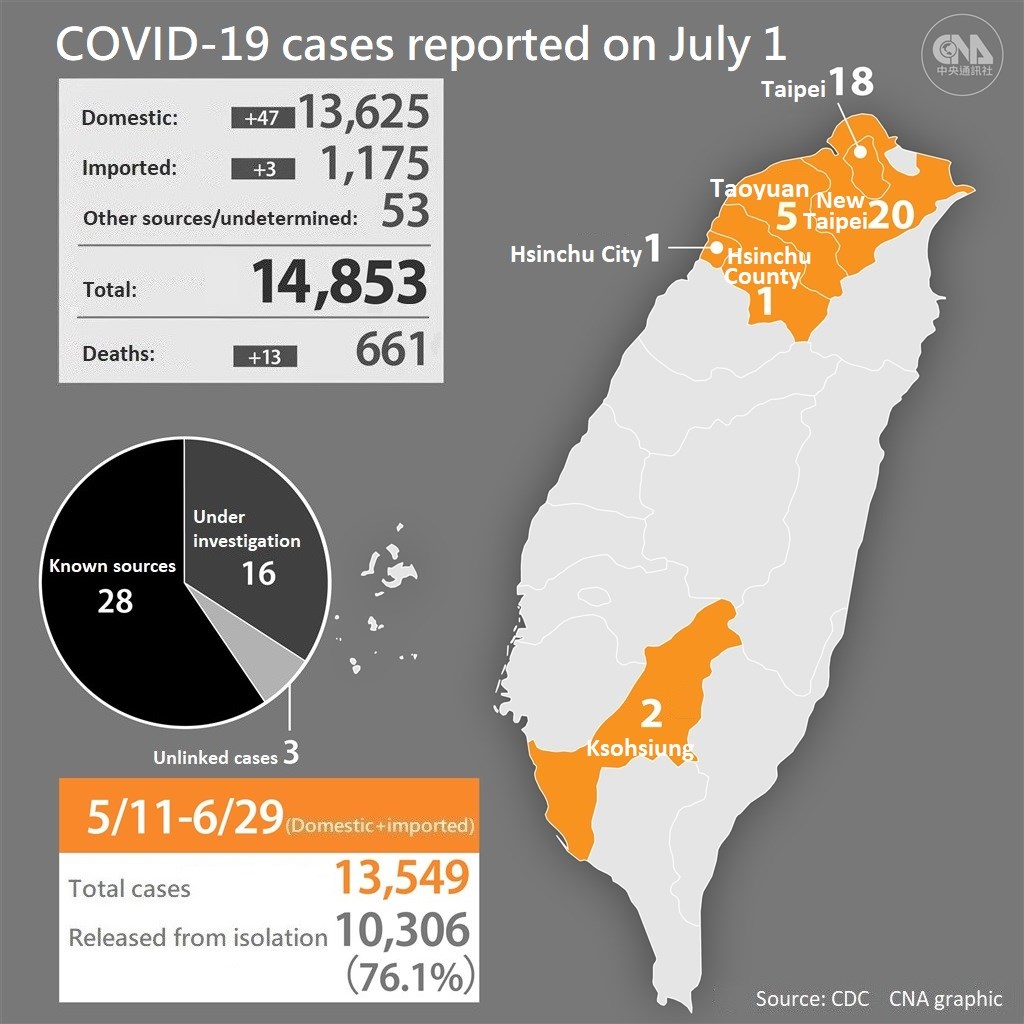 Taipei, July 1 (CNA) The Central Epidemic Command Center (CECC) said Thursday that Taiwan recorded 50 new cases of COVID-19, and the infection source of two patients infected with the Delta variant of the virus in Pingtung County has been confirmed.
Of the 50 new cases, 47 were domestically transmitted. Thursday marked the seventh consecutive day Taiwan has reported case totals under 100, CECC data shows.
Speaking at the CECC press briefing, Health Minister Chen Shih-chung (陳時中) said cluster infections continue to be the focus of prevention efforts in Taiwan, though the cluster in Pingtung County caused by the Delta variant seems to be contained.
No new cases in the cluster were confirmed on Thursday, Chen said, adding that the CECC has determined how two patients in the cluster, whose infection source was previously unknown, became infected.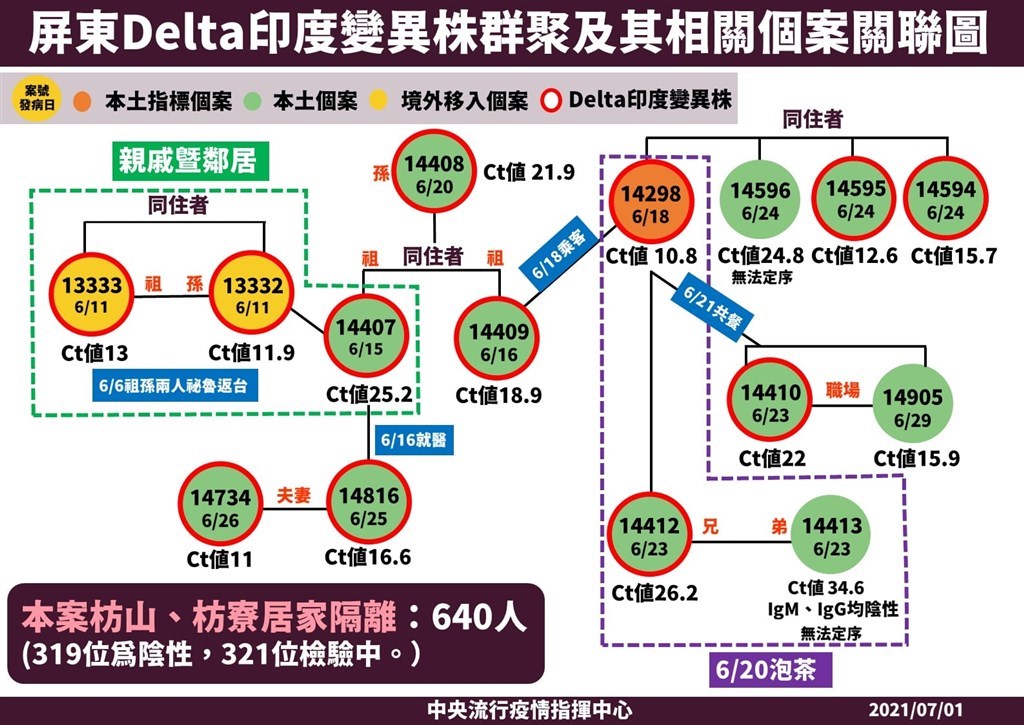 The two patients, a farmer and his wife, visited Fangliao General Hospital in Pingtung at the same time as another person who has also tested positive, and the two parties were in consultation rooms that were separated by only one room, said CECC official Lo Yi-chun (羅一鈞).
Although there are no surveillance cameras in the waiting area outside the rooms -- meaning that whether or not the patients conversed or sat next to each other is unknown -- Lo said the CECC has determined that it is "highly likely" the farmer and his wife were infected by this other patient.
The couple have no link to other people in the cluster who also visited the hospital, Lo said.
The cluster, which has recorded 15 patients to date, originated with a woman and her grandson who returned to Taiwan from Peru on June 6.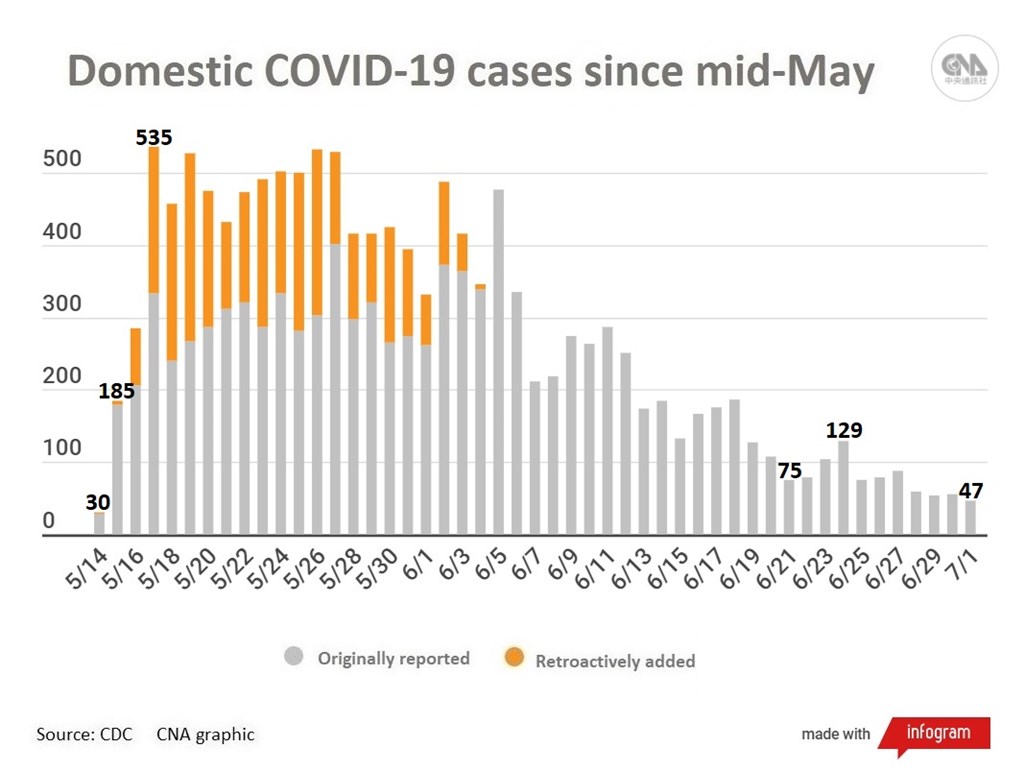 Of the 47 new domestic cases reported Thursday, 20 were in New Taipei and 18 in Taipei.
Taoyuan reported five cases, Kaohsiung two, while there was one each in Hsinchu City and Hsinchu County.
Three had unclear links to other cases, 16 are being investigated and 28 had a known source of infection, the CECC said.
The three imported cases, meanwhile, involved migrant fishermen from Indonesia and the Philippines who tested positive while in quarantine, the CECC said.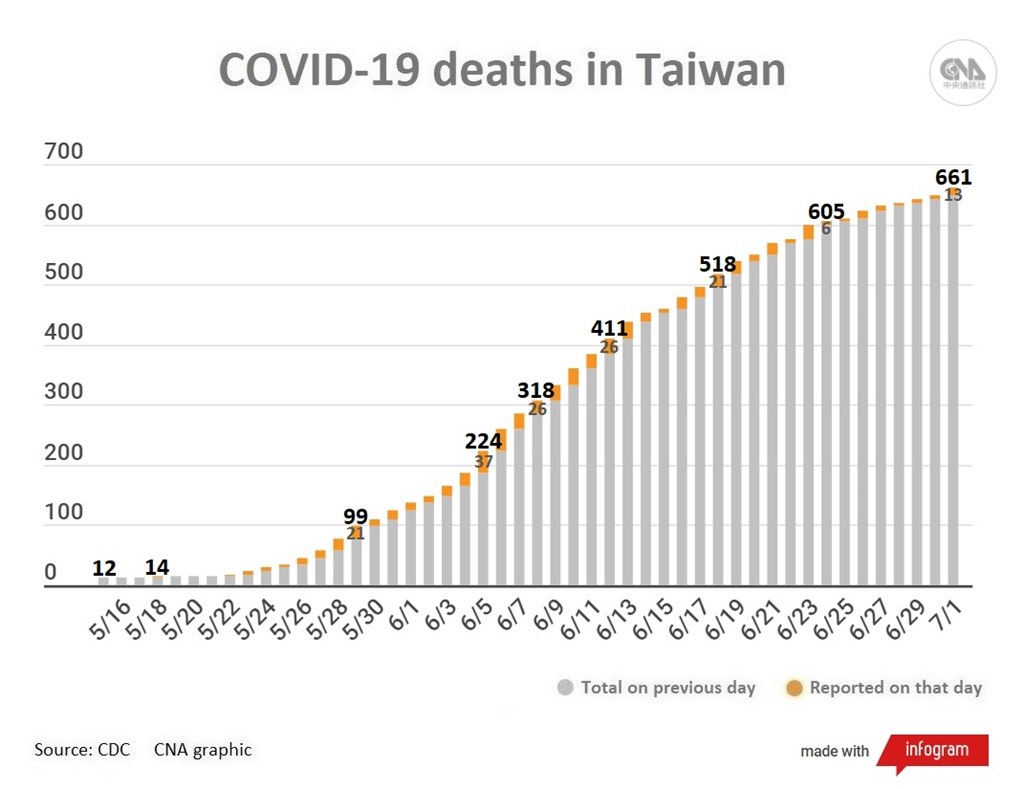 The 13 deaths reported Thursday were seven men and six women, in their 50s to 80s, who passed away between June 17 and June 30, the CECC said.
To date, Taiwan has confirmed a total of 14,853 COVID-19 cases, over 13,400 of which are domestic infections reported since May 15, when the country first recorded more than 100 cases in a single day since the beginning of the pandemic.
The number of confirmed COVID-19 deaths in the country has risen to 661, with all except 12 recorded since May 15, CECC data shows.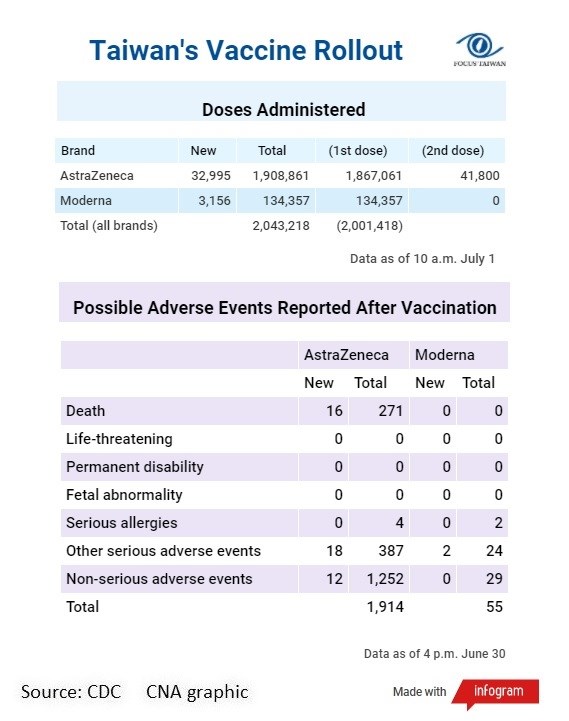 Recent cases
June 30: Taiwan reports 56 new COVID-19 cases, Delta variant cluster grows to 15
June 29: Taiwan reports 54 new COVID-19 cases, 1 more Delta infection
June 28: Taiwan sees daily COVID-19 cases drop to 60, lowest in over one month
June 27: Taiwan reports 89 COVID-19 cases; more Delta variant cases confirmed
View All