CORONAVIRUS
/
Pregnant women eligible to receive AZ or Moderna vaccine: CECC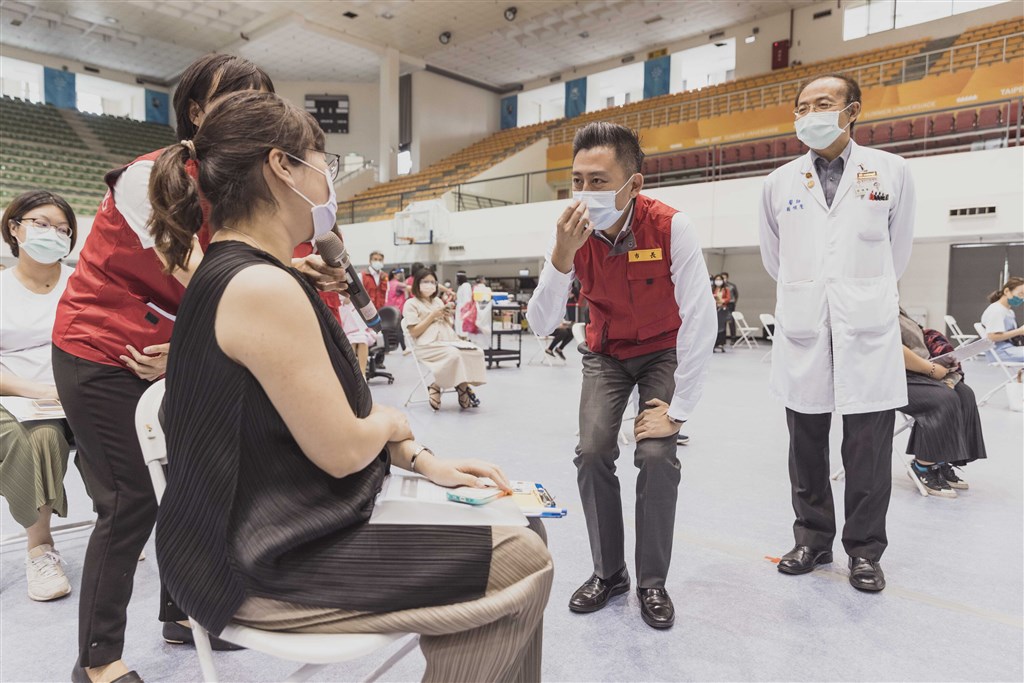 Taipei, June 22 (CNA) Pregnant women in Taiwan are now eligible to receive both the AstraZeneca and Moderna COVID-19 vaccines, the Central Epidemic Command Center (CECC) announced Tuesday, one day after it said they would initially only be eligible for the AZ shot.
On Monday, the CECC issued a revised and expanded COVID-19 vaccine priority list, which added pregnant women to Category 6.
At the time, it noted that the AZ vaccine was available to categories 1-6 on the priority list, while the Moderna vaccine was reserved for categories 1-3.
As late as Tuesday morning, deputy CECC chief Chen Tsung-yen (陳宗彥) said at a news conference that "pregnant women are currently only eligible for the AZ vaccine."
Shortly after, however, the CECC issued a correction, announcing that pregnant women would be allowed to choose between the AZ and Moderna jabs, after consulting with their doctor on the risks and benefits of vaccination.
The CECC estimated that around 180,000 expectant mothers will be eligible for the vaccine.
The rapid policy shifts come as Taiwan begins to ramp up its COVID-19 inoculation campaign, on the back of several large vaccine shipments it has received over the last month.
These include a donation of 1.24 million AstraZeneca doses from Japan on June 4, shipments of 150,000 and 240,000 Moderna shots on May 28 and June 18 respectively, and a donation of 2.5 million Moderna doses from the United States on June 20.
With the new shipments, the CECC said Tuesday that it plans to make both vaccine brands available to people in categories 1-8 on the priority list from July 1, including seniors aged 65 and above and people whose jobs put them at a high risk of infection.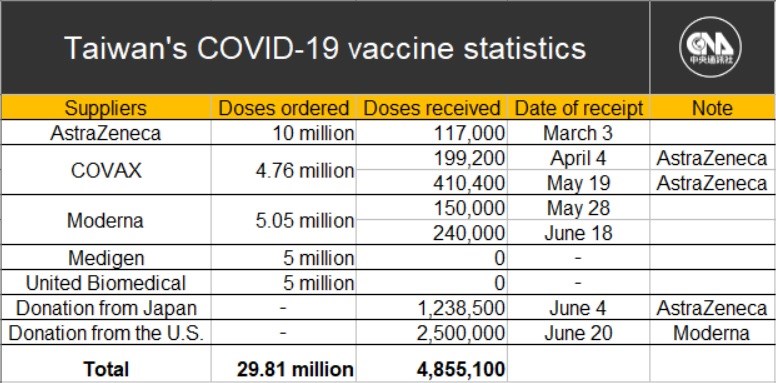 To date, Taiwan has taken delivery of 4.85 million COVID-19 vaccines, which includes both the 3.74 million donated vaccines and just over 1 million of the nearly 20 million doses it has ordered from abroad.
It has also signed contracts to buy 10 million doses of vaccines from two Taiwanese manufacturers.
As of Tuesday morning, 6.76 percent of Taiwan's population of 23.5 million people had received at least one shot of a COVID-19 vaccine, according to the CECC.
View All