CORONAVIRUS
/
First batch of Moderna COVID-19 vaccines arrives in Taiwan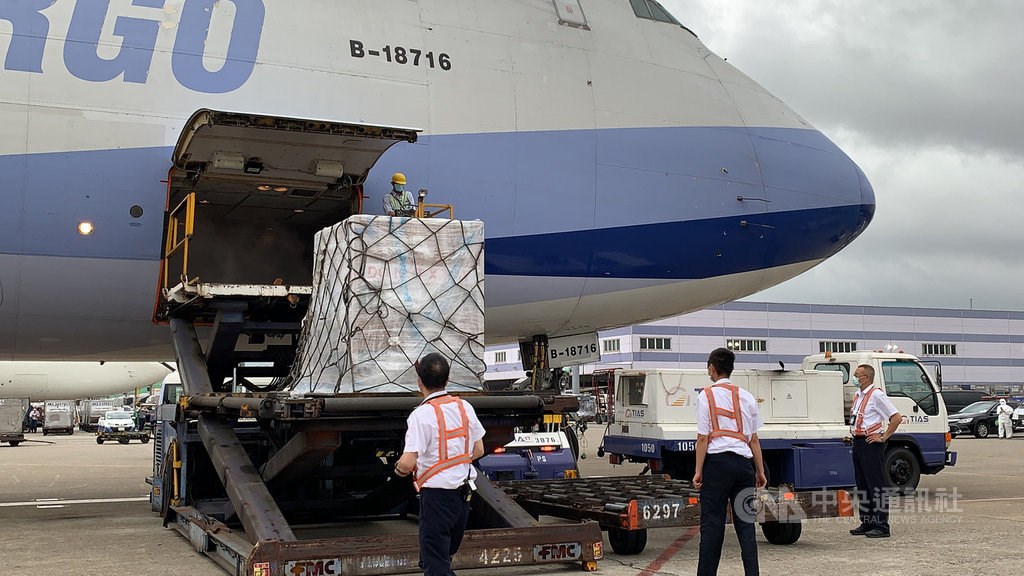 Taipei, May 28 (CNA) The first batch of 150,000 doses of the Moderna COVID-19 vaccine arrived in Taiwan on Friday afternoon, as the country continues to battle its largest outbreak of the disease since the pandemic began early last year.
The vaccine, shipped from Luxembourg, arrived at Taiwan Taoyuan International Airport on a China Airlines cargo flight at around 5 p.m.
From the airport, the vaccine will be transported to a cold chain logistics center, where it will undergo inspection and labeling procedures lasting around two weeks.
Frontline medical personnel will be the first group to receive the vaccine, which expires in November, Health Minister Chen Shih-chung (陳時中) said on Thursday.
Friday's batch of 150,000 doses was the first of 5.05 million vaccine doses Taiwan has purchased from Moderna, another delivery of which is scheduled for June.
Earlier this week, Chen estimated that Taiwan will have received around 2 million vaccine doses by the end of June and a total of 10 million by Aug. 31. Locally developed vaccines are also expected to be available in July.
Aside from Moderna, Taiwan has also received 726,600 doses of the AstraZeneca vaccine, including a batch of 410,400 doses on May 19.
Demand for vaccines in Taiwan has skyrocketed following an outbreak of locally transmitted COVID-19 cases that began in mid-April and has ballooned to more than 5,000 cases in the last two weeks.
On Thursday, Taiwan's representative to the U.S. Hsiao Bi-khim (蕭美琴) raised the issue of vaccine availability during a meeting with U.S. State Department global COVID-19 coordinator Gayle Smith and Jonathan Fritz, the deputy assistant secretary for China, Mongolia and Taiwan.
Hsiao "expressed the urgent need for the U.S. to support Taiwan's access to safe and effective vaccines," according to her office.
Taiwan has also recently stepped up its efforts to secure some of the 80 million surplus vaccine doses the U.S. is planning to supply to other countries by the end of June.
In remarks earlier this week, however, the outgoing director of the American Institute in Taiwan (AIT) sounded non-committal, saying the U.S. is confident Taiwan will be able to contain the current outbreak, while noting that its infection numbers remain quite low.
In a Facebook post Friday, the AIT said it welcomed the arrival of the first batch of Moderna vaccine in Taiwan.
"The U.S. has a long history of global health cooperation and engagement with Taiwan, and we support Taiwan's ability to access vaccines. We continue to communicate with Taiwan at all levels on this urgent issue," it said.
As of Thursday, Taiwan had administered 325,247 doses of the AZ vaccine, in a country of over 23 million.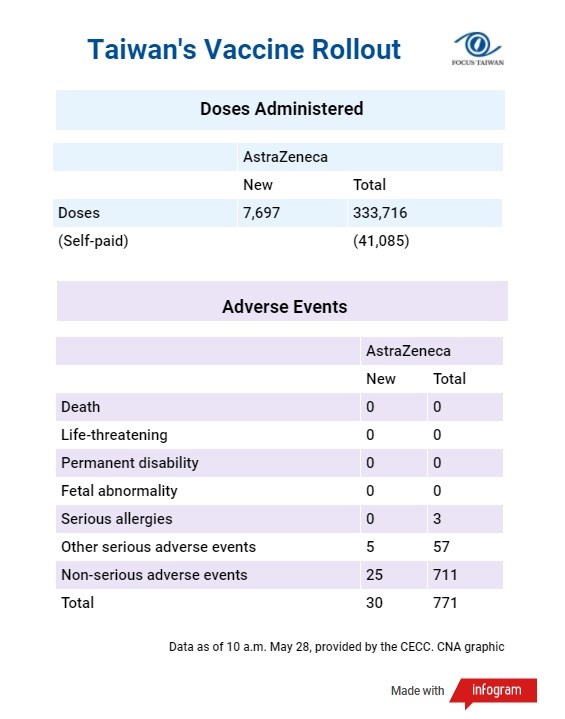 View All