Taichung welcomes arrival of mass rapid transit age: Tsai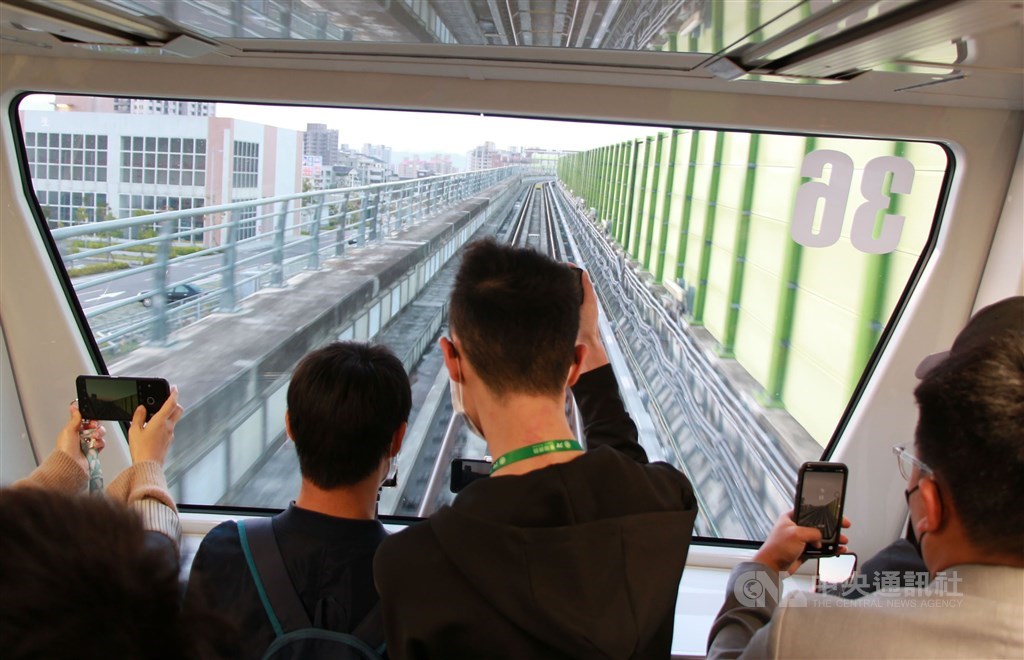 Taichung, April 25 (CNA) President Tsai Ing-wen (蔡英文) on Sunday announced that Taichung City has officially entered the mass rapid transit (MRT) age with the central Taiwan city's Green Line beginning full service at noon.
In her address, Tsai said Taichung residents are witnessing history in the making as an MRT system has been a dream of local people for more than 30 years.
The president thanked everyone who contributed to the completion of the Green Line, particularly members of the Taichung Mass Rapid Transit Corporation, as well as three Taichung mayors -- Jason Hu (胡志強), Lin Chia-lung (林佳龍) and incumbent Lu Shiow-yen (盧秀燕).
"The start of the official service on the Green Line shows that collaboration between central and local governments can get things done," she said.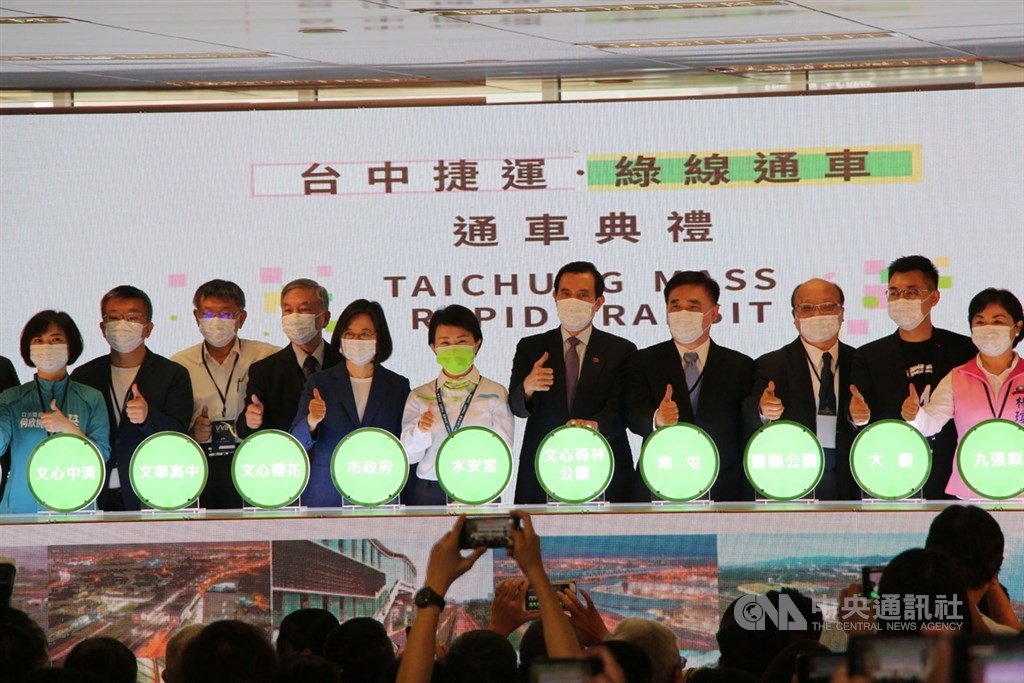 The Green Line is scheduled to extend its service to Taichung's Dakeng and nearby Changhua County in the future and a second line, the Blue Line, is also being planned, as part of a broader project to enhance public transportation in central Taiwan, Tsai added.
"We can accomplish all kinds of challenges as long as central and local governments, and different cities join hands together," she stressed.
Taichung Mayor Lu lauded the city as having the first MRT system south of Taoyuan and north of Kaohsiung in Taiwan and said it marks a new era of public transport for Taichung and central Taiwan as a whole.
She pledged that her government will continue to focus on safety as the top priority for the city's MRT system.
The Green Line is 16.71 kilometers in length and has 18 stations, reaching from Beitun Main Station in the northeast to Taichung High Speed Rail Station in the southwest. The full journey takes approximately 32 minutes.
Construction of the Green Line was initiated in 2009, by the Hu administration. The project has cost NT$59.3 billion (US$2.11 billion), NT$32.8 billion of which was provided by the central government.
The beginning of commercial services originally scheduled for Dec. 19, 2020, was postponed due to mechanical problems.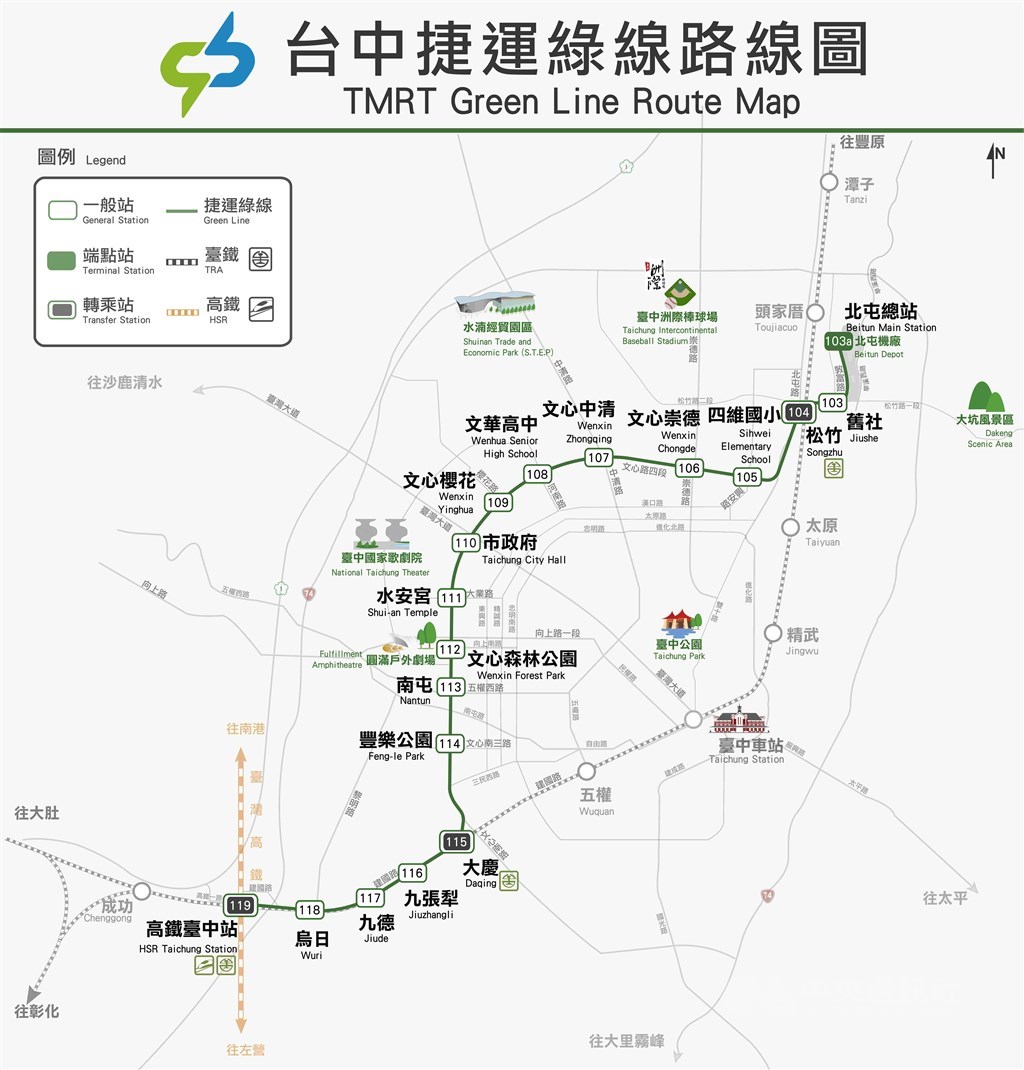 Initial test runs on the Green Line, the first to be completed on the Taichung MRT system, were suspended six days after they started on Nov. 16 last year, because the couplings between the carriages had not been assembled properly.
Meanwhile, passengers in Taichung who took the Green Line on its first day of official operations, expressed satisfaction with the city's new MRT.
A passenger surnamed Chien (簡) who planned to travel to National Taichung Theater said taking the Green Line saved her a lot of time and money as she would normally take a bus or taxi.
Meanwhile, a man surnamed Hsu (徐) said Taichung citizens with a seniors easycard qualify for a 50 percent discount on ticket prices so he and his wife plan to use the MRT service regularly.
Taichung Mass Rapid Transit Corp. Chairman Lin Chih-ying talks about the new system's operation (in Chinese).
The basic fare on the Green Line will be NT$20 (US$0.7), with an increase of NT$5 every 2 kilometers, up to a maximum of NT$50, according to Taichung MRT Corporation.