Death toll revised to 50 in train crash as human remains identified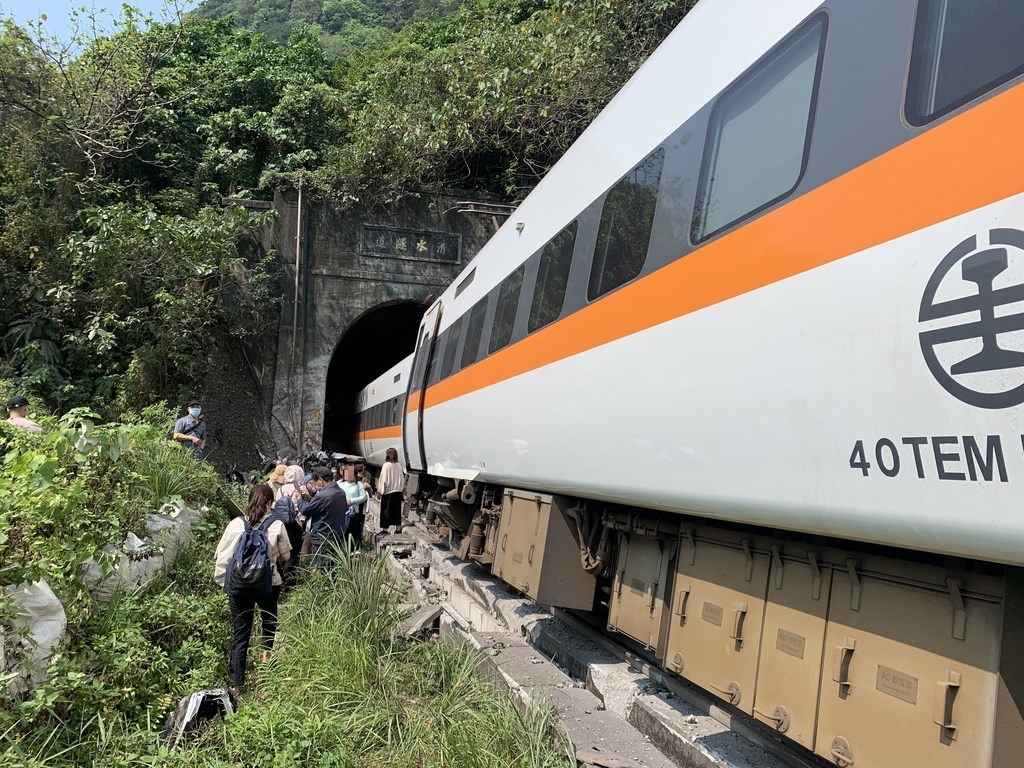 Taipei, April 4 (CNA) The Central Emergency Operation Center (CEOC) on Sunday revised its count of the number of deaths in a train accident two days ago, saying that the human remains recovered from the crash site earlier in the day were from a victim who had already been identified.
The remains, recovered from under the third carriage of the Taroko Express train, were found to be those of a passenger who had already been counted among the fatalities, which means the confirmed death toll is 50, not 51, said CEOC commander and Deputy Transport Minister Wang Kwo-tsai (王國材).
Authorities have not yet identified two of the bodies in the crash.
Meanwhile, the number of individuals confirmed to have been injured in the crash has increased from 200 to 202, with 37 still in hospital, including four in critical condition, Wang said.
The accident occurred at 9:28 a.m. on April 2, when a Taiwan Railways Administration (TRA) express train hit a crane truck on the track near the entrance to the Qingshui Tunnel in Hualien County.
The first five carriages of the Taroko Express derailed and piled up inside the narrow, single-track tunnel, killing 50 people and injuring more than 200.
The ill-fated train, which had set off from Shulin Station in New Taipei at 7:16 a.m., was bound for Taitung County in southeastern Taiwan, carrying 494 passengers and a crew of four, according to the CEOC.
As of 4 p.m. Sunday, the last four cars had been towed away from the crash site, according to Wang.
Investigators are looking into the possibility that the crane truck, which had been parked on a hill above the track, slid down the incline and fell onto the track because its parking brake was not properly engaged, either as a result of mechanical failure or human negligence, the center said.
Data retrieved from the train's security cameras showed that the drivers had only 6.9 seconds to respond after they spotted the truck on the track, Transportation Safety Board Chairman Young Hong-tsu (楊宏智) said Sunday.
He said the train had just exited the Heren Tunnel, about 250 meters away from the Qingshui Tunnel, when the drivers spotted the truck.
There was not enough time for them to stop the train, which was traveling at a speed of over 100 kilometers per hour, Young said.
The safety board has retrieved the train's dashcam and one of its memory cards, as well the Train Control and Management System and other key data, Young said.
The TRA is in the process of installing 25 artificial intelligence-based surveillance systems along dangerous railway sections, and it aims to complete the project by the end of 2022, so its train drivers could receive danger warnings.