CTiTV files for injunction to keep news channel from closing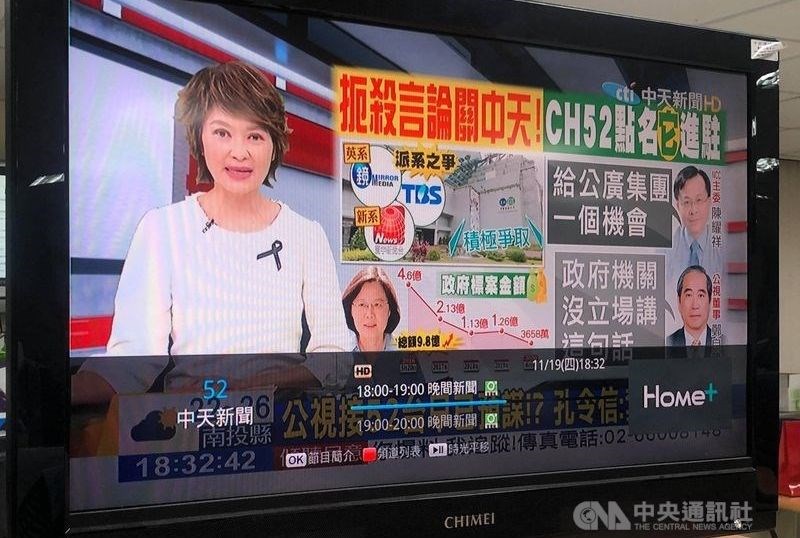 Update: Taipei court rejects CTiTV's effort to prevent closure of news channel
Taipei, Nov. 24 (CNA) CTiTV has filed a request for an injunction as a legal remedy to prevent its CTi News channel from closing down after its broadcast license expires on Dec. 11, the Taipei High Administrative Court said Tuesday.
A court hearing to consider CTiTV's request will be held on Nov. 30, according to a statement issued by the court.
CTiTV filed the request to have the court issue an injunction to prevent CTi News' broadcast license from expiring on Dec. 11 to give it time to file a formal administrative suit against the National Communications Commission (NCC), according to a report by the China Times, a CTiTV affiliate.
The maneuvering came after the NCC decided on Wednesday not to renew the broadcast license of CTi News for its "repeated violations of regulations and the failure of its internal discipline and control mechanisms."
The NCC decision means that CTi News, which is currently seen on channel 52 of the local cable TV network, will cease to operate on Dec. 12 should its legal challenges fail.
CTi News will not be allowed to broadcast programming on the cable TV network and Chunghwa Telecom Co.'s multimedia-on-demand (MOD) service but can still appear on online platforms such as YouTube, according to the NCC.
Shortly after the NCC announced its decision, CTiTV criticized it as being politically motivated as CTi News is known for being critical of the ruling Democratic Progressive Party (DPP) administration and friendly to China.
The company pledged that it would seek a legal remedy to protect freedom of the press and the working rights of all of its employees.