Average life expectancy in Taiwan hits new high of 80.7 years in 2018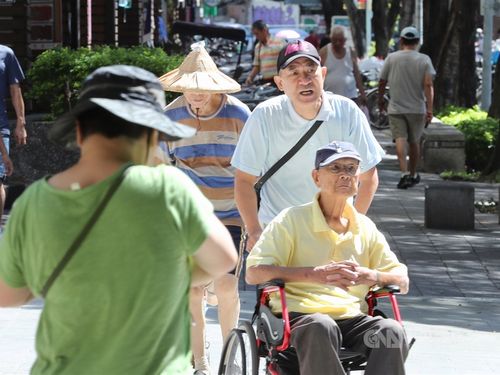 Taipei, Sept. 11 (CNA) The average life expectancy in Taiwan hit a new high of 80.7 years in 2018, with men and women averaging a record 77.5 years and 84 years, respectively, according to statistics released Wednesday by the Ministry of the Interior (MOI).
Average life span in Taiwan has risen steadily over the past decade, from 78.6 years in 2008 to 80.7 years in 2018, MOI Department of Statistics Deputy-Director Cheng Min-lu (鄭敏祿) said.
Cheng attributed the improvement to improved medical services, enhanced food safety awareness, better quality of life and the growing popularity of fitness.
The average life expectancy of men and women in Taiwan is higher than the world average, but lower than in such countries as Japan, Switzerland, Spain and Singapore, according to the ministry.
A total of 172,700 people died in Taiwan in 2018, up 672 from 2017. That translated into a crude death rate of 7.32 per 1,000 in 2018, up 0.02 per 1,000 from 2017, according to the ministry.
The crude death rate refers to the number of deaths occurring throughout a year per 1,000 people.
The age-adjusted death rate was 415 per 100,000 population in 2018, a fall of 2.2 percent from 2017, indicating a long-term declining trend.
Among Taiwan's six biggest metropolitan areas, Taipei residents had the longest average life expectancy of 83.63 in 2018, followed by 81.37 in New Taipei, 80.82 in Taoyuan, 80.57 in Taichung, 79.85 in Tainan and 79.28 in Kaohsiung, MOI figures showed.
In all the other cities and counties of Taiwan, residents of Hsinchu City had the highest life expectancy at 81.10 years, while Taitung County had the lowest at 75.79.
Residents in the northern part of Taiwan generally live longer than those in the south, while those in the west had a longer average life expectancy than their counterparts in the east due to such factors as lifestyles and access to medical resources, according to the survey.