Jogging top exercise for offsetting 'obesity genes': research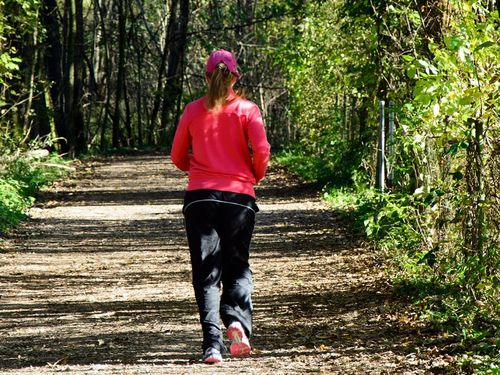 Taipei, Aug. 8 (CNA) Regular jogging has been found to be the best type of exercise for weight loss among individuals who are genetically predisposed to obesity, according to a new research conducted at Taiwan National University (NTU).
The research looked at 18,424 Han Chinese adults aged between 30 and 70 who were assessed as being at genetic risk of obesity, said the study's lead author Lin Wan-yu (林菀俞) at a press conference Thursday.
According to Lin, the researchers measured the participants' body mass index (BMI), body fat percentage, waist size, hip size and waist- to-hip ratio, and asked them about their exercise routines before examining 18 kinds of exercise to determine which is the best kind for reducing obesity.
They found that participants in the study who had a regular routine of jogging, yoga, mountain climbing, walking, folk dancing or ballroom dancing reduced the effect of genetics on the five obesity measures used, Lin said.
Among the six sports, the best exercise for weight loss was found to be jogging, as it generates a greater level of energy expenditure, she said.
The research shows that participants who had not exercised in the past year had an average BMI increase of 3.13, an increase of 5.09 percent in body fat, an increase of 7.95 cm in waist circumference and an increase of 5.84 cm in hip circumference.
Participants with a regular routine of jogging, on the other hand, saw their BMI increased by 2.11, their body fat increased by 3.8 percent, their waist circumference increased by 6.2 cm and their hip circumference increased by 4.54 cm on average, according to the research.
Trekking has the second strongest anti-obesity effect, ahead of hiking (No. 3), walking (No. 4), yoga (No. 5) and folk dancing or ballroom dancing (No. 6), the research shows.
Other popular activities, such as cycling, stretching exercises, swimming, tai chi and qigong, have less effect in lessening a person's predisposition to obesity, the research shows.
However, it is not possible to conduct a meaningful analysis to see if weight training, badminton, ping pong, basketball, tennis or other sports may help prevent obesity as few participants played those sports regularly enough for an evaluation, according to the study.
The authors noted that exercises in cold water such as swimming stimulates the appetite and food intake, meaning it is probably not as effective as jogging in mitigating the effect of genetics across all five measures of obesity.
Commenting on the study, Huang Kuo-Chin (黃國晉), chairman of NTU Hospital's Bei-Hu Branch, warned that although the research suggests that jogging is particularly effective, the sport is not suitable for everyone, especially those with cardiovascular disease or at risk of getting the disease.
Huang said although some sports may have no effect in lessening a person's predisposition to obesity, it is still recommended that people should exercise a minimum of 30 minutes a day, five times a week.
In addition, doing weight training twice a week helps build muscles and thus limits the loss of muscle mass due to aging, Huang said.
The research was published Aug. 1 in the international journal "PLOS Genetics."