Pork seized on Chinese vessel illegally fishing in Taiwan waters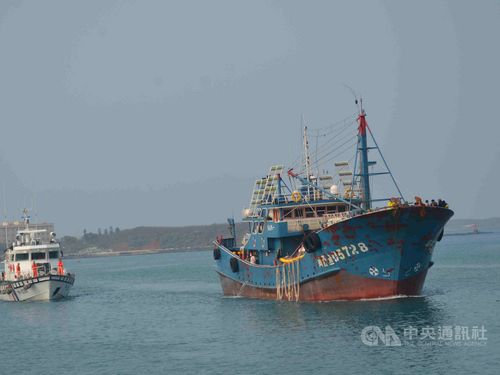 Taipei, March 13 (CNA) About four kilograms of pork was seized on board a Chinese vessel caught illegally fishing in Taiwan's waters Wednesday, along with its 6,000-km catch, according to the Coast Guard Administration (CGA).
The Minjinyu No.5728 (閩晉漁5728號) was detained at around 3:00 a.m. in waters 23.7 nautical miles northwest of the Huayu Islet, which is part of the Penghu Islands, during an inspection by CGA officers, said Hung Po-lun (洪挬論), captain of the CGA Penghu branch.
As crew members of the Chinese fishing boat, which was poaching in Taiwan's waters, initially sought to prevent the CGA officers from boarding their vessel, the officers were forced to fire into the air before being allowed on board to conduct an inspection.
The ship was seized and its 15-member crew detained and fined for illegally fishing in Taiwan's waters, while the catch was thrown into the the sea, Hung said, adding that the pork will be handed over to and destroyed by the relevant authorities, at a time when the spread of African Swine Fever shows no sign of abating in China.
Meanwhile, the ship and its crew are being held by the CGS in Penghu.
The Minjinyu No.5728 is the second fishing vessel from China found to have pork on board while illegally operating in Taiwan's water this year, the CGA said.