Sugar contents shown at beverage chains misleading: foundation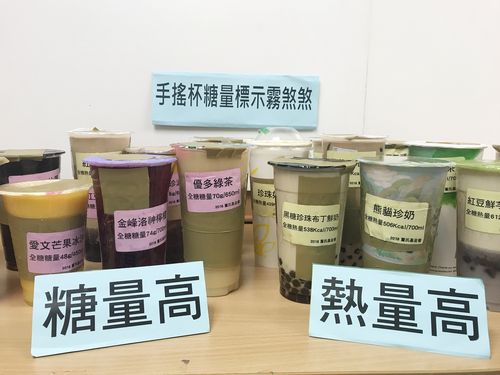 Taipei, July 24 (CNA) Beverage chains in Taiwan are understating the sugar and calories in their drinks because of a regulatory loophole that needs to be eliminated, the John Tung Foundation said Monday.
Presenting the results of a survey of 31 stores of 18 beverage chains and 67 kinds of drinks it conducted in May and June, the foundation said some stores posted misleading information on sugar contents while others offered none at all, leaving consumers in the dark.
Under existing regulations, stores do not need to consider any added ingredients to the base tea drinks, such as tapioca pearls (boba), red beans, jellies, or other toppings, when listing nutritional facts for their beverages, the foundation said.
At one of the stores surveyed, a Four Seasons tea with tapioca pearls and coconut jelly was shown as having 4 grams of sugar and 16 calories per 100 milliliters of the beverage.
Tests found, however, that the beverage at 11.6 grams of sugar and 66.8 calories per 100 ml, far exceeding the posted amounts.
The problem is serious, the foundation said, because of the high sugar content of many of the beverages sold at bubble tea and fruit tea shops.
A 700 ml cup of handmade tea drinks with extras, such as a bubble tea with tapioca pearls and puddings or a green tea with passion fruit syrup, can contain up to 91 grams of sugar, almost twice the maximum recommended daily intake of below 50 grams per day, the foundation said.
The survey also showed the calories of a handmade drink could be as high as 789.2 cals per 700 ml for a red bean milk tea. That is more than a third of the recommended daily intake of 2,000 calories for adults, said Yu Hsuan-wen (尤宣文), a foundation dietitian.
Based on its findings, the foundation suggested that government regulations be better attuned to consumers' needs and that stores should be required to display accurate nutritional information.
It also suggested the adoption of a sugar tax, an idea that is gaining traction worldwide, to discourage people from purchasing and consuming unhealthy food.
(By Yu Hsiao-han and Andrea Dai)enditem/ls