Taipei 101 New Year's Eve fireworks display to be longest ever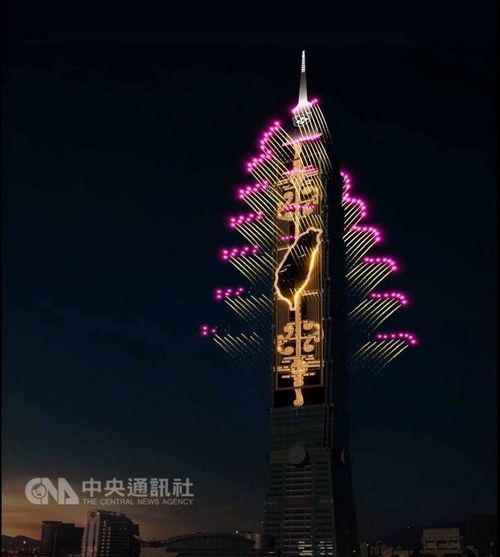 Taipei, Dec. 14 (CNA) Taipei 101 will ring in the New Year with a six-minute fireworks display, the longest in the history of the annual event, as part of a show that will also include simulated animation, according to the organizers Thursday.
The theme for the event will be "Happy Together" and the fireworks show, which starts at 11:59 p.m., will be integrated with T-Pad, an approximately 140,000 light-emitting diode (LED) display that covers the 35th-90th floors on the north side of the building, the organizers added.
T indicates Time, Taipei and Taiwan; T-Pad displays gives meanings for "Time for year-end countdown," "Time for New Year," and "Time for Taiwan/Taipei" and "Time for 2018," according to organizers.
Chen Shih-ming (陳世明), president of Taipei Financial Center Co. which operates the landmark building, said due to recent concerns over air pollution, the fireworks display has been cut from 30,000 to 16,000 rounds.
The use of LED displays and multimedia special visual effects, will make it possible to celebrate the new year in a more environmentally friendly manner, said Chen.
Taipei Financial Center Co. President Chen Shih-ming (陳世明, third left)
Michael Liu (劉家豪), Taipei Financial Center Corp. spokesman, said Taipei 101 has embraced Taipei City Mayor Ko Wen-je's (柯文哲) belief that the New Year's Eve celebration should be spread out over a longer period than just one day. As a result, the TPAD was launched on Dec. 2 and will display throughout the event and into New Year's Day.