Hong Kong woman dies in four-car collision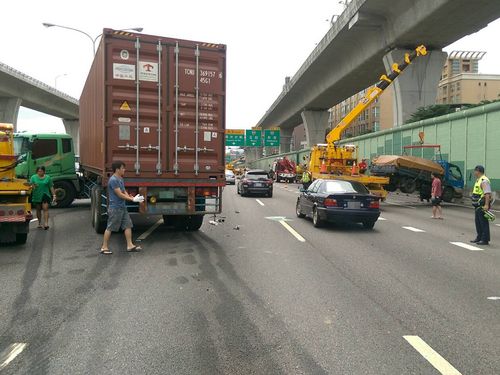 Taipei, July 17 (CNA) A Hong Kong woman died in a four-car collision on National Freeway No. 1 on Monday when the taxi she and her husband were taking to Taipei after arriving in Taiwan was smashed into by a container truck.
The 36-year-old woman, surnamed Tang (鄧), and her 36-year-old husband surnamed Leung (梁) had just arrived at Taiwan Taoyuan International Airport and were in the taxi when the accident took place at the 33.7-kilometer mark of the freeway in Wugu.
Police said the accident took place at around 10:15 a.m. when a white truck driving in the outer lane of the freeway headed toward the Wugu exit suddenly switched to the lane to its left, used by vehicles heading to the exit for Expressway No. 64.
As the white truck pulled out, it smashed into the back right side of a small blue freight truck, police said.
The blue truck was pushed out of its lane, into the path of an oncoming container truck. The container truck swerved to the left trying unsuccessfully to avoid the smaller blue vehicle, and rammed into the right side of the taxi that was passing by at that moment.
Tang, who was sitting in the back seat on the right side of the vehicle, was killed, while her husband and the taxi driver, sitting on the left side of the taxi, did not suffer life-threatening injuries.
The driver of the white truck suffered a bone fracture in his left thigh.
The accident caused a seven-kilometer traffic jam on the northbound lanes, and traffic only returned to normal at 11:05 a.m.
The Mainland Affairs Council said it passed the news of Tang's death to Hong Kong's office in Taiwan and Taiwan's office in Hong Kong and will provide any assistance necessary to the family of the injured and the deceased.