Kaohsiung mayor asks for rearrangement of pipelines after blast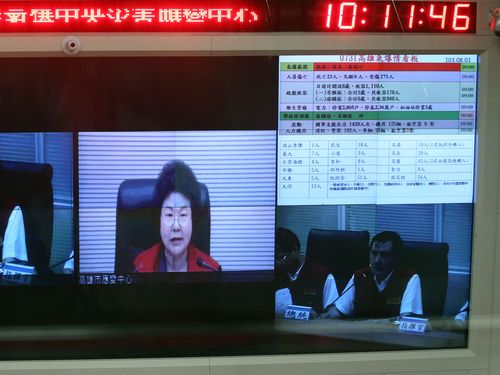 Taipei, Aug. 1 (CNA) Kaohsiung Mayor Chen Chu appealed Friday for the Ministry of Economic Affairs to rearrange the petrochemical pipes running under her city to avoid a repetition of the gas explosions that took place the previous night in the port city, causing 26 deaths and leaving 266 people injured.
Chen conveyed her wish via a teleconference with President Ma Ying-jeou during a meeting with city government officials to discuss the aftermath of the explosions.
"This was the most catastrophic gas explosion [in Kaohsiung] since 1997, and I have to appeal to the president on behalf of Kaohsiung," Chen said.
She noted that the dead included four policemen and firefighters, with two officers from the city's Fire Bureau still missing.
Chen pointed out to Ma that Kaohsiung is densely populated and has now suffered two gas explosions in less than 20 years.
"For the safety of the citizens, we hope the ministry's Industrial Development Bureau can review its industrial pipelines and reroute them to avoid densely populated areas," Chen said.
Economics officials said a review of the pipeline arrangement is an important matter and that it will study the matter further after responsibility for the incident is established.
The officials said that if the pipelines are situated in industrial parks, they are subject to park management, but added that if they run outside the park, they are the responsibility of the local government.
Manufacturers have to apply to local governments or related authorities and obtain their consent before they can lay pipelines under city streets.
(By Wang Shu-fen, Huang Chiao-wen and Lilian Wu)ENDITEM/J
Related stories:●Aug. 1: Donations pouring in for Kaohsiung explosion disaster relief●Aug. 1: 12,000 people in shelters after deadly Kaohsiung explosions