Executive Yuan protesters dispersed with water cannons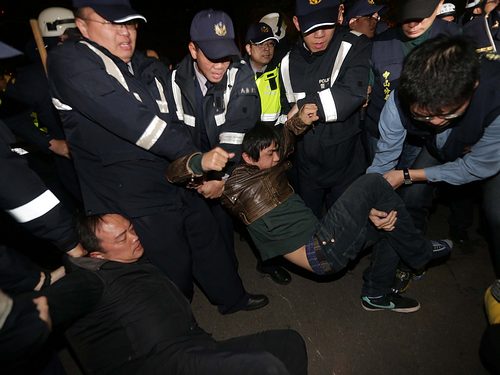 Taipei, March 24 (CNA) Police managed to remove protesters from inside the Executive Yuan compound just before dawn Monday using high-pressure water cannons.
Police in riot gear began using two water cannons mounted on trucks at 4:25 a.m., which they aimed at the entrance of the compound to facilitate the removal of the protesters against the trade pact with China, who had occupied the Cabinet headquarters since Sunday evening.
As of 5:00 a.m., police had managed to get all of the estimated hundreds of protesters out of the government building, though many remained a short distance away on Zhongxiao E. Rd. It remained unclear whether the crowd could be dispersed entirely in time for Monday morning's commute.
The demonstrators had stormed into the compound around 7:30 p.m. Sunday evening. Many of them had originally been part of the occupation of the Legislative Yuan some 200 meters away, which began March 18.
Around midnight, officers mobilized by the National Police Agency began pushing forward slowly toward the Executive Yuan in full riot gear as protesters tried to push back.
After several waves of shoving, some 300 protesters still remained at the entrance of the Executive Yuan by 4:25 a.m., causing police to employ high-velocity streams of water to speed up the removal.
Protesters threw bottles at the trucks and even managed to puncture the tire of one of them, but the efforts did little to stop the constant stream of water.
Several politicians from the opposition Democratic Progressive Party (DPP) who were sitting in to show their support were also hit by the water. Images of former Premier Frank Hsieh in soaked clothes were aired on several news channels.
(By Chen Chi-chung, Yuris Ku and James Lee)ENDITEM/WH
(Click here for the latest on the ongoing protest and developments since the Legislature occupation starting March 18.)
Photo updates: March 24:
[All cleared around the Executive Yuan, on Zhongxiao East Road and Zhongshan South Road in Taipei. CNA photo March 24, 2014]
[The clean-up at the Executive Yuan in Taipei. CNA photo March 24, 2014]