Taiwan team finishes 5th at 2023 International Physics Olympiad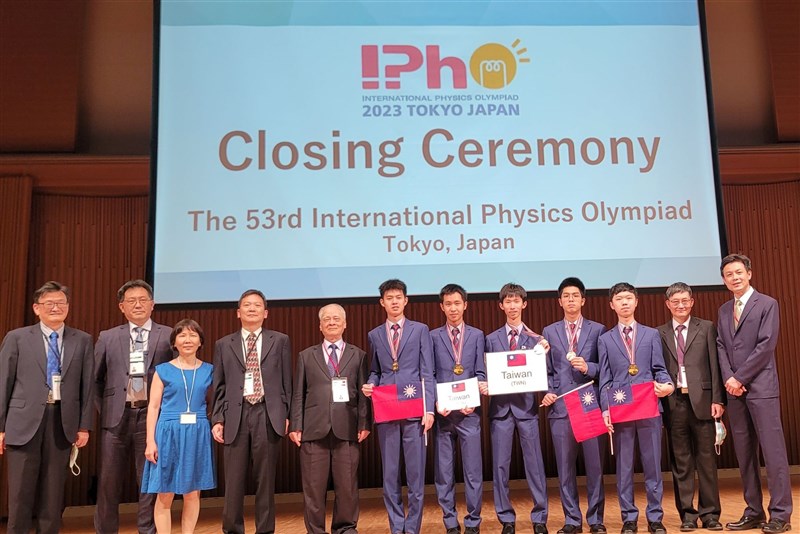 Taipei, July 17 (CNA) Taiwanese students won three gold and two silver medals at the 2023 International Physics Olympiad (IPO) in Japan, according to a statement issued Monday by the Ministry of Education (MOE).
China, Russia and South Korea tied for first place with five gold medals, and the United States was fourth with four golds and one silver at the event, which was held at the National Olympics Memorial Youth Center in Tokyo from July 10-17 and involved 450 students from 90 countries, according to the IPO's official website.
This is the first time the annual global competition has returned to its on-site form since 2019, after the event was either cancelled or held online over the past three years due to the COVID-19 pandemic, the website indicated.
Chang Ya-cheng (張亞誠) from Taipei Municipal Jianguo High School led his compatriots as the 11th best-performing individual overall, followed by the Chang Cheng-kuang (張誠光) from National Experimental High School in Hsinchu Science Park who finished 22nd, and Wang Chao-kuo (王兆國) from Ching Cheng High School in Changhua County who placed 30th, the MOE said.
Silver medals were won by Jianguo High School's Hsu Tzu-hsiang (徐子翔) and Taichung Municipal Taichung First Senior High School's Chen Peng-wei (陳朋葳), who finished 38th and 40th, respectively.
The five students were selected out of 2,374 applicants from around Taiwan, the MOE said.
In another statement issued by the MOE on July 12, Taiwanese students combined for one gold, four silver and one bronze at the 2023 International Mathematical Olympiad held in Japan to finish 10th overall, with the best-performing student being 28th placed Chiang En-huo (江恩樺) from Jianguo High School.
In both events, gold medal winners receive NT$200,000 (US$6,808), silver medalists NT$100,000 and bronze medalists NT$50,000 as rewards from the MOE.