TANG PRIZE
/
Tang Prize laureates underscore teamwork as key to good research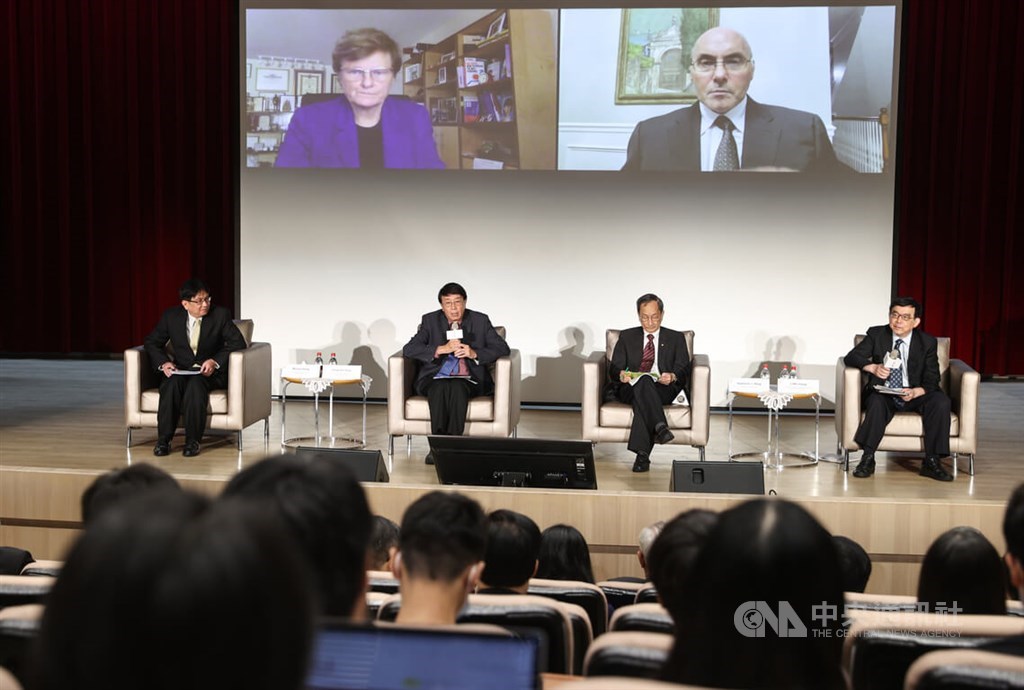 Taipei, Sept. 20 (CNA) American physician and researcher Drew Weissman, who was awarded this year's Tang Prize in Biopharmaceutical Science, on Tuesday underscored the importance of teamwork in scientific research and encouraged young scientists in Taiwan to learn to collaborate with others.
Speaking virtually at a talk held in Taipei, Weissman, who is currently director of vaccine research at the University of Pennsylvania Perelman School of Medicine, said the key to becoming a good researcher is to learn how to collaborate with other people.
Weissman and his long-time collaborator Katalin Karikó, as well as Pieter Cullis received the Tang Prize in Biopharmaceutical Science in June for research that laid the foundation for messenger RNA (mRNA) COVID-19 vaccines.
Weissman and Karikó, both of whom were invited to give a virtual speech at Taipei Medical University Tuesday, have created a modified version of mRNA that does not cause an inflammatory response when injected into the body. The technology is used in the Pfizer-BioNTech and Moderna COVID-19 vaccines.
"Nothing that's been done with mRNA was achieved by a single person," Weissman said, adding that collaboration is "the most critical thing of all basic science."
"My lab collaborates with over 200 labs around the world on a variety of vaccines and therapeutics," he said. "That's what we spend our lives doing."
Speaking in the same vein, Karikó, an adjunct professor at the University of Pennsylvania and a senior vice president at German biotechnology company BioNTech, said their mRNA research might seem like "an overnight success" but it was actually the result of countless days of toiling and working side by side.
"Drew and me, we worked, really, shoulder to shoulder and with our own hands," said Karikó, who has worked with Weissman for over two decades.
According to the Tang Prize Foundation, Weissman, Karikó, and Cullis, who is a professor of biochemistry and molecular biology at the University of British Columbia, were named Tang Prize laureates because of their "discovery of key vaccinology concepts and approaches, leading to the successful development of mRNA-based COVID-19 vaccines."
The technologies developed by the three awardees "not only revolutionized vaccinology but also signaled a paradigm shift in protein therapy. They represent the advent of a new era of RNA-based therapies," the foundation added.
During Tuesday's event, Weissman also shared his vision for tackling what he called the inequality of vaccine distribution in the world.
"The worldwide distribution of disease, money and therapeutics doesn't match up," Weissman said, adding that some of the most populated regions, such as Africa and Southeast Asia, are places where people have difficulty getting vaccines or drugs against infectious diseases due to a lack of resources.
To address this problem, Weissman said his laboratory has been working with scientists and professionals in Thailand and South Africa to build facilities there that can manufacture vaccines or therapeutics locally, including COVID-19 vaccines.
In addition, these production facilities which have acquired Good Manufacturing Practices (GMP) certification can make their own vaccines against malaria, tularemia, dengue, and other diseases in which profit-seeking pharmaceutical companies take little interest, according to Weissman.
"My vision is that these GMP sites, combined with researchers who can make RNA vaccines and therapeutics, will allow regions to make therapeutics that they need," Weissman said.
They can "produce whatever they think they need that they can't get from elsewhere," he added.
The Tang Prize was established in 2012 by Taiwanese entrepreneur Samuel Yin (尹衍樑), who is chairman of the Ruentex Group, to honor individuals or organizations that have made significant contributions to human society in four categories -- sustainable development, biopharmaceutical science, sinology, and the rule of law.
The winners in each category share a cash award of NT$40 million (US$1.27 million) and an additional NT$10 million in research funding, along with a gold medal and a certificate, according to the foundation.
View All