Gogoro teams up with Electrum for EV development in Indonesia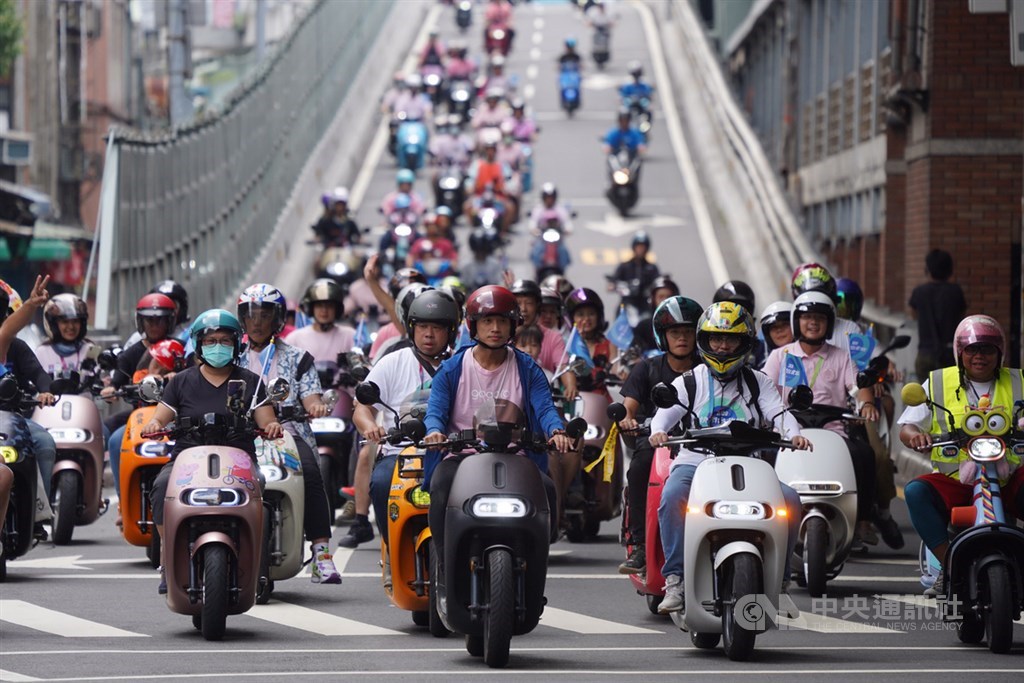 Taipei, Jan. 26 (CNA) Taiwan-based e-scooter brand Gogoro Inc. announced on Wednesday that it has teamed up with Electrum of Indonesia to develop infrastructure for electric vehicle use in the Southeast Asian country.
Gogoro has signed a memorandum of understanding with Electrum in a bid to build an EV ecosystem in Indonesia, the third largest two-wheel vehicle market in the world, by focusing on two-wheel vehicles and highly efficient battery development.
Electrum is a joint venture between Indonesian ride hailing Gojek and energy firm TBS Energi Utama, formed last year to promote EV development in the Southeast Asian country which has about 111 million two-wheel vehicles.
The Taiwanese e-scooter brand said the company is also looking to introduce a battery swap platform in Indonesia.
"Gogoro is committed to accelerating the growth and adoption of electric vehicles in Indonesia, and we are taking a proactive approach to supporting the development of an open mobility ecosystem that establishes a foundation for the EV industry," Gogoro Founder, Chairman and Chief Executive Officer Horace Luke (陸學森) said in a statement.
"Our new partnerships and memorandum of understanding (MOUs) further demonstrate Gogoro's commitment to Indonesia and our vision for working with a variety of domestic and global industry leaders to introduce a new era of transportation in the world's third largest two-wheel market," Luke said.
Under the MOU, Gogoro and Electrum will take advantage of their respective areas of expertise and integrate resources, setting their sights on achieving the goal set by Gojek and TBS to cut greenhouse emissions to zero by 2030.
By 2030, Gogoro said, Gojek's ride hailing fleet will be comprised of 100 percent electric-powered vehicles. In addition, TBS will pour more funds into clean and renewable energy development.
Ahead of the deal with Electrum, Gogoro has worked with Gojek to deploy smart e-scooters and build battery exchange stations in southern Jakarta on a trial basis, according to the Taiwanese e-scooter supplier.
Kevin Aluwi, a director at Electrum and Gojek CEO, said the partnership between Gogoro and Gojek to deploy a smart e-scooter fleet and battery swap stations in Jakarta has been well received by the market.
Through the MOU signed by Gogoro and Electrum, Gojek and Gogoro are expected to enhance the capability for e-scooter development in Indonesia, Aluwi said.
Last week, Gogoro and Taiwan-based manufacturing giant Hon Hai Precision Industry Co. signed an MOU with Indonesia's Ministry of Investment, battery supplier PT Industri Beterai Indonesia (IBC), and energy developer BT Indika Energy for EV development.
These partners are seeking to forge a battery supply chain in Indonesia that could help support a sustainable energy ecosystem, with an initial focus on the development of platforms in Indonesia for the production of lithium iron phosphate (LPF) EV batteries and solid state premium quality EV batteries.
They emphasized the need to develop systems that support the EV industry, such as energy storage systems (ESS), battery exchange stations and battery recycling.
iPhone assembler Hon Hai has intensified its efforts in EV development in recent years in a bid to diversify its product portfolio and strengthen its bottom line.