Former Academia Sinica President Wong Chi-huey receives Welch Award in Chemistry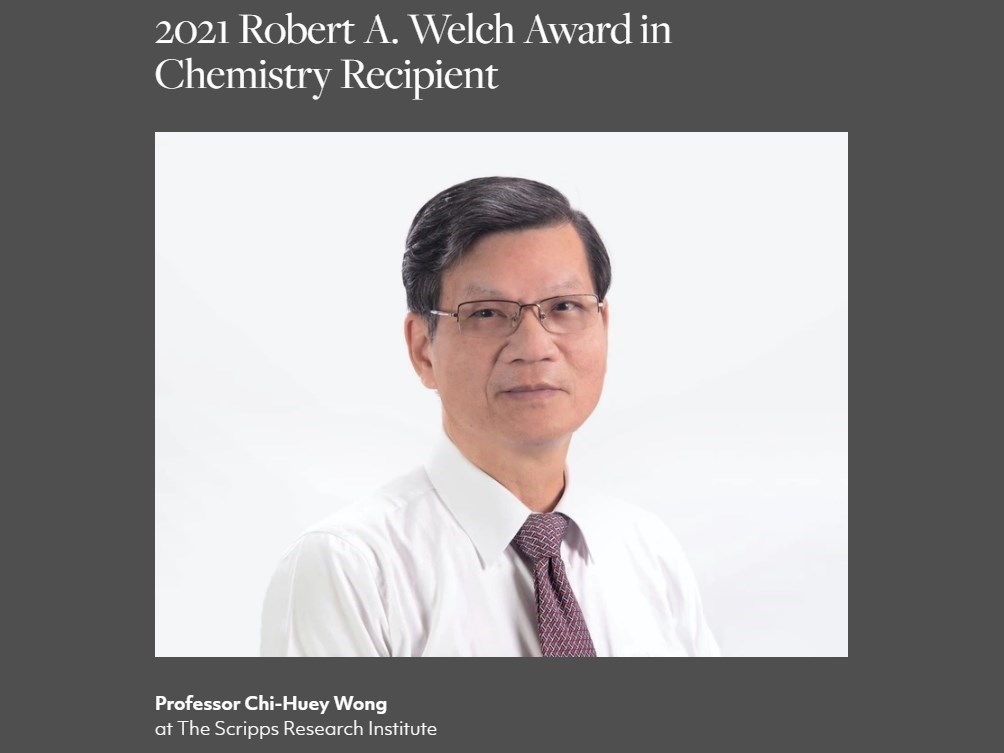 Washington, Sept. 8 (CNA) The U.S.-based Welch Foundation on Wednesday announced Wong Chi-huey (翁啟惠), the former president of Taiwan's leading think tank Academia Sinica, as the 2021 recipient of the Robert A. Welch Award in Chemistry.
The foundation commended Wong, currently the Scripps Family Chair Professor in the Department of Chemistry at The Scripps Research Institute, as an "influential leader who has made numerous discoveries in the fields of synthetic chemistry and chemical biology."
Wong is being recognized for his development of new methods for the synthesis of complex carbohydrates and glycoproteins and the elucidation of carbohydrate-mediated biological recognition associated with disease progression, the foundation said in a statement.
Much of his work over the past three decades has focused on the importance of carbohydrates in the active immunization and treatment of cancer and infectious disease, it noted.
His work since the 1980s has resulted in the development of scientific and technological tools, including effective synthesis of complex polysaccharide antigens and glycoconjugates, suppression of autoimmune phenomena, homogenous antibodies, boosting the memory of the immune system, and enhancing its cancer and virus killing abilities, as well as highly sensitive analytical methods, according to the foundation.
Recently, these tools and methods were instrumental in creating a vaccine that targets carbohydrates specific to the surface of cancer cells.
"Not only has he made revolutionary advances in chemistry and biology, but his methodologies will facilitate new drug and vaccine developments for years to come," Carin Barth, chair and director of the Welch Foundation Board of Directors, said in the statement.
Peter Dervan, chair of the Welch Foundation Scientific Advisory Board, said Wong is the most important figure in the development of carbohydrate synthesis using enzymatic catalysis.
He said Wong transformed the field of carbohydrate chemistry with innovative synthetic methods, such as automated programmable assembly of oligosaccharides using computer-based guide to select the order of building blocks.
"This eliminated the problem of protecting group manipulation in traditional solution phase synthesis and enabled biochemists to study the functional role of glycosylation of proteins and lipids in biology and medicine," Dervan said.
Wong will receive US$500,000 and a gold medallion upon accepting the award, which was created to foster and encourage basic chemical research while recognizing the value of chemical research contributions for the benefit of humankind, as set forth in the will of Texas tycoon Robert Alonzo Welch, according to the foundation.
Welch was a Texan investment tycoon who became very successful in the oil, sulfur, banking, and real estate industries in the Houston area.
Upon his passing, he had left US$25 million to a trust fund to support basic chemical research in Texas, which later became the Welch Foundation.
Since 1954, the foundation has contributed more than US$1.1 billion to the advancement of chemistry through grants and support for chemistry-related programs in Texas.