CORONAVIRUS
/
Taiwan vaccine maker's U.S. affiliate signs deal with Paraguay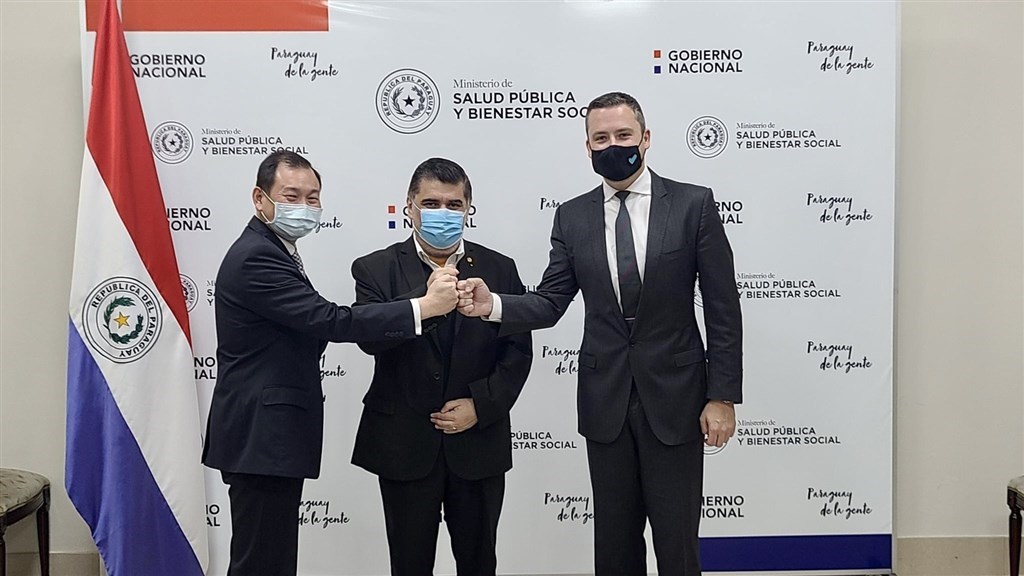 Taipei, June 22 (CNA) Vaxxinity, a U.S. affiliate of Taiwanese vaccine maker United Biomedical Inc. (UBI) Asia, has signed a contract with Paraguay to provide 1 million doses of its COVID-19 vaccine once it gets emergency use authorization (EUA) from the Taiwan Food and Drug Administration (TFDA), the company said Monday.
The order was signed on June 16 in Asunción by Paraguay Health and Social Welfare Minister Julio Borba and Vaxxinity Chief Strategy Officer Jon Harrison.
Taiwan's ambassador to Paraguay, José Han (韓志正), was also present during the signing ceremony, the company's press release said.
The UB-612 vaccine is expected to be delivered later this summer, pending issuance of an EUA by the TFDA and subsequent registration by Paraguay's National Health Surveillance Authority (DINAVISA), it said.
The move would make Paraguay one of the first countries in the world to receive UB-612 once it is issued an EUA, the statement said.
Paraguay is one of 15 diplomatic allies of Taiwan.
Vaxxinity and UBI Asia are currently completing a Phase 2 clinical trial of UB-612 in Taiwan, and they will soon begin a Phase 2/3 efficacy trial in India in partnership with Aurobindo.
According to the company, the UB-612 vaccine is the first multitope protein/synthetic peptide vaccine being developed to fight the SARS-CoV-2 virus, and elicits responses to several different viral proteins to protect against COVID-19.
UBI Asia and Vaxxinity are both subsidiaries of New York-based UBI.
Meanwhile, UBI Asia said Paraguay is just one of a number of foreign countries currently in talks to purchase the UB-612 vaccine, though it did not name other countries that were interested.
UBI Asia is one of the two vaccine makers in Taiwan that could soon be issued an EUA under Taiwan's controversial approval system that has not been sanctioned by any international health body.
International companies receiving EUA vaccine approval around the world have generally provided data from large-scale Phase 3 clinical trials showing that their vaccine actually protected users against the virus.
Because Taiwan's vaccine candidates have not begun larger Phase 3 trials, however, the TFDA will allow Phase 2 results to be analyzed via immunobridging, an approach that uses the immune responses measured in clinical trial participants to infer the vaccine's overall level of protection.
Should the immune responses be efficient, the TFDA can issue an EUA for the vaccine.
UBI's main domestic rival, Medigen Vaccine Biologics Corp., unblinded the results of its Phase 2 clinical trial earlier this month, which it said raised no major safety concerns and produced data on neutralizing antibody responses that was generally well-received.
Medigen has officially filed an application with the TFDA for an EUA for its COVID-19 vaccine and its pending the latter's approval.
Taiwan's government has signed contracts to purchase 5 million doses of the Medigen vaccine and another 5 million doses from UBI Asia.
View All