Tang Prize winners discuss cytokine research, COVID-19 in video forum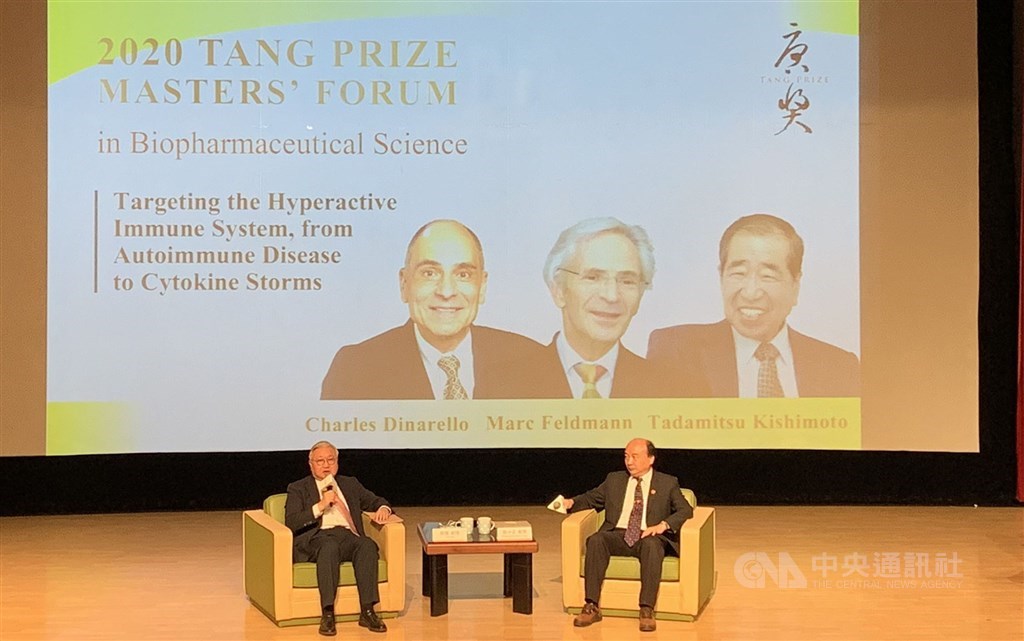 Taipei, Sept. 22 (CNA) The three recipients of the 2020 Tang Prize in biopharmaceutical science took part in a video forum Tuesday to discuss their respective research into the treatment of inflammatory diseases, including their potential applications in the fight against COVID-19.
Charles Dinarello, Marc Feldmann and Tadamitsu Kishimoto were recognized in June for their contributions to the development of cytokine-targeting biological therapies for the treatment of inflammatory diseases, according to an award citation released by the Tang Prize Foundation.
Cykotines are proteins produced by the immune system that transmit messages to various cells in the body and are contributors to inflammatory diseases, autoimmune syndromes and cancers.
The first of the speakers was Dinarello, a professor at the University of Colorado, who was recognized for identifying the cytokine interleukin-1β (IL-1β) and helping to establish its role as a mediator of fever and inflammatory diseases, leading to the development of therapeutics.
In his remarks, Dinarello explained several of the therapeutic options that are being tested to reduce the "cytokine storm" -- or overproduction of cytokines that cause inflammation -- also associated with COVID-19.
The most promising of these efforts, he said, is a planned trial involving dapansutrile, an anti-inflammatory drug initially formulated for the treatment of arthritis, which functions by inhibiting one of the main activators of IL-1β production.
Feldmann, an Australian and currently professor emeritus at the University of Oxford, explained the process of translating research insights into effective therapy, in remarks aimed at an audience of younger scientists.
He cited challenges faced in his own research, which found that a cytokine called tumor necrosis factor (TNF) could be a major target in the treatment of rheumatoid arthritis.
At the time, "it was a challenge to carry on because the (scientific) community did not believe that blocking a single cytokine could have a major impact on a disease with many pro-inflammatory cytokines," he said.
Despite the skepticism, Feldmann and his colleagues obtained TNF antibodies and organized their own clinical trials, which produced data that supported their claims.
Since then, anti-TNF therapy has become the biggest drug class in the treatment of arthritis, with global sales of US$36-40 billion per year, he said.
In terms of advice for younger scientists, Feldmann said they should remember that science is "fun" and learn to cope with setbacks, since "anything 'revolutionary' will not be popular."
Kishimoto, a professor at Japan's Osaka University, emphasized the importance of continuity in scientific research by reviewing his work on the cytokine interleukin-6 (IL-6).
Kishimoto, who identified IL-6 in 1973, went on to identify its receptor and develop an inhibiting antibody against the receptor, which has been used in treatments for multiple autoimmune inflammatory diseases, according to his Tang Prize award citation.
Regarding the near half-century he has devoted to the topic, Kishimoto said that "continuity produces creativity," which can in turn lead to breakthroughs that "surpass the imagination."
"Very basic medical research can contribute to the happiness of countless people," he added.
The 2020 Tang Prize Masters' Forum in Biopharmaceutical Science is one of four forums being held over Monday and Tuesday in which winners of the 2020 Tang Prize speak about their views in their fields of expertise.
The Tang Prize was established in December 2012 to encourage individuals across the globe to chart a path to achieving sustainable development by recognizing and supporting contributors for their efforts in the four major fields of Sustainable Development, Biopharmaceutical Science, Sinology and Rule of Law.
It is global in reach, with laureates selected on the basis of the originality of their work along with their contributions to society, irrespective of their nationality or ethnicity.