Taiwan IC sector needs to be indispensable to global tech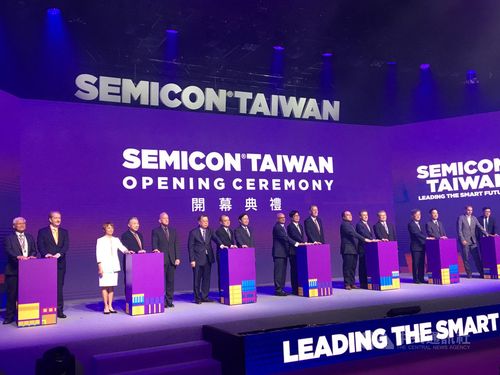 Taipei, Sept. 18 (CNA) Taiwan's integrated circuit sector needs to continue to improve and make itself an indispensable partner of the global high tech industry, Mark Liu (劉德音), chairman of Taiwan Semiconductor Manufacturing Co. (TSMC), said Wednesday.
At the Technology Think Tank Summit held at 2019 SEMICON Taiwan, one of the leading semiconductor industry exhibitions in the world, Liu said Taiwan's IC industry needs to upgrade at a faster pace in order to become an essential part of the world's high-tech map, which is expected to help the industry maintain its current prosperity.
Looking to the next 60 years, Liu said that Taiwan's semiconductor industry needs to integrate IC manufacturing, design, packaging and testing to boost its position in the global supply chain as an indispensable partner to global tech.
At present, Taiwan is the largest pure wafer foundry supplier, the largest IC packaging and testing services provider and the second largest IC designer.
Taiwan should strengthen its semiconductor research and development capability so it does not lose global competitive edge at a time when other countries are gearing up to cultivate their own semiconductor sectors.
Currently, many IC firms in Taiwan face rising competition from China, where the Chinese government has vowed to cultivate its own IC industry and allocated financial resources to achieve that goal. Chinese IC heavyweights have even poached talent from Taiwan.
Citing TSMC's efforts to strengthen competitiveness, Liu said the company is the world leader in the advanced 7 nanometer process and is developing the more sophisticated 5nm process, adding that next year TSMC will focus on developing the 3nm process.
The 7nm process is the latest technology for which TSMC has started commercial production. Mass production of the 5nm and 3nm processes is expected to begin in 2020 and 2022, respectively.
For TSMC, which has rolled out more than 1 million units of advanced 12-inch wafers for customers, Liu said, the company will continue to pursue innovation to make itself an indispensable part of next generation of computer development.
To compete in the global market, Liu said, Taiwan's government has to come up with preferential taxation measures to encourage local IC companies to invest more funds in R&D. In addition, the industry should work closely with the academic sector to increase the talent pool.
Taiwan should push for artificial intelligence and 5G technology development as such efforts are expected to accelerate the pace of smart manufacturing, Liu said.
At the same time, Taiwan will have to advance its high computing performance technology which should boost the development of all industries.
In response, Economics Minister Shen Jong-chin (沈榮津) said the government aims to help Taiwan become part of the global 5G supply chain at a time when the local semiconductor industry is gearing up to roll out smart microchips.
To realize the goal of being part of the global 5G supply chain, the government has provided resources to build a 5G technology testing platform, which is expected to help Taiwanese developers overcome technology barriers.
Meanwhile, H.S. Philip Wong (黃漢森), vice president of corporate research at TSMC, said in another tech forum at SEMICON Taiwan that Moore's Law remains active so it is possible for the integrated circuit industry to roll out wafers made on the 1 nanometer process.
Moore's Law predicts that the number of transistors on a chip doubles roughly every 18 to 24 months and was proposed by Intel co-founder Gordon Moore in 1965, since when it has been a guiding principle in the development of the computer chip industry.
However, in recent years the physical limit has been reached in transistor channel size and the consequent challenges faced by the semiconductor industry have given rise to questions as to whether the speed of innovation suggested by Moore's Law might have come to an end.
Huang's comments echoed those of Morris Chang (張忠謀), founder of TSMC, who said in 2017 that the law is likely to remain relevant for another decade.
As wafer production technology keeps improving under Moore's law, the industry expects to roll out chips made on 2nm or even 1nm processes in the future, Huang said.
Over the next 30 years, the global IC industry is expected to integrate resources in memory chip, logic component and sensor component development for future growth, Huang added.
SEMICON Taiwan kicked off Wednesday and will run through Friday, focusing on a wide range of technologies, such as smart manufacturing, smart auto production, smart medical care, as well as smart digital technology development.
The 2019 event is hosting more than 700 exhibitors from 43 countries worldwide, up from 680 exhibitors last year and is expected to attract almost 50,000 expert visitors, up from 36,784 a year earlier.