Computex to open Tuesday with focus on AI, IoT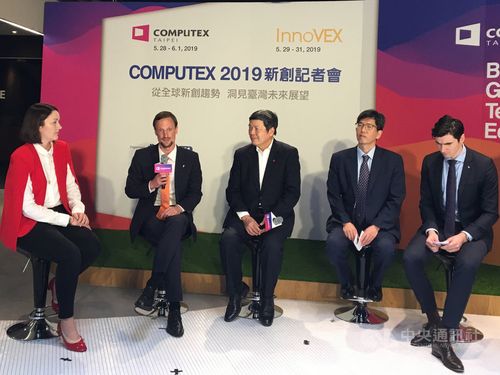 Taipei, May 25 (CNA) Computex Taipei 2019 is scheduled to open Tuesday, featuring advanced information and communications technology (ICT), in particular artificial intelligence and the Internet of Things.
At this year's show, 1,685 exhibitors will display their products at 5,508 booths, an increase of 5.1 percent and 9.8 percent, respectively, from last year, according to the organizers.
The five-day trade show will open Tuesday with a focus on technology related to AI, IoT, 5G, gaming, smart retail and Blockchain, the organizers said.
Blockchain technology, originally devised for transactions of the digital currency Bitcoin, is seen as the backbone of a new type of internet in which information on a Blockchain exists as a shared database.
To promote innovators and startups, Computex 2019 will also include InnoVEX, a special exhibition by 402 start-ups from 24 countries worldwide, the organizers said.
Among them, startups from Poland, Hong Kong, Hungary, and Brazil have been invited to set up national pavilions for the first time alongside 11 others, including the Netherlands, France and South Korea, according to the organizers.
One of the features of Computex this year will be a special exhibit called SmarTex, which will display a wide range of smart and IoT technology, the organizers said.
As part of the show, senior executives from global tech giants such as AMD, IBM, Intel, Microsoft, Nvidia, and Qualcomm will talk about technological innovations and analyze the latest industry trends and development strategies, the organizers said.
To facilitate international buyers at the exhibition, the Best Choice Award was held again this year ahead of the show, with a focus on functionality, innovation and market potential, the organizers said.
Among the 334 products in the competition, 35 were selected as winners, including the Zenbo Junior robot by Asustek Computer Inc., an AI gaming monitor by Micro-Star International Co., and an AI 360 degree fisheye device for detection of smart car flow by ELAN Microelectronics Corp.
Li Shih-Kuang (李世光), chief jury of the award, told reporters that with the growing popularity of AI, big data and IoT, the focus of the award has shifted from hardware manufacturing to software applications.
Computex Taipei, one of the world's leading ICT shows, will be held May 28-June 1 at Taipei Nangang Exhibition, Taipei World Trade Center Exhibition Hall, and Taipei International Convention Center.
First held in 1981, it is now organized jointly by Taipei Computer Associations and Taiwan External Trade Development Council.