FormoSat-7 satellite group to be sent to U.S. for launch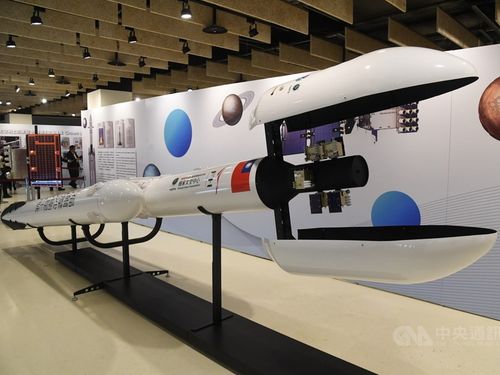 Taipei, April 14 (CNA) The second satellite constellation jointly developed by Taiwan and the United States, FormoSat-7/COSMIC-2, was transported to Taiwan Taoyuan International Airport Sunday for shipment to the U.S. for a scheduled June launch.
FormoSat-7 will replace FormoSat-3, equipped with state-of-the-art instruments and equipment to collect meteorology, ionosphere and climate data and continue FormoSat-3's legacy as one of the "most accurate and stable thermometers in space," according to the National Space Organization (NSPO).
The satellite group is scheduled to arrive in Florida Tuesday (U.S. time) and to be launched from Kennedy Space Center in June, according to NSPO Director-General Lin Chun-liang (林俊良).
After around seven years of efforts, the NSPO, in collaboration with CTCI Advanced Systems Inc., a local company, have developed a home-made satellite operation and ground-control system, rather than using satellite control software devised by U.S. firms as in the past, said Shiau Wen-tzong (蕭文宗), the head of FormoSat-7 operations.
The advantage of the home-made system is that it can make amendments as needed, while reducing revising costs and reliance on foreign control software development companies.
The FormoSat-7 satellite platform, jointly developed by the NSPO and the U.S.'s National Oceanic and Atmospheric Administration (NOAA), will deploy six satellites into low inclination orbits to provide low and mid-latitude ionosphere data.
Taiwan and the U.S. each invested US$100 million in the program.
The satellite body was designed by NSPO specialists and built by U.K.-based Surrey Satellite Technology Ltd. (SSTL), while the U.S. provides the most advanced satellite measuring instrumentation.
Chu Chung-huei (朱崇惠), chief of the FormoSat-7 program, said that an array antenna for satellite communications is also home-made, provided by Taiwan's Pyras Technology Inc.
Pyras Technology is dedicated to the manufacture and assembly of high-performance microwave antennas and subsystems.
Each satellite is equipped with a radio occultation receiver, which receives global navigation satellite system signals from the U.S.'s GPS and Russia's GLONASS satellites, according to the NSPO.
The NSPO said the FormoSat-7 satellites will generate three to four times the volume of data generated by FormoSat-3 and will greatly increase the amount of low-latitude atmospheric and ionospheric data available, including for Taiwan.
That data will be incorporated into Taiwan's Central Weather Bureau data and forecast system to help improve the accuracy of weather forecasting and climate observation, the NSPO said.
FormoSat-7 is expected to begin providing weather information about seven months after its launch, according to Chu.