Taiwan's Formosat-5 satellite arrives in Los Angeles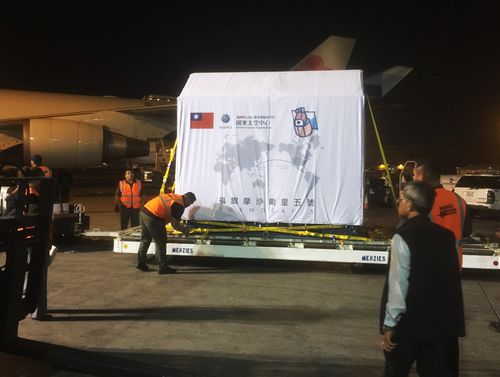 Los Angeles, July 19 (CNA) Taiwan's first domestically developed satellite, Formosat-5, arrived at Los Angeles International Airport on Wednesday and is being transported to its launch site.
Richard Chang (張揚展), an official from the Taipei Economic and Cultural Office in Los Angeles, confirmed that the China Airlines cargo plane delivering Formosat-5 has landed in the city, and the satellite will arrive at Vandenberg Air Force Base in California early the next day.
A team of 17 from Taiwan are waiting at the base, where the satellite will undergo final testing and integration with the Falcon 9 rocket, its launch vehicle, before launch which is scheduled for Aug. 24 (U.S. time).
The satellite was designed by the Hsinchu-based National Space Organization (NSPO) and built by more than 50 domestic teams including Taiwan's CMOS Sensor Inc. and National Central University.
The high-resolution optical remote-sensing satellite will continue the mission previously executed by Formosat-2, providing 2-meter panchromatic and 4-meter multispectral resolution images for a wide array of applications, according to the NSPO.
Applications include government administration, disaster forecasting and mitigation, national security, environmental observation, international technological exchanges, academic research and international humanitarian assistance.
It took six years and cost NT$5.7 billion (US$191.52 million) to develop the 450kg optical remote sensing satellite which measures 2.8 meters tall, has an outer diameter of 1.6 meters and is to embark on a five-year observation mission, according to the NSPO.
The Formosat-5 satellite will also carry an Advanced Ionospheric Probe (AIP) scientific payload, which can be used to develop weather models in space, monitor ionospheric disturbances and study seismic precursors associated with earthquakes.
After entering orbit, Formosat-5 will pass over Taiwan once every two days and the data it obtains will be invaluable for scientific research, the NSPO said.
Since Taiwan started its space program in 1991, the nation has launched three satellites, the key parts of which were manufactured in other countries.
In contrast, Formosat-5 was produced domestically, from design and manufacture to assembly and testing. It is a testament to Taiwan's advanced satellite manufacturing capabilities, according to the NSPO.
(By Tsao Yu-fan, Evelyn Kao and Christie Chen) ENDITEM/ AW/