Samsung's first 4G phone using 700 MHz to hit Taiwan in Q2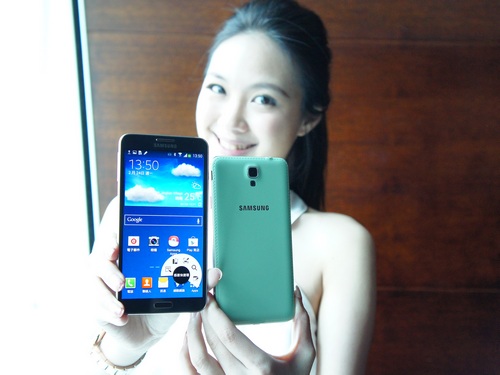 Taipei, Feb. 24 (CNA) South Korea's Samsung Electronics Co. said Monday that its new phone-tablet device, the Galaxy Note 3 Neo, will hit Taiwanese stores in the second quarter of 2014, making use of the country's unique 700 MHz frequency.
Unveiled that day at the Mobile World Congress (MWC) trade show in Barcelona as a downsized version of the Galaxy Note series, the Note 3 Neo is expected to carry a "friendly" local price of less than NT$20,000 (US$660), said Jeffry Hsu, a product manager of Samsung Taiwan's mobile communication team.
He declined to reveal a timetable, exact price, or details of Samsung's partnerships with local carriers for the launch of the device.
"It will be good for local consumers to have a 4G phone that can support all 4G bandwidth frequencies," Hsu told a press briefing to present the Note 3 Neo, which supports six different LTE frequencies around the world.
The phone will be able to run on the 700 MHz frequencies owned by Taiwan Mobile Co. and Far EasTone Telecommunications Co., as well as the 900 MHz and 1800 MHz owned by Chunghwa Telecom Co., the country's largest mobile provider.
The Note 3 Neo sports a 5.5-inch 720p display, a processor system consisting of a 1.7GHz dual-core A15 chip and a 1.3GHz quad-core A7 chip, an 8-megapixel camera and the Android 4.3 operating system.
Samsung also launched two new smartwatches at the show, the Gear 2 and the Gear 2 Neo, which allow users to accept or ignore incoming calls and messages, as well as providing instant notification options based on a user's activity and habits.
Both wearable devices let users connect to a wide variety of Samsung devices.
The Gear 2 and Gear 2 Neo will be available around the world from April and are expected to arrive in Taiwan during the second quarter of this year, according to Samsung.
(By Jeffrey Wu)ENDITEM/J
Mobile World Congress 2014:●HTC issues warning to Samsung phone buyers of possible remorse●HTC unveils mid-range Desire phones, supercomputer initiative●Sony introduces new smartphone in Spain, Taiwan●MediaTek reveals 64-bit LTE chip at 'mainstream price'●LG said to sell new G Pro 2 phablet in Taiwan in April●Acer debuts Liquid E3, Z4 phones ahead of Mobile World Congress