Acer to launch new version of Iconia B1 tablet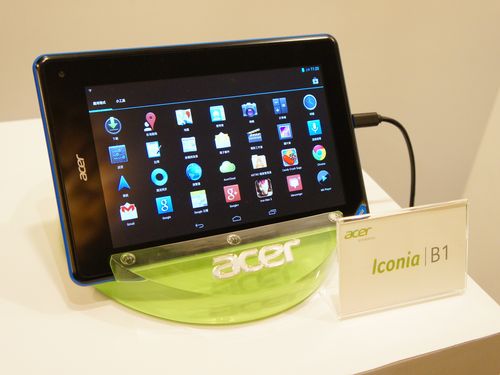 Taipei, May 6 (CNA) Taiwanese computer maker Acer Inc. said Monday that it plans to launch an upgraded version of its Iconia B1 following brisk sales of the smaller tablet computer.
Scott Lin, Acer's senior vice president and president of its Greater China operations, said the company has sold nearly 1.5 million units of the 7-inch Iconia B1 globally since its launch in January.
Riding on the success of the Android-powered model, he said, Acer unveiled an 8-inch Iconia A1 tablet in New York on May 3 and plans to release its successor in June and a 10-inch Iconia A3 in the July-August period.
Further, the company will launch an 8-inch Windows-based W3 tablet next month to strengthen its product portfolio, Lin added.
"This is our first year in the tablet market to post strong growth," Lin said at a news conference to launch Acer's new touch-enabled notebooks and tablets in Taiwan. "We started slowly in the tablet market, but we have enjoyed good progress."
The next-generation B1, which will feature a new form factor design, a dual-core processor and upgraded 1-gigabyte built-in memory, is expected to be priced higher than the previous model, the executive said.
The 7-inch Iconia B1 starts at NT$4,990 (US$169) in Taiwan, and the 8-inch Iconia A1 is tagged at NT$6,990, according to Acer.
Lin estimated that 7-inch models will account for 30 percent of Acer's total tablet shipments this year.
The 8-inch models will account for 50 percent of the company's tablet shipments, and 10-inch products 20 percent, he forecast.
Acer is planning to ship 10 million tablets in 2013, aiming for a 5 percent share of the global market, Lin said.
According to the research firm Gartner Inc., worldwide tablet shipments are expected to reach 203 million units this year, and the market will continue its strong growth to hit 265 million units in 2014 and 323 million units by 2015.
(By Jeffrey Wu)ENDITEM /pc