ELECTION 2024
/
Hou vows to wait for Ko 'until the last minute' as registration deadline looms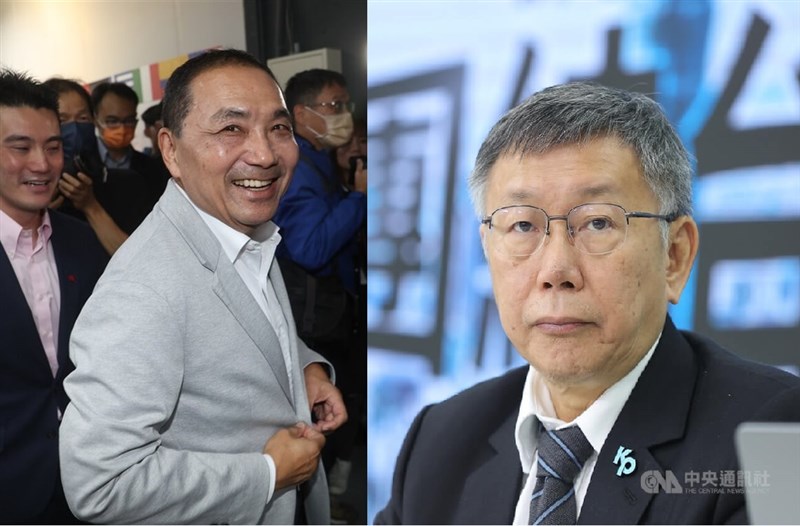 Taipei, Nov. 21 (CNA) Kuomintang (KMT) presidential candidate Hou Yu-ih (侯友宜) said Tuesday he would wait for the Taiwan People's Party (TPP) nominee Ko Wen-je (柯文哲) "until the last minute," as stuttering negotiations over a joint opposition ticket entered the 11th hour.
The TPP and KMT remain deadlocked over the order of a joint ticket ahead of a Nov. 24 registration deadline but Hou said he remained committed to cooperating with Ko and called on the TPP nominee to follow suit.
The TPP and KMT appeared to be close to a deal after agreeing on Nov. 15 to convene a three-person panel to determine the joint ticket's order based on nationwide polls.
However, talks broke down on Nov. 18 following disputes over how to assess the polls, with definitions of the margin of error a particular source of contention.
Hou proposed Tuesday that Ko appoint two polling experts, while KMT Chairman Eric Chu (朱立倫) and former President Ma Ying-jeou (馬英九) of the KMT each appoint one to review the nine previously reviewed polls again on Wednesday.
The entire review process will be publicly broadcast with the aim of gaining public trust, Hou added.
Hou, who has yet to name a running mate, said he was willing to accept the role of vice president if the review process determined Ko should top the ticket.
In response, Ko told the press that the TPP would hold a press conference on Wednesday morning to address KMT's latest proposal.
When asked whether he would only accept the top spot on the joint ticket, Ko said only that he hoped both sides would choose a combination that maximizes the chances of winning.
The opposition candidates will face off in the Jan. 13, 2024 election against Lai Ching-te (賴清德) of the ruling Democratic Progressive Party, who polls suggest will ride a plurality to victory in any three-way race.
On Monday, Lai, the incumbent vice president, named Taiwan's representative to the United States Hsiao Bi-khim (蕭美琴) as his running mate.
View All