KMT, TPP fail to reach consensus on how to find 'strongest candidate' after meeting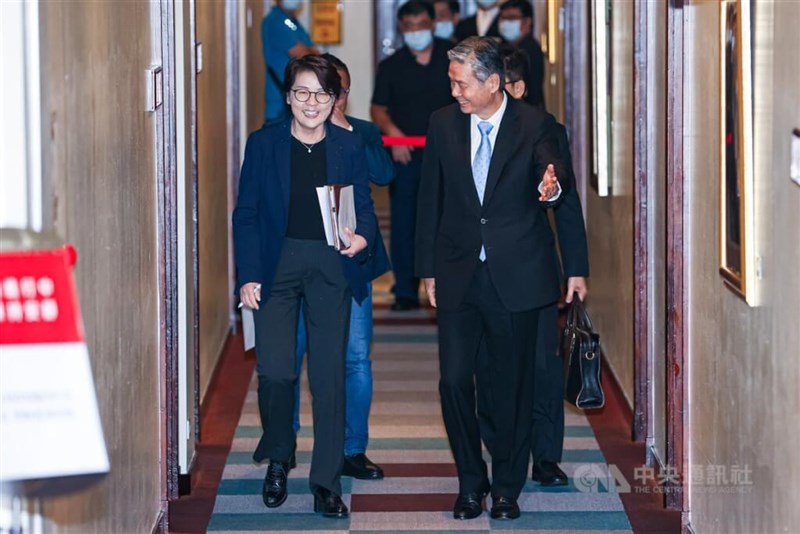 Taipei, Oct. 14 (CNA) The opposition Kuomintang (KMT) and Taiwan People's Party (TPP) failed to reach a consensus on how to determine which party's candidate is the "strongest presidential candidate" during their first meeting on Saturday to explore ways to fashion a possible electoral pact between KMT's Hou Yu-ih (侯友宜) and TPP's Ko Wen-je (柯文哲), but they agreed to hold another meeting to further discuss the issue.
The two sides met Saturday at the Howard Plaza Hotel Taipei, with the KMT appointing King Pu-tsung (金溥聰), the executive officer of Hou's campaign, and KMT Secretary-General Justin Huang (黃健庭), to participate in the closed-door meeting, while the TPP tapped Huang Shan-shan (黃珊珊), Ko's campaign manager, and Chou Yu-hsiu (周榆修), Ko's campaign office director, to represent the party.
Only the meeting minutes were publicized following a three-hour discussion, which indicated that the two sides had failed to reach an agreement on how to determine the best candidate to run against Vice President Lai Ching-te (賴清德), the Democratic Progressive Party's (DPP) presidential nominee.
With less than 100 days remaining until Taiwan's 2024 presidential election, recent polls indicate a likely win for Lai, while Hou and Ko compete for second, and independent Terry Gou (郭台銘) trails behind.
This indicates that cooperation between Ko and Hou could be crucial if the DPP is to be defeated.
Poll or primary?
The TPP recommended hiring five polling organizations to conduct head-to-head polls between Ko and Hou and determining the winner by comparing the support for either candidate averaged from the five polls, with half of the samples gathered by landline and the other half by mobile phone calls.
The KMT, on the other hand, suggested holding an open primary, with polling stations set up in cities and counties nationwide or in the 73 legislative constituencies.
Voters would have their National Identification Cards checked and would have to sign a statement declaring that they "identify with the political direction to form an opposition alliance to oust the DPP," according to the KMT proposal.
The issue was set aside for further deliberation.
The two sides, however, agreed to decide a time for another meeting by noon on Sunday to further discuss unresolved issues.
They also agreed to hold three televised debates between the two presidential nominees on the condition that a method to determine a presidential candidate has been agreed upon.
But they have yet to reach a consensus on when a mechanism for determining the strongest candidate should be established or when the three televised debates should be held, with the TPP saying it hoped to complete those tasks by Oct. 31 and the KMT suggesting a Nov. 10 deadline.
The two camps also tested how well some of their policy proposals would be received by the other side.
Policy proposals
Hou said he would staunchly support the country's democratic and free political system, defend the Republic of China (ROC, Taiwan's official name), and insist that Taiwan's future should be decided by the 23 million Taiwanese people.
Hou said he opposes Taiwan independence, a Chinese military invasion of Taiwan, or imposing a "one country, two systems" framework on the country.
In response, Ko said he would champion the ROC's democratic and free political system, abide by the ROC Constitution, and oppose changing the "status quo."
The Ko camp also proposed that the president be legally required to give oral administrative reports at the legislature and appear at interpellations to field lawmakers' questions.
However, Hou's camp said it only agreed with the first part of that proposal, as the latter part would be at odds with Taiwan's existing laws.
At a post-meeting news conference, Huang said an open primary would be susceptible to manipulation, such as mobilization with nefarious intent, adding that it would be laborious to organize given the scale.
However, King said that the identification check and the statement that voters would be required to sign would be able to sift out saboteurs, adding that an open primary would be much less likely to be rigged than telephone-based surveys.
Terry Gou
Separately on Saturday, Huang Shih-hsiu (黃士修), a spokesman for Gou, called on Ko to join forces with the tycoon, saying that this would help the two boost their online presence, which would in turn help the TPP secure more legislator-at-large seats.
Gou has about 300 signature collection stations for getting the required number of endorsements he needed to run in the presidential election, which can be transformed into quasi-TPP chapters, thereby helping the TPP's legislative election campaign, as long as Ko agrees to collaborate with Gou, Huang said.
"Gou also has the resources needed for the TPP's long-term development," Huang Shih-hsiu said.
The legislative election is set to be held concurrently with the presidential election on Jan. 13.
Ko's and Hou's supporters are "fundamentally mutually exclusive," but the KMT is attempting to "strongarm" Ko into being Hou's running mate, Huang Shih-hsiu said.
Gou's supporters, however, mesh really well with Ko's, he said.
"There is greater room for collaboration between Gou and Ko, which would be an alliance of 'one and one being greater than two,'" he said.