ELECTION 2024
/
Presidential hopefuls outshine Mazu at temple celebrations
Taipei, Sept. 29 (CNA) Taiwan's three opposition presidential hopefuls shared a stage for the first time at a Taoist event in Miaoli County on Friday, as talks of a joint ticket to defeat the ruling party's candidate Lai Ching-te (賴清德), who was also present, continue to swirl.
What brought the four together was the celebrations of the 160th anniversary of the Baishatun Gong Tian Temple, which was built in 1863 to worship sea goddess Mazu by the Chinese who had migrated to Taiwan.
While the event drew large crowds of worshipers, media frenzy centered primarily on the interactions of the four, namely Lai, New Taipei Mayor Hou Yu-ih (侯友宜) of the main opposition Kuomintang (KMT), Taiwan People's Party Chairman Ko Wen-je (柯文哲), and independent Terry Gou (郭台銘).
Lai, accompanied by Hung Wen-hua (洪文華), head of the temple's management, entered a venue for the celebrations first and took the front row.
Ko, who had walked a few steps behind Lai, joined the line immediately afterward, but with Hung standing in between, the two candidates did not interact with each other.
Hou appeared on Ko's right-hand side a few seconds later, but again the two did not talk to one another, nor did they make any eye contact.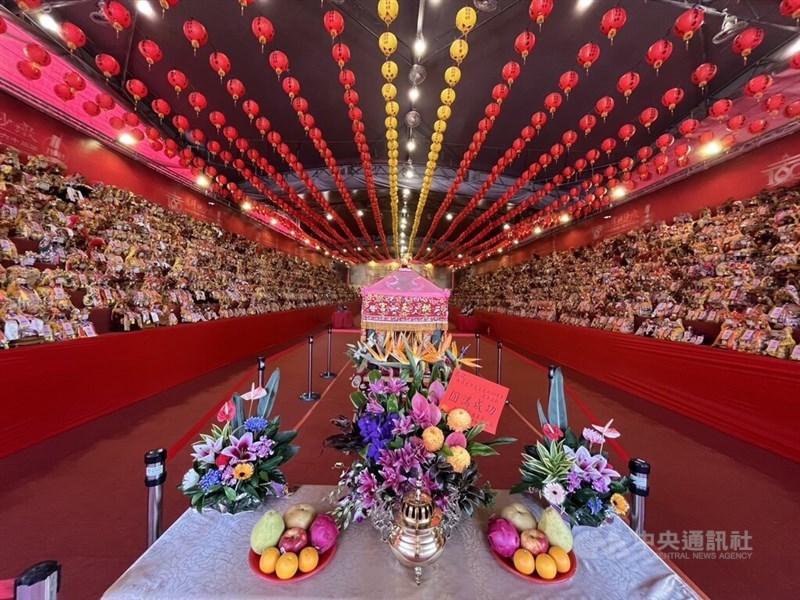 Gou was the last to arrive at the site. The founder of manufacturing giant Hon Hai Precision Co. waved at the front row when walking in and briefly shook hands with Ko and Hou, respectively, before joining the mayor on his right-hand side.
After praying with incense sticks, Lai took the initiative to greet and shake hands with the other three, one by one, before all of them moved to their seats.
Mindful of the religious nature of the occasion, almost all of them later sought to weave their campaign messages into their speeches.
The practice of worshiping Mazu was brought to Taiwan by people originating from the Chinese province of Fujian, said Hou, who was the only one out of the four to speak in Taiwanese, adding that the goddess had represented religious exchanges across the Taiwan Strait.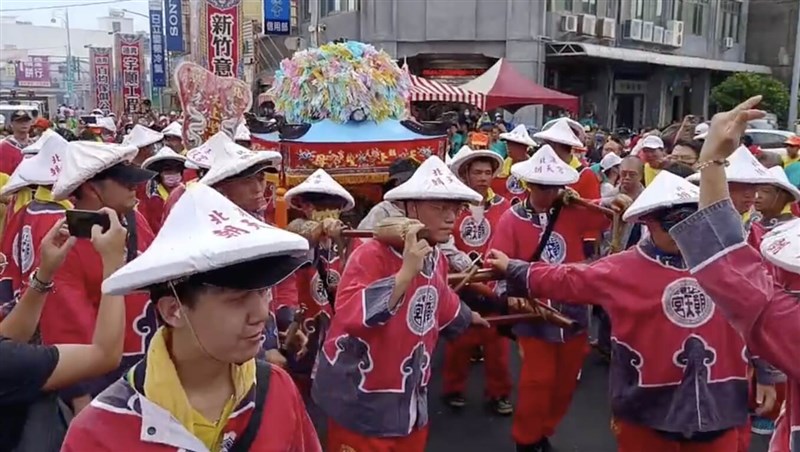 He went on to say Taiwan and China should engage in more religious and cultural exchanges and avoid resorting to force to resolve disputes.
While religious freedom is enshrined in China's constitution, Beijing has been repeatedly called out by Western governments and human rights groups for persecuting Christians, Catholics, Muslims, and Buddhists, who are reportedly subject to arbitrary detention, forced labor, torture, and other mistreatment.
Gou, describing Mazu as "a messenger of peace in the Taiwan Strait," underlined the importance of maintaining peace, which he said would bring about prosperity and hope.
The kind-hearted people of Taiwan hope for a change to the country and an opportunity to "return to the simple [time], without struggles or wars" Gou said, but he did not specify when that state was.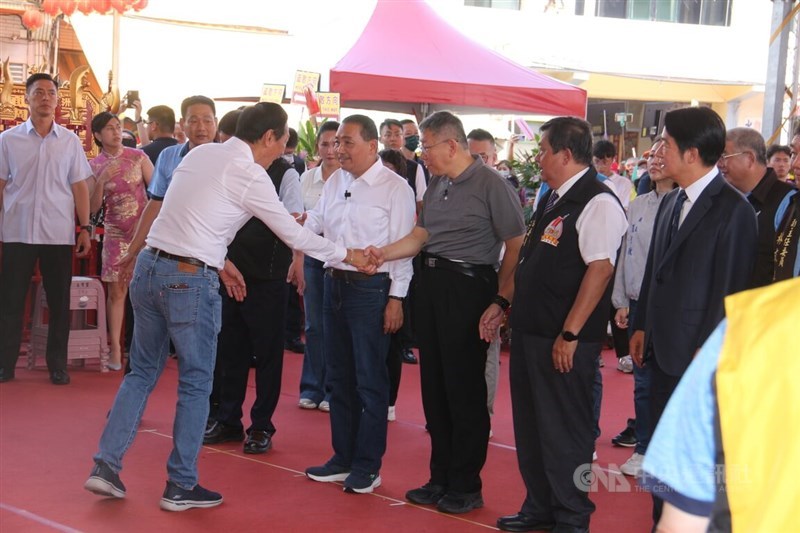 Lai, incumbent vice president of the Democratic Progressive Party, was the most straightforward.
He said he prayed for Mazu's blessing on the presidential and legislative elections next January so that they would not be affected by "external forces" and "disinformation campaigns," without elaborating.
He added he looked forward to seeing the people of Taiwan vote for a candidate who could best bring about national development and promote cross-strait peace.
Lai has campaigned over the past few months with a pledge of the continuation of President Tsai Ing-wen's (蔡英文) policies, but since Tsai took office in 2016, cross-strait relations have become increasingly strained, with Beijing ramping up efforts to put political, military, and economic pressure on Taipei.
Ko, who kept his speech very brief, said his past experience in taking part in the pilgrimage organized by the Baishatun Gong Tian Temple with tens of thousands of worshippers had made him believe there was not that much division in society.
He then encouraged people to give the nine-day pilgrimage a try, saying it would allow participants to experience kindness and mutual help among the Taiwanese.
View All