TPP's Ko vows to extend compulsory education from 9 to 13 years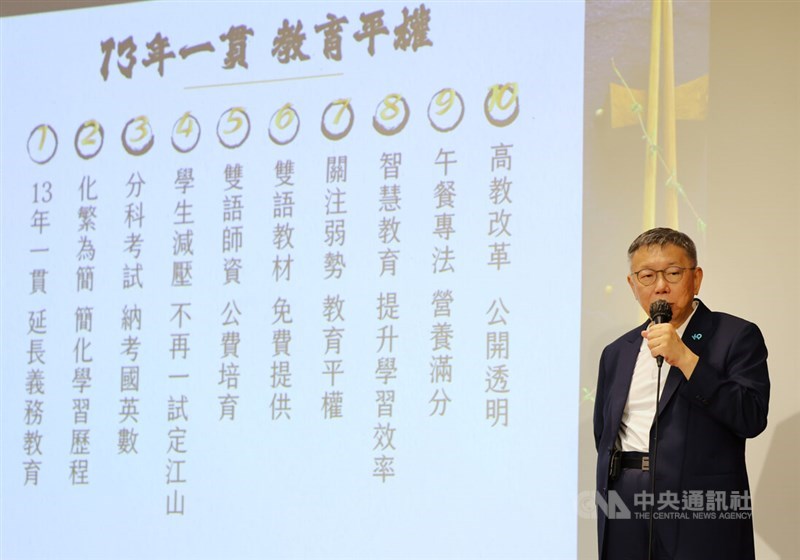 Taipei, Sept. 28 (CNA) Opposition Taiwan People's Party (TPP) presidential nominee Ko Wen-je (柯文哲) on Thursday said if elected, he would extend the 9-year compulsory education to 13 years, coinciding with the intensifying 2024 presidential campaign.
Speaking at a press conference in Taipei, the former Taipei City mayor said he proposed extending compulsory education to include kindergarten, high school, or vocational education in addition to the existing six years of elementary education and three years of junior high school.
However, he did not provide any details on how this program would be financed.
In addition, to promote bilingual education, Ko proposed training bilingual teachers through various channels, including government-funded programs.
Free bilingual textbooks will also be made available for grades 1 to 9, which will help bridge the resource gap between urban and rural areas, he added.
Regarding smart education, Ko proposed full government subsidies for elementary and high school teachers to provide them with laptops or tablets and interactive screens in every classroom.
According to the doctor-turned-politician, this will enable teachers to better integrate information technology into their teaching methods and ultimately improve the quality of education in Taiwan.
Furthermore, Ko emphasized the need for focused legislation to standardize the pricing of school lunches and address disparities in subsidy funding across counties and cities in Taiwan.
Also on Thursday, New Taipei Mayor Hou Yu-ih (侯友宜), the opposition Kuomintang (KMT) presidential candidate, told the press that he will outline a comprehensive education policy in the coming days.
According to Hou, this will include a review of the relevant retirement support systems for teachers to ensure the retirement needs of the profession are adequately addressed.
On Sept. 12, ruling Democratic Progressive Party (DPP) presidential candidate Lai Ching-te (賴清德) said at a presser that if elected, he will implement tuition exemptions for senior high schools and vocational schools.
In addition to providing a fixed annual subsidy of NT$35,000 (US$1,087) for tuition and miscellaneous fees to private college students, economically disadvantaged students attending public colleges and universities can receive exemptions of up to NT$ 20,000 or NT$55,000 if they are enrolled in private colleges, Lai added.