ELECTION 2024
/
Deloitte denies TPP reporting platform scrapped over 'political pressure'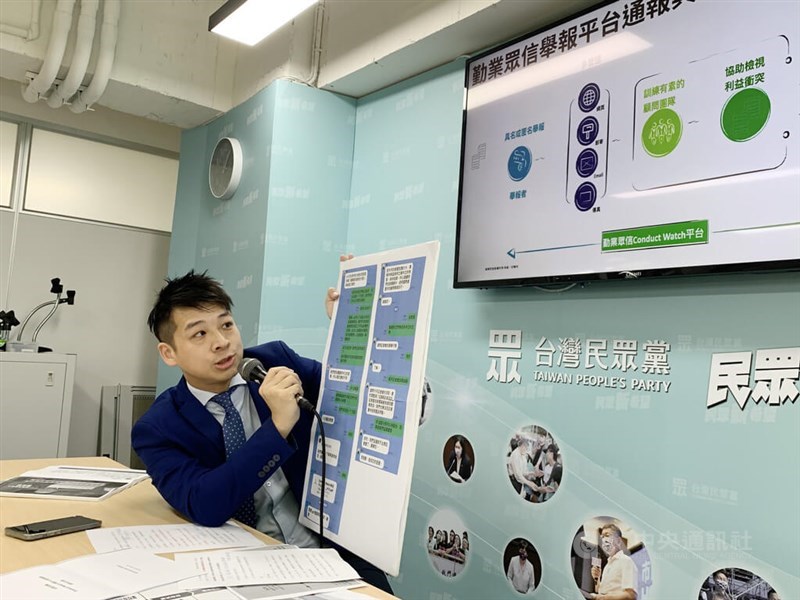 Taipei, Sept. 14 (CNA) International consultancy company Deloitte on Thursday denied that it withdrew from a contract it signed with the Taiwan People's Party (TPP) to create an online "whistleblowing" system to ensure probity from TPP officials as a result of "political pressure."
The TPP announced Thursday Deloitte's termination of the contract, one day after it unveiled the system amid a recent spate of news reports about its members having criminal records or alleged links to criminal gangs.
According to TPP Deputy Secretary-General Osmar Hsu (許甫), the company "came under immense pressure" over the whistleblowing system, prompting it to terminate the deal.
In response to Hsu's remarks, Deloitte denied political pressure was the reason behind its withdrawal from the deal.
The company pulled out of the deal because the scope of services defined by the TPP "exceeded what it originally intended," Deloitte said in a statement.
Providing a third-party reporting platform is part of the company's standard services, and it has provided this service to many companies before, Deloitte said.
Earlier in the day, Deloitte said the reason for the termination was because "some members of the media seriously misled the public over the system's intended use."
However, Hsu said it was the "Democratic Progressive Party (DPP) and its affiliates" that misled the public, not the media, Hsu said.
The DPP twisted the system's purpose by claiming that it was set to become a tool for TPP Chairman and presidential candidate Ko Wen-je (柯文哲) to quash dissent within the party, while the New Power Party and the Taiwan Statebuilding Party called it "useless" and a "publicity stunt," Hsu said.
According to Hsu, Deloitte approached the TPP in June with the idea of creating the platform, after DPP officials were accused of attempting to cover up multiple sexual harassment cases involving party members.
However, in the process of devising the system, Deloitte representatives first asked that the company not be identified, then decided not to make an appearance at Wednesday's news conference where the system was announced, Hsu said.
The TPP will continue to seek a third party to undertake the task of scrutinizing the behavior of its officials, he said.
Asked what Ko's reaction was to Deloitte's termination of the contract, Hsu said the TPP chairman "understands the decision and the pressure they [Deloitte] were placed under."
In response, DPP spokesman Chang Chih-hao (張志豪) said instead of assigning blame, the TPP should use its existing internal review mechanism and take action against Hsinchu Mayor Kao Hung-an (高虹安), a TPP member, who was indicted last month on charges of corruption.
View All